Round 3 Recap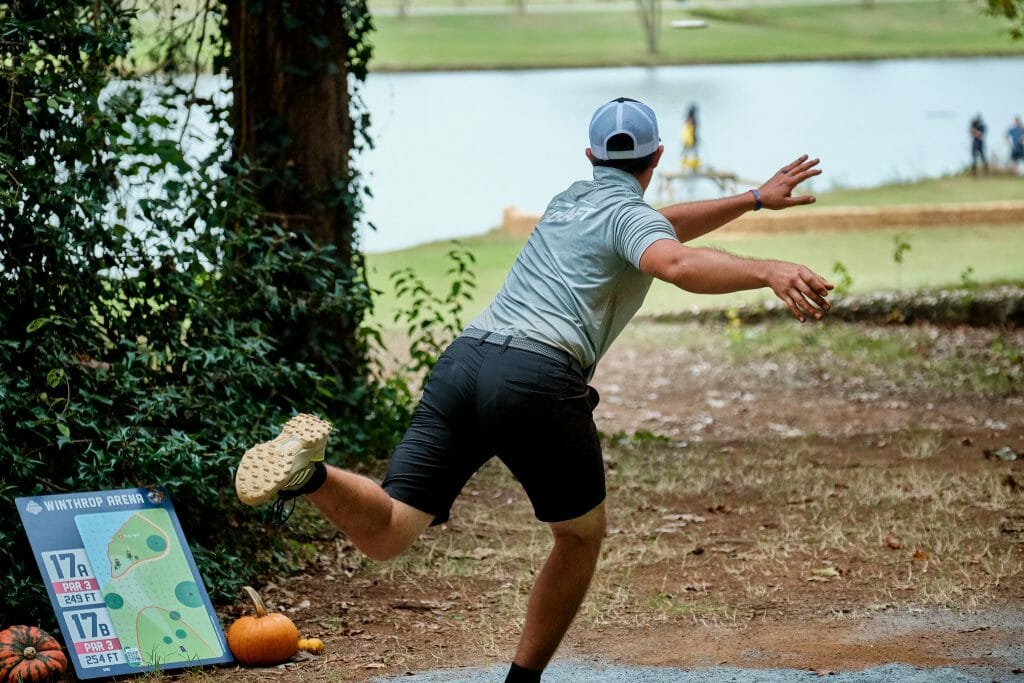 Ultiworld Disc Golf's coverage of the 2021 United States Disc Golf Championship and Throw Pink Women's Disc Golf Championship is presented by Skybreed Discs, a top online retailer and preferred vendor of the 2021 Ledgestone Insurance Open.
Get your popcorn ready.
In a round altered by rain, Paul McBeth shone through with an 11-under par round to jump from two cards back to the lead. His unofficial 1085-rated round is the third highest round ever posted at the USDGC, and he simply made the course look easy in the tough conditions. 
McBeth currently leads the field in birdie percentage and Circle 2 putting, and it was the most fully realized McBeth has looked all season, even through a win at DDO and runner-up finish at Pro Worlds. It looked like the McBeth putting stroke of old — perfectly paced out of the hand, nailing the height, crashing just over the rim — every putt seemed like a guarantee, something that has been missing from his 2021 campaign. McBeth hit 95% of his fairways, but he only found himself in C1 in regulation eight times, leaving work to be done. With every stroke holding extra weight, he performed. McBeth and Paul Ulibarri (up 43 spots into a tied for 34th) had the only bogey-free rounds of the day.

McBeth with a lead is tough to overcome, especially when he's in form as fine as he was on Friday, but this course time and time again has shown teeth, and you can bet there will be intrigue on Saturday. McBeth sits at 22-under par total for the Championship.
Chris Dickerson nearly held on to his lead, despite odd lapses in play throughout his round. Dickerson started cold, not carding a birdie until the very-tough-in-the-rain hole 5, and stuck a roller badly out of bounds on his upshot on hole 8 leading to a double-bogey and wiping out his gains. Through it all, his composure showed through, putting together a 5-under on the back 9, and going 4-under par on the day. He flashed the clutch gene with a par save from 66 feet on hole 16,1 and stayed close with McBeth despite having a significant lead on him at the start of the day. To Dickerson's advantage, he did miss birdies on the easiest stretch of the course, and performed well in one of the harder sections, so there is room for "easy" improvement in the final round. Dickerson has championship chops, and he is dangerous chasing a lead. He currently sits at 21-under par for the tournament, one stroke back of the lead.
Another day, another round of blistering play by Drew Gibson. He was a flamethrower on the front 9, only missing two holes, and for large swaths barely having to putt. However, a tough stretch of holes 10 to 12 soured his day with a bogey and two doubles, after which he promptly regained his form and went 4-down through the last six holes. It was a day of battling OB for Gibson, taking six OB strokes, which makes his 6-under par round that much more remarkable. He has now birdied or eagled every hole during the event except for the challenging hole 11. Gibson can take down every hole, it's all about course management and beating the bad breaks from here on out. He currently sits at 18-under par, four strokes back from the lead in third place.
Ricky Wysocki and Martin Hendel are currently tied at fourth at 17-under par total, with Hendel getting lead card honors due to a better third round at 4-under par compared to Wysocki's 3-under.. Hendel showcased smooth throwing form when hitting tight lines, but suffered from an up and down round with five bogeys. He more than held his own on Friday, keeping up with Dickerson and playing a self contained and steady game that never felt like he was pressing.
Wysocki on the other hand, suffered from a round with too much middle. Par stretches are not the norm for the normally explosive Wysocki, but something just seemed off on Friday. OB strokes, low fairway percentage, and putting woes all contributed to the relatively pedestrian day, but his good work on days prior keeps him in contention heading into the final round. Wysocki certainly has the desire, the skill, and the mettle to take it down, but he's going to need a great round to get it done. Don't bet against him.
Tied in sixth place at 16-under par are Nate Sexton, Joel Freeman, and Kyle Klein. Sexton made a nice recovery after slipping during round 2, and Klein jumped up 13 spots with a 7-under par moving day. Eagle McMahon started the day in eighth and was making an early move by going 4-down on the first five holes with two made C2 putts for birdie. Two OB strokes and a triple-bogey on hole 6, however, halted any momentum and he slipped into 10th.
Statline
The lead card was populated by champions and hopefuls on Friday, but we would be remiss to ignore the hype around the Second Chase Card. Paul McBeth, Nate Sexton, Simon Lizotte, and Eagle McMahon are about as high-powered of a card as you can have, and expectations were high. Suffice to say, the card lived up to the hype, going 23-under par collectively, a full 13 strokes lower than the collective lead card. There was plenty of airtime for that crew, especially as McBeth made his run.
Drew Gibson is absolutely smashing the field in Strokes Gained Tee to Green, nearing 20 strokes, while the next highest number belongs to Joel Freeman at just under 12. The Buzzz is working hard out at Winthrop.
---
a must see ↩