The year brought unexpected winners in both divisions, but which trend will continue into 2022?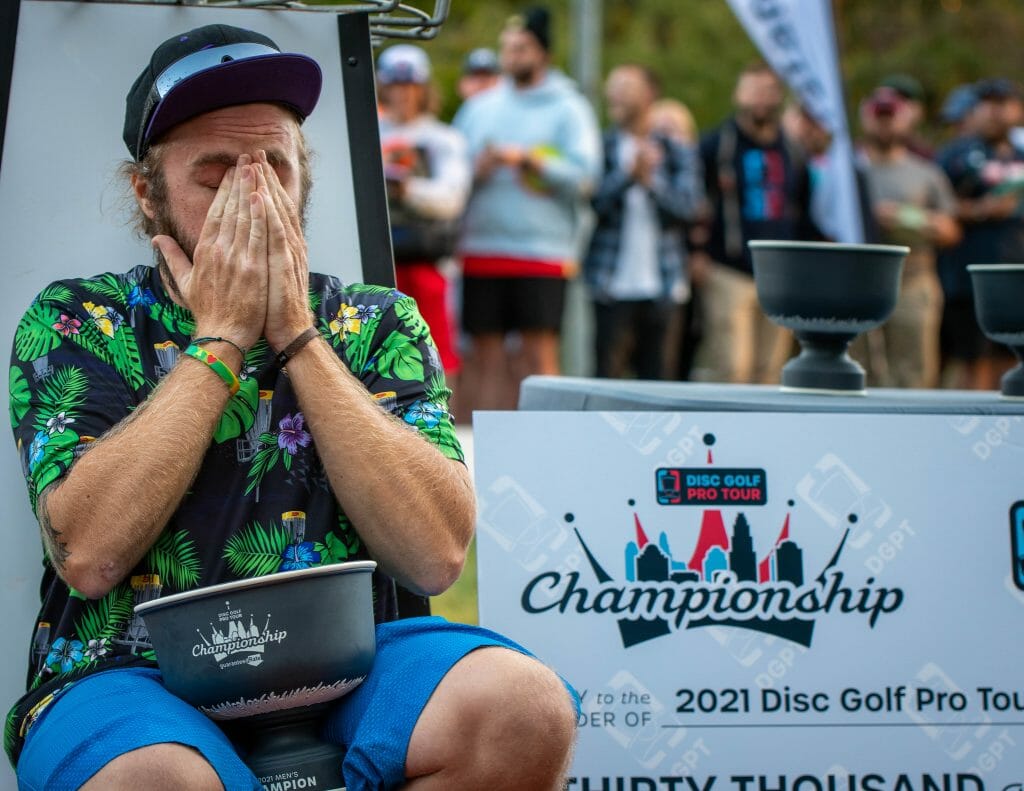 2021, what a doozy, eh? Folks, what a damn season it was. In a year which was likely the first full season of disc golf for many new fans and players alike amidst explosive growth for the sport in general. The professional scene also provided us with lots of new faces, names, winners, and questions to ask.
Let's start at the end, because recency is my favorite of the cognitive biases.
The Disc Golf Pro Tour Championship was a tale of two brackets. In MPO, Nathan Queen busted every bracket submitted to the Bushnell Challenge. Literally not one of the thousands submitted picked Queen as the eventual champion. Not even him, assuming he submitted one.
While Queen isn't exactly an unknown quantity, he only had one top 10 finish at an Elite Series event this season, and his previous best finish at an elite event was seventh at MVP Open in 2019. However, like many other players we'll be touching on later, 2021 was a breakout year for Queen. The lefty from North Carolina snagged three Silver Series event top five finishes at events that were well attended by a large portion of the top of the touring field. What is perhaps most telling about Queen's game, both at Hornets Nest and the season as a whole, is that his stats at the Tour Championship were for the most part, not that different from the rest of the year.  Queen scrambled a bit better, and his putter was a bit more accurate too, but in general he was just his normal self and, guess what, his normal self is pretty darn good. A 1026 rating is nothing to sneeze at.
In FPO, Missy Gannon was the third seed and only had to get through two rounds of play, but she was up against the most stacked field that the division had to offer. In both the semis and finals, she played by far the most clean golf in the field: a bogey-free initial round in the semis, and only two bogeys in the final round when her win was more or less assured.
Like Queen, Gannon had a season of growth and improvement. Gannon started the 2021 season with high expectations given what she showed in the 2020 season, but didn't really deliver on those expectations with any sort of consistency until after the world championship. Prior to Pro Worlds, Gannon was averaging a seventh place finish. Post Worlds, Gannon averaged a fourth place finish, including wins at Des Moines and the Throw Pink Women's Disc Golf Championship and, of course, the Tour Championship.
Both Queen and Gannon are players known more for their precision than power, and prior to these past two events were probably considered second-tier professionals in their respective divisions. That is to say, very talented and capable of placing well and cashing at Elite Series events, just not picked as favorites.
One has to wonder if their styles of play helped reduce the wear and tear on their bodies over the course of a very long season, and if maybe they had a little more hunger for a big win than their more well established peers.
Speaking of Throw Pink, let's just all agree it's a Major despite what the official line says. It makes absolutely no sense to have two concurrent events at the same course and have one of them not be a major. But that's another column for another time.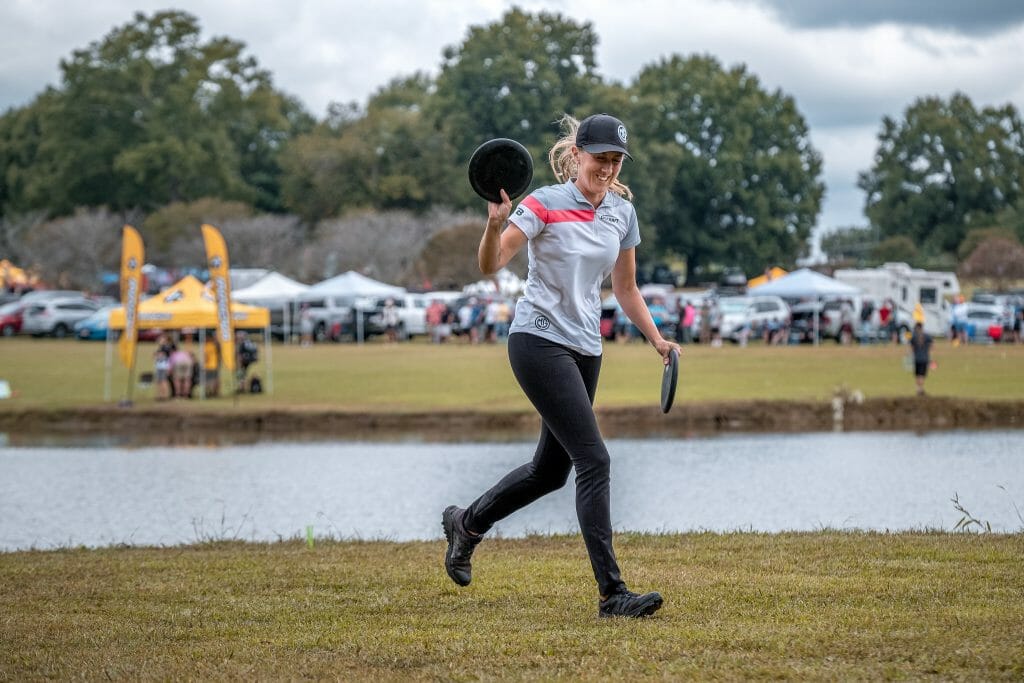 As I mentioned, Gannon isn't known for her power play, but she is known for her consistency and putting and, what do you know, Winthrop rewards that sort of behavior. While Pierce was, and likely will be for some time, the favorite going into any event, she has been a bit of a glass cannon this season, prone to fantastic blow-ups and that is exactly what happened and essentially gave Gannon the win.
Perhaps no one on the planet needed to win this USDGC more than Paul McBeth. Going into the weekend at Winthrop, McBeth was poised to have his worst season by win-count in close to a decade. He had been on the wrong end of the Holy Shot, and was really not in the conversation for player of the year. He had signed a $10 million deal and done all kinds of press, and to end the season with a mere two wins on the Elite Series would have been a bitter pill to swallow for McBeth. Who knows how those poor chain-less baskets in his garage would have suffered throughout the off season.
But one win can change everything, and with his third career win at USDGC, McBeth goes into the offseason with a Major win and a strong argument for POY given his consistent excellent (if not winning) play all season long.
Stray Thoughts
2021 was really fun in MPO largely thanks to the play of Kyle Klein, Andrew Marwede, Raven Newsom, Gannon Buhr, Gavin Rathbun, and Casey White. All six of these players had their moments in the spotlight during the season and gave us an exciting look at what their future of MPO has to offer. One thing that will be perhaps the biggest determinate for which of those players will go on to be the most successful is, for better or worse, the style of course that the DGPT chooses to emphasize moving forward. If, like this season,  the majority of courses tend to be open air on golf courses, the biggest arms will continue to dominate. If more wooded and touch line courses make their way onto the schedule, we'll probably see a greater variety of winners.
The future is somewhat less uncertain in the American FPO field. Paige Pierce, Catrina Allen, and, yes still, Sarah Hokom continue to have a stranglehold on the top of the field. Hailey King's victories on the National Tour1 and Gannon's end of season wins definitely put the big three on notice, and even, Kona Panis made some impressive inroads toward the top of the field. Those three still lack the consistency that the top three have shown for years. Yes, Pierce, Hokom, and Allen all had stretches of iffy play over the course of the season, but they accounted for 14 wins out of 22 events on the Elite and Silver Series this season, not counting a couple of Majors and a DGPT Match Play Championship. Players like King, Panis, and Gannon have clearly shown that they have what it takes to take the field and make it their own, but there is a drop off after that, with the next generation of players like the Mandujano sisters, Heather Young, Cynthia Ricciotti developing and a slower rate. When the European hydra of Kristin Tattar, Henna Blomross, and Eveliina Salonen are on hand, the FPO division has some really interesting depth. Without those three, things are and will continue to improve, but more slowly.
As I mentioned in a previous column, the 2021 tour was HEAVILY un-wooded, with a disproportionate number of courses featuring holes of 850-feet or longer and on current or former golf courses. While these facilities may provide better options for spectators and cell signal, they disproportionately reward a specific subset of skills at the expense of others. No knock on Eagle McMahon, but of his 12 career wins at DGPT, NT, or Major events, none of those are at courses which could be considered purely wooded. Courses at Beaver State, Idlewild, and Konopiste certainly feature wooded holes and require finesse on many shots, they also feature a significant amount of holes which are as wide open as anything you'll see in Emporia, Vegas, or Arizona. It's worth noting that no player in MPO won more than one Elite Series event on the season since the tour turned back east and into the more wooded environs. Notice how I specified MPO? King, Gannon, Pierce, and Allen each won multiple events east of the Mississippi.
---
RIP in peace ↩