An unbiased look at "team" performance during the season by assigning points to quality finishes at elite events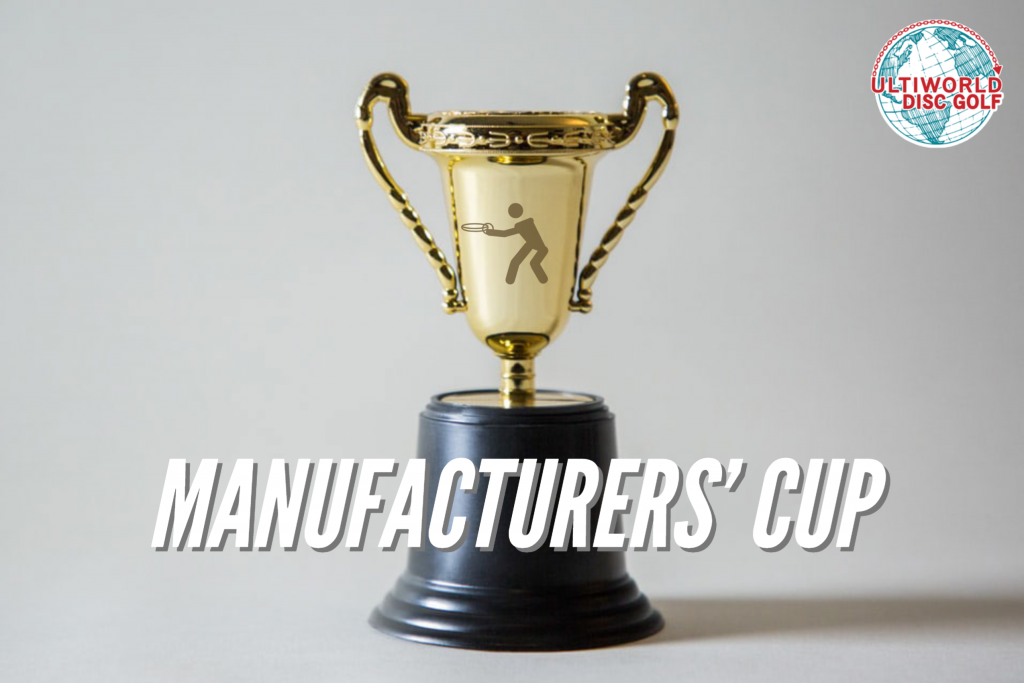 The mid-season standings in the 2021 Manufacturers' Cup race saw the top two disc golf manufacturers neck and neck in both the Open and Open Women's divisions.
The Manufacturers' Cup is an objective look at "team" performance during the season by assigning points to quality finishes at elite events.
As far as awarding points to players to count toward the cup, we only count top 10 finishes, and use a variation of the Formula 1 Constructors' Championship points system: winner of event receives 25 points, the second-place finisher 18 points, with 15, 12, 10, 8, 6, 4, 2, and 1 points for positions 3 through 10.
Ties in positions 1-9 split total points1. Ties in positions 10 and lower do not receive points.
Additionally, the highest round rating of the event gets 1 point added, and the hot round point can be awarded to more than one player, with each getting a full point.
---
In 2020, Innova took home its second consecutive Manufacturers' Cup in the Open division, and the start of 2021 was looking much the same. Discraft earned its first Manufacturers' Cup with its Open Women's success in 2020, and is also currently on track to follow it up with another win.
The 2020 efficiency prizes, given to the manufacturers with the highest points per player finish, were Westside Discs in Open and Prodigy Disc in Open Women.
Due to ongoing travel restrictions and cancellations, we've decided to exclude EuroTour and Prodigy Disc Pro Tour events from the 2021 Manufacturers' Cup, and will include results from Elite Series events, including PDGA Majors, National Tour, and Disc Golf Pro Tour. We will release a special edition including European results at the end of the season.
Only three events remain to decide the 2021 Manufacturers' Cup. And now, the current 2021 standings leading up to the 2021 Music City Open.
Open Women
A 50 point lead for Discraft in the overall standings before Pro Worlds has ballooned to more than 200 since. Even more interesting for the Michigan manufacturer is its points per player has also risen substantially as Paige Pierce, Hailey King, and Missy Gannon have all picked up wins since Utah, and the company also leads the efficiency category.
Kristin Tattar's U.S. tour saw her earn 75 points for Latitude 64, and pushed her into the top 10 individual rankings with only four events scored.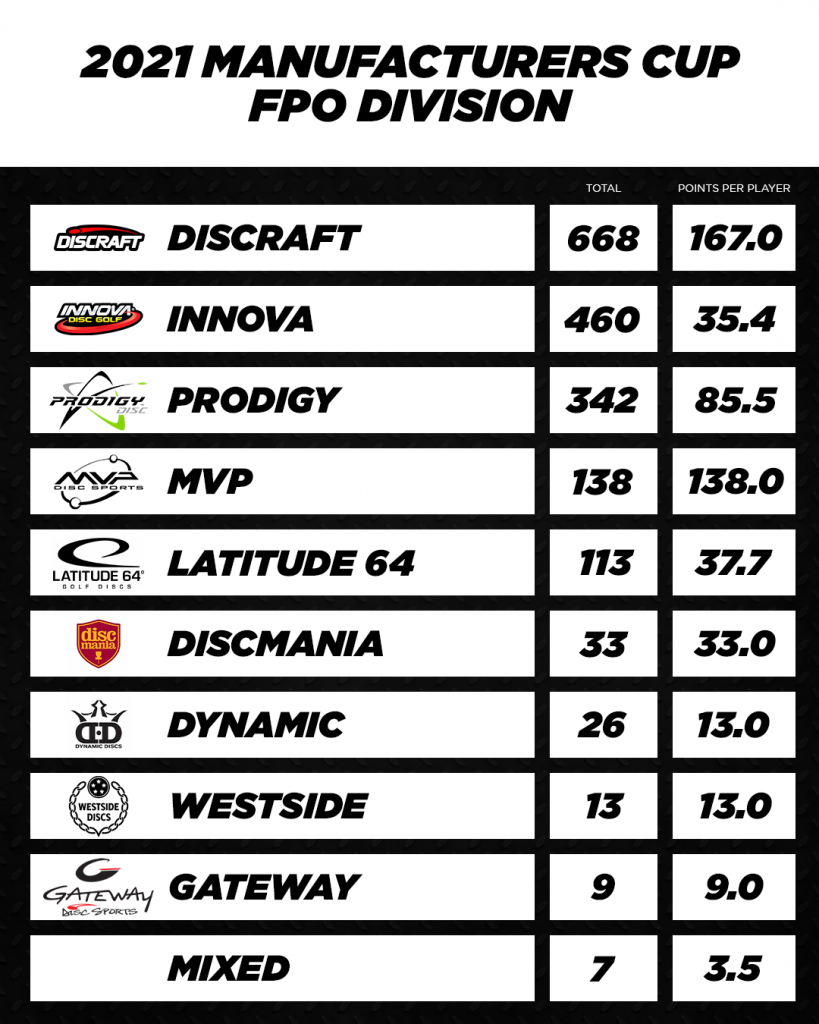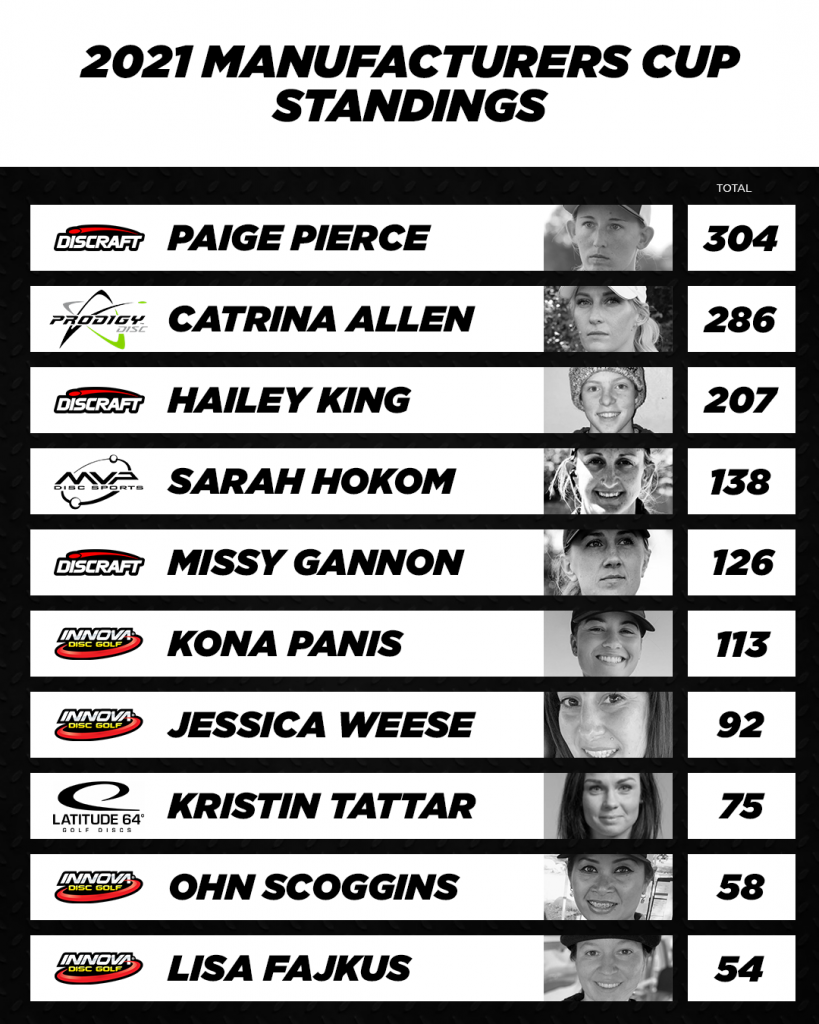 Open
Innova holds onto its overall lead with Ricky Wysocki and Calvin Heimburg pacing the manufacturer, but it was Andrew Marwede's recent run starting at Ledgestone where he's turned in five consecutive points-earning efforts that helped create more separation. Marwede also moved into the top 10 individual standings over the past six weeks.
Kyle Klein's performances at the Great Lakes Open and win in Idlewild, combined with Eagle McMahon's solid season, move Discmania into the efficiency lead with a 14 point per player margin over Innova. Five players have earned points for Discmania so far — McMahon, Klein, Gavin Rathbun, Simon Lizotte, Casey White — compared to 13 for Innova.