They're ready to play. We've got 'em ranked. Who is in our top 25?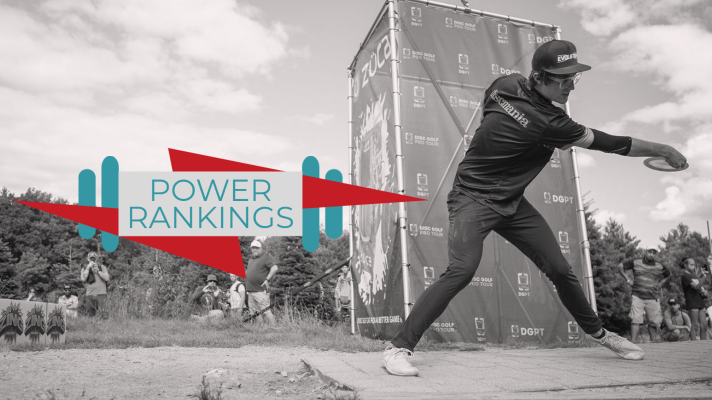 For the Open division, this may be the most volatile power rankings in history.
That's what another month of back-to-back Elite Series events can do. Voters were looking at performances from Ledgestone, Idlewild, Delaware, and MVP, meaning there were four separate champions, two first-time Elite Series winners (including one player who had never been ranked before), and only three players who finished on the podium more than once.
Despite not winning anything outright over the past month, Ricky Wysocki and Eagle McMahon stayed 1-2 in the polls due to repeatable performances. Wysocki shared a title with Calvin Heimburg at the weather-shortened Ledgestone and had two other second place finishes to go with it. McMahon remains tied with Wysocki for highest-ranked player in the world and was in position for W's at several stops.
Below those two, however, it was mayhem. Adam Hammes, Andrew Marwede, and Joel Freeman all made double-digit jumps up the rankings into the top seven, and eight players went from unranked and into the top 25. Matt Bell's fourth place showing at MVP helped him go from 0 to 11th, and Connor O'Reilly's win at Delaware gave him his Power Rankings debut at no. 14. Raven Newsom (18th), Corey Ellis (21st), and Alden Harris (25th) were other players making their first appearances in the rankings.
With one round down at the Green Mountain Championship, players are ready to shake up next month's ranx even more. Here's how the rest of the top 25 shakes out.
Methodology: We combine an algorithmic objective ranking with subjective ballots submitted by UWDG staff. The algorithm uses a standardized scoring model to compare elite events, awards competition and cash bonuses, and features a decay function that gradually phases out past results. For the ranking, staff considered the following criteria: 1. results from the 2021 Elite and Silver Series events, 2. UDisc and PDGA statistical measures, 3. the previous UWDG Power Rankings, and 4. their super subjective vibes, gut feelings, and premonitions heading into Green Mountain.
MPO Power Rankings
Full breakdowns for each player continue below.
Bonus Content for Ultiworld Disc Golf MPO Power Rankings (US Edition): September 10, 2021 is only available to Ultiworld Subscribers
Already have a subscription? Log in
Whether you visit Ultiworld for our reporting, our podcasts, or our video coverage, you can help us continue to provide high quality content with a subscription. By becoming a subscriber, not only do you receive benefits like bonus content and full article RSS feeds, you also help fund all of Ultiworld's coverage in general. We appreciate your support!