The National Tour returns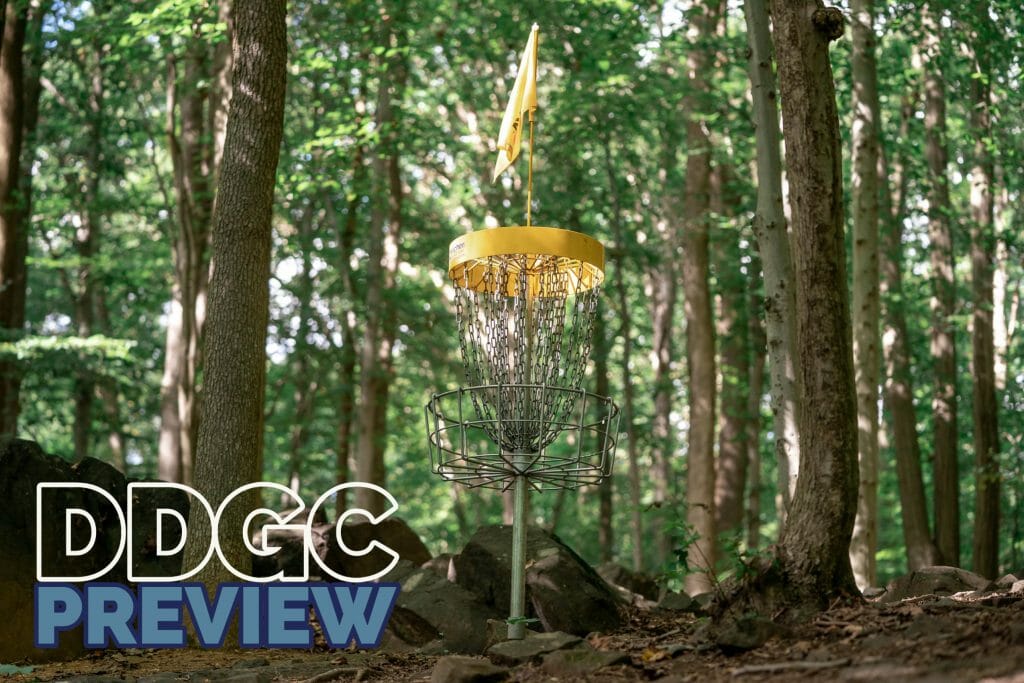 Three years ago, A.J. Risley wrote an ode to Iron Hill as the PDGA National Tour prepared for its first visit to the Newark, Delaware track.
Patience is a virtue, birdies don't come easy.
An excess of tree kicks might make one queasy.
Risley hasn't played an Elite Series in more than a year, and hasn't been fully healthy for one in closer to two years. He returns to the tour this week to take on Iron Hill in an unenviable task.
The Delaware Disc Golf Challenge has yet to breakthrough to must-stop status despite its reputation, which has maybe contributed to the Open division not having a repeat winner at the event since 2012. In past years the tournament has fallen either post Pro Worlds or after other more established events in the area. With a break in action just before tee-off in the first state, the DDGC has a fresh outlook for 2021.
Past Winners
| Year | Tier | MPO | FPO |
| --- | --- | --- | --- |
| 2019 | NT | Matt Bell | Catrina Allen |
| 2018 | NT | Paul McBeth | Sarah Hokom |
| 2017 | A | Andrew Fish | Hannah Leatherman |
| 2016 | A | Bradley Williams | Sarah Hokom |
| 2015 | A | Dave Feldberg | Catrina Allen |
| 2014 | A | Mike Moser | Paige Pierce |
| 2013 | A | Ricky Wysocki | Hannah Leatherman |
| 2012 | A | Tyler Horne | Sarah Hokom |
What We're Watching
No McBeth or McMahon. No Pierce or King. Both divisions are missing some top talent and NT winners from earlier in the season. All we see is more room for a first-time Elite Series champion.
How close to par will the winners be? Par has changed marginally over the seasons, but there was a big discrepancy in final scores relative to par for the Open field at the two prior NTs; Open Women's scores were stable over the two events. When Paul McBeth won in 2018 it was with a final score of 36-under par, 180 total strokes, averaging 1053. Matt Bell won in 2019 with a 17-under par, 190 total, averaging 1039-rated golf.
GRIP6 Pick 6 Locks Of The Week
Betting Ricky Wysocki to be a lock is wasting words, but let's waste away. Wysocki finished in second place at both the 2018 and 2019 NTs by a combined five strokes, and won the event as an A-tier in 2013. He won two DGPT events in the past month and should be ready to go for NT win no. 2 of 2021.
We'll stick with the chalk picks this week. Sarah Hokom knows how to play well in Delaware. She's won here at both the NT and A-tier level, is coming off podium finishes at her past two events, and hasn't finished below seventh since returning from an injury in late June.
The Course
Iron Hill: MPO – 10,585 feet, par 70; FPO – 9,050 feet, par 70
This course is long and technical and doesn't really afford the big throwing types to air it out. Each tee shot demands technical skill and accuracy to land safely in the fairway. There are only a handful of par 3s on the course which means that for the players who are able to navigate the tee shot, there will be ample opportunities to score. This also means that scrambling and upshots will be key for players who will need to be saving or playing for par.
Extended Forecast
Hot and muggy conditions on Friday will subside some on Saturday. However, a chance of showers and thunderstorms exist each day of the tournament, with Saturday looking like the most coverage.
Friday: Hot and humid. Afternoon highs will top out around 92°. The moisture will make it feel more like it's in the low 100's. Afternoon and evening showers and thunderstorms can't be ruled out. Southwest wind around 5 mph possible.
Saturday: Showers and thunderstorms possible throughout the day. Highs will top out in the low to mid 80s. Northeast wind of 5 to 10 mph possible.
Sunday: Rain chances lessen some as a front works south of the region. Still, a few showers and storms are possible. Afternoon highs will top out in the low to mid 80s. Easterly wind of 5 to 10 mph possible.
How To Watch