They're ready to play. We've got 'em ranked. Who is in our top 25?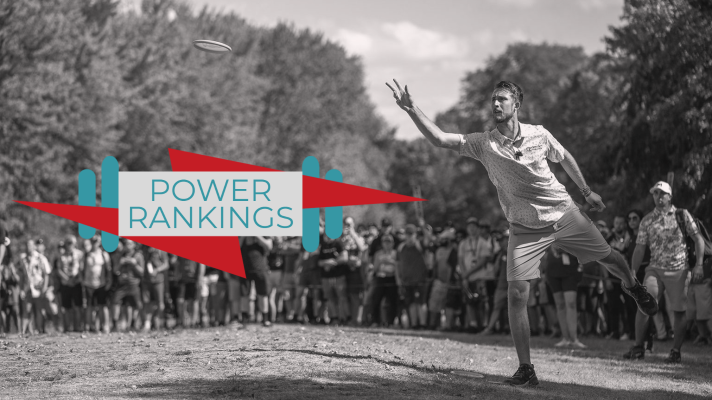 The power rankings did not wait for reigning world champions to get some time in the top spot before the Tour ramped back up and pushed down the importance of that big piece of hardware.
James Conrad hasn't slipped far, but since the Holy Shot in Utah a couple of 1050 bois have done their best to reclaim the no. 1 spot. Eagle McMahon has been playing as well as anyone since Worlds and even became the highest-rated player in the world with the most recent update, yet someone else has the momentum, and that's what this exercise is all about. What player is really feeling it.
Ricky Wysocki is feeling it. Two consecutive wins, which both came with some adverse weather conditions, and Raptor Legs is on a roll. Meanwhile, another 1050 Club Member, Paul McBeth uncharacteristically struggled at Ledgestone, turning in his lowest finish since an injury-plagued 2019 USDGC.
While the usual suspects remain up top of the rankings, new blood has come into the bottom of the pile. Teenagers Gannon Buhr and Cole Redalen make their Power Ranx debuts, and as long as they continue to play on Tour they have the skillsets to maintain those positions.
They're ready to play. We've got 'em ranked. Who else is in our top 25? Here's how they stack up heading into the Idlewild Open.
Note: while COVID travel restrictions remain in place, this list considers players based in America. We will break out an international top 10 once the season gets underway across the pond.
Methodology: We combine an algorithmic objective ranking with subjective ballots submitted by UWDG staff. The algorithm uses a standardized scoring model to compare elite events, awards competition and cash bonuses, and features a decay function that gradually phases out past results. For the second regular season ranking, staff considered the following criteria: 1. results from the 2021 Elite and Silver Series events, 2. UDisc and PDGA statistical measures, 3. the previous UWDG Power Rankings, and 4. their super subjective vibes, gut feelings, and premonitions heading into Idlewild.
MPO Power Rankings
Full breakdowns for each player continue below.
Bonus Content for Ultiworld Disc Golf MPO Power Rankings (US Edition): August 13, 2021 is only available to Ultiworld Subscribers
Already have a subscription? Log in
Whether you visit Ultiworld for our reporting, our podcasts, or our video coverage, you can help us continue to provide high quality content with a subscription. By becoming a subscriber, not only do you receive benefits like bonus content and full article RSS feeds, you also help fund all of Ultiworld's coverage in general. We appreciate your support!