Hole 18 on the final round dominated the discussion but let's not forget how we got there.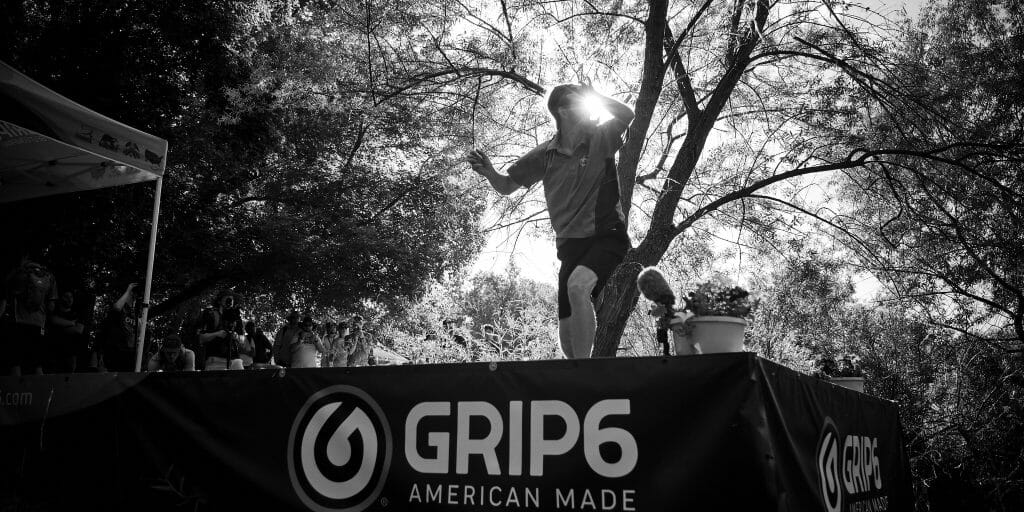 Ultiworld Disc Golf's coverage of the 2021 PDGA Pro World Championships is presented by Skybreed Discs, a top online retailer and preferred vendor of the 2021 Ledgestone Insurance Open, and Aria Discs, a new disc golf brand making discs designed for beginners.
There's a lot to unpack from last week in Utah but I think a general "HOLY SH*T!" will be a good starting point. I mean, wow. This event had it all: the good, the bad, the jaw-droppingly cool and tragic.
Let's start on a high note. In both FPO and MPO, we may have just witnessed the greatest conclusion to a world championship in the sport's young history. Those of you who were lucky enough to be able to tune in live for the final rounds on Saturday were treated to some of the most thrilling finishes you will ever see in any sport.
All week, Paige Pierce and Catrina Allen were battling it out for pole position. Others made runs towards the top but none were able to really put consistent pressure on Allen and Pierce, except, of course, for Lisa Fajkus. During the final round, she would need to birdie hole 16 to keep a slim chance alive, and for both Pierce and Allen to collapse. For a moment, it looked like that was what might happen.
Both Pierce and Allen went OB off the tee, and Fajkus put her drive right by the basket. This looked like at least a three stroke swing in Fajkus' favor to put her within two strokes of the lead with two wild card holes coming up. In short, Fajkus had a chance. But then…Pierce hit from the drop zone to save par, and Fakjus four-putted from inside the circle to take a double bogey. When Allen tapped-in for bogey after her miss from the drop zone, we looked to be on our way to crowning Pierce as the first six-time Open Women's world champion in PDGA history.
What we got instead can be justly described as both a nerve-induced collapse from Pierce and a gutsy and incredible never-say-die performance from Catrina Allen over the next two holes.
That would have been the biggest story of the week, a finish so spectacular and amazing that it would vault this week into the conversation for best Worlds finish ever, were it not for James Conrad and Paul McBeth.
Throughout the first couple of rounds, McBeth wasn't a bit off the top scoring pace, and found himself sitting in seventh place going into the fourth, penultimate round. James Conrad was in eighth place. Between the two of them, neither had carded a round double-digits under par. In the fourth round, McBeth made his move, shooting 10-under at the Fort and jumping up into solo possession of first ahead of Conrad, Calvin Heimburg, and Kevin Jones.
Like with Pierce in FPO, it seemed almost inevitable that we were on our way to a sixth ring for McBeth. Like with Pierce in FPO, we were wrong.
Insert McThanos: "I am Inevitable."

Insert long-haired Tony Stark: "I am Conrad."
Vinny had an all-around off day. For Jones, the dream came to an end on 16 where he, like Fajkus, was betrayed by his putter. Jones traded a birdie look to stay in the hunt for two OBs and a triple bogey. It was now up to Conrad to stop McBeth, and stop him he did.
If you're reading this, you know what happened and don't need me to describe what went down on 18 or to describe the pandemonium which was unleashed, and then quickly contained on the key hole green.
2021 Pro Worlds: Conrad Cements Himself In History With Wild Worlds Finish
What is special about all sports is how a single moment can erase a whole round, game, season, or tournament's worth of frustration and bad luck. No one remembers the starting pitcher who gave up 11 runs in the second inning so long as his third baseman bails him out with a walk-off in extras. No one cares about the lineman who missed a block assignment leading to a pick-six so long as the kicker saves things with time expiring. Miss three big free throws with five minutes left? All is forgiven if you hit the three at the buzzer. In the case of the 2021 World Championship and season writ large, both Conrad and Allen probably wish they could have some putts back, some upshots re-done, and maybe taken a line or two differently in along the way.
With two perfect shots, all of that is erased. They are World Champions.
Unfortunately for the PDGA, Conrad's and Allen's heroics probably only brought them a brief reprieve from the valid and deep criticisms of how the event was run which sprang up over the course of the week and in its aftermath. We'll have more on that in a separate column.
Stray Thoughts
While FPO was essentially a race between Pierce and Allen all weekend with appearances from the field, especially Fajkus' late push, we did get to see upwards of 10 MPO competitors with legitimate chances for the win. Nate Sexton was in the lead more than once during the tournament. Calvin Heimburg was in the lead. Kevin Jones had the lead. McBeth had the lead. Chris Dickerson had the lead. Emerson Keith had the lead, which is apparently a new tradition at Worlds. Cale Leiviska, Mason Ford, Gregg Barsby, and Kyle Klein all finished in the top 10. Eagle McMahon played himself out of contention early but clawed his way back into a final place worthy of the top-ranked player. Until about halfway through the final round, it was truly possible that the world champ would come from the chase card.
Speaking of the chase card… one new feature of the JomezPro coverage was the Chase Card Check-ins, which featured both brief and more extended footage from the chase card furnished by Gatekeeper Media. According to Jomez, "After the very positive response received at Worlds, we are planning on continuing our partnership for the rest of the season." This is great news and perhaps signals that post-production teams will be more able and better positioned to provide that sort of comprehensive up-and-down-the-leaderboard coverage that can bring disc golf coverage to the level approaching traditional golf.
I will put on my sewage-proof boots and waders and step into the course design conversation. Is it any coincidence that one of the only courses this season to limit a premium on pure distance and focus the majority of the play on the wooded course resulted in such close, quality, and exciting play? All due respect to Heimburg and the big arms, who said they prefer the opportunity to air it out, there is more to the game than throwing the disc 500 feet. Part of what made the play this past week so exciting was that there was a chance, well into the final round, that a winner could come off the chase card. There were more lead changes than we could count, and many different play styles were in contention. These courses surely had long bomber holes, but it wasn't an automatic loss of a stroke to the field for players who can't throw five bills, and players who can throw elite level bombs but can't keep it in the lines or manage the woods were punished. These courses challenged an all-around skillset, without putting too much of a premium on one particular ability.
How many forehands did we see thrown this weekend? How many forehand rollers? How many grenades? From a sheer entertainment and shots-that-make-you-go-WOW stand point, I think it's clear that The Fort delivered a much more entertaining product than most courses we have seen this season. With regards to an opinion of an Ultiworld Alum, Jamie Thomas, disc golf may not need to be in the woods, but it's way more entertaining when there's at least something in the way.
Not for nothing, let's look at the gap in score between the first place finishers and 10th place Open finishers at DGPT and NT events so far this season: 16 stroke gap at Vegas, eight strokes at Waco, nine at Texas States, 13 at Jonesboro, 16 at DDO, 12 at OTB, 10 at Masters Cup, 11 at Portland, 10 at Worlds. Scores are closer at wooded, or otherwise less distance-dependent courses. Closer scores lead to exciting moments. Exciting moments are good. See where I'm going with this.
Many fans, players, and media figures have identified this world championship as a turning point for the sport in terms of growth and mainstream exposure thanks almost entirely to James Conrad's shot on 18. The clip has gone viral, and media outlets like Barstool, Jomboy, ESPN, and others have run everything from a shortened version of the clip to full highlight and analysis packages. This is wonderful, full stop. Will the PDGA be able to competently take advantage of this moment? The DGPT has. That remains an open question given everything else that happened in Utah.
Some out there have complained that the spectators and spotters running around the green after Conrad made his shot make the sport look unprofessional. To those wet blankets I say, BOOOOO! The line that disc golf needs to, and probably can, toe is how to balance the counterculture's grass-roots history with professionalism and a polished product. Sure, part of the appeal for people who have picked up the game over the past number of years is seeing a shiny product from Jomez, DGN, and McBeth's big contract. But perhaps equally, if not more so, is the fact that disc golf is FUN. The low cost of entry into the sport, the variety of courses and discs, the inventive shots you can shape, and the decidedly un-country-club vibe of most courses is part of the appeal. And did I mention it's FUN! We aren't the NFL, NBA, or MLB where celebrations are policed and crusty talking heads gripe about bat flips and Gronk-Spikes. We are disc golf, where long haired freaky people are most definitely allowed.
To you, American Flag Shorts Running Guy, to you, Prancing Spotter, I say party on and have fun.