Will a lost year put extra pressure on the world championships?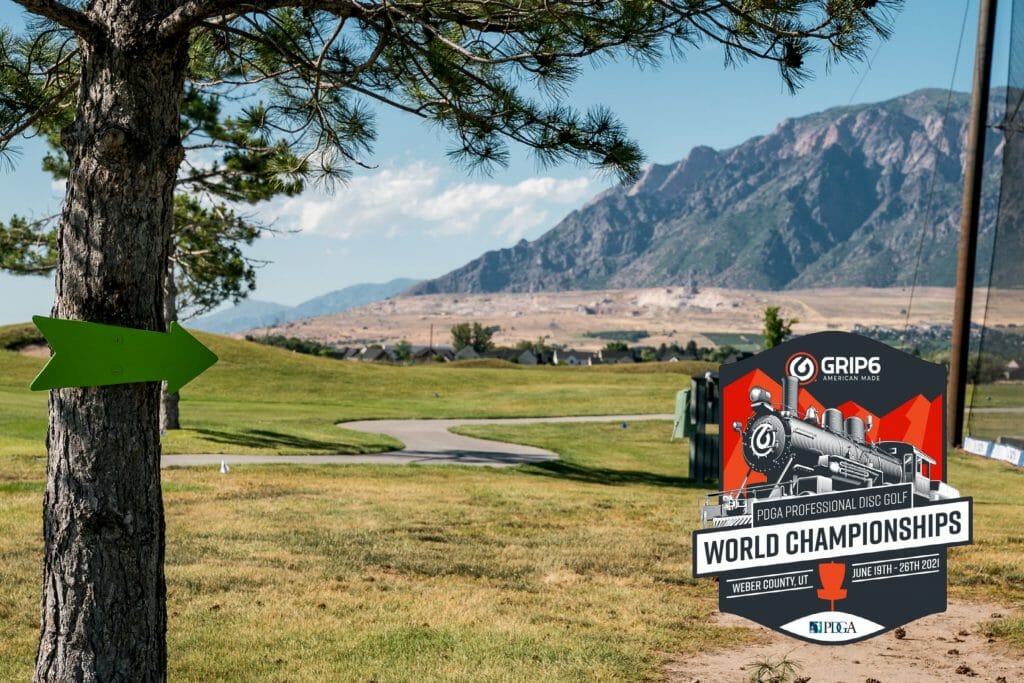 Ultiworld Disc Golf's coverage of the 2021 PDGA Pro World Championships is presented by Skybreed Discs, a top online retailer and preferred vendor of the 2021 Ledgestone Insurance Open, and Aria Discs, a new disc golf brand making discs designed for beginners.
When the original June dates of the 2020 PDGA Pro Worlds event were announced, the early summer timeframe sounded too soon in a season to be determining a world champion. Having had to postpone the Ogden, Utah event 12 months to 2021, however, it's now been close to two years since the disc golf world has crowned a champion and it's starting to feel overdue.
Since August of 2019 when Paige Pierce and Paul McBeth won their fifth world titles, we've had new talent emerge in both the Open and Open Women's fields that may not have been ready to made the jump to world champion a year ago. Hailey King and Calvin Heimburg are bonafide stars now. Eagle McMahon has continued to etch his name on more and more trophies. And past world champions like Ricky Wysocki and Catrina Allena are playing some of their best golf in years.
With a hungry field, we are also coming to a less known location. The Utah Open has yet to be a must-stop for the majority of the touring players, and The Fort, which will host three rounds including the final, is even more of an unknown. Many pros opted to take the weekend off rather than get in a competitive event on the courses two weeks ago, so our data sets are relatively small. but we'd probably also just throw it out anyway when talking about a Major.
The five round Worlds format is supposed to separate the best from the rest, and the mental toll starting on Tuesday that players will face will be the bigger deciding factor than any slick fairway or wooded rough. After a year of uncertainty of touring through a pandemic, however, a world championship doesn't sound like that big of a deal.
Past Winners
| Year | Open | Open Women |
| --- | --- | --- |
| 2022 | Paul McBeth | Kristin Tattar |
| 2021 | James Conrad | Catrina Allen |
| 2020 | n/a | n/a |
| 2019 | Paul McBeth | Paige Pierce |
| 2018 | Gregg Barsby | Paige Bjerkaas (Shue) |
| 2017 | Ricky Wysocki | Paige Pierce |
| 2016 | Ricky Wysocki | Valarie Jenkins |
| 2015 | Paul McBeth | Paige Pierce |
| 2014 | Paul McBeth | Catrina Allen |
| 2013 | Paul McBeth | Paige Pierce |
| 2012 | Paul McBeth | Sarah Hokom |
| 2011 | Nate Doss | Paige Pierce |
| 2010 | Eric McCabe | Sarah Stanhope |
| 2009 | Avery Jenkins | Valarie Jenkins |
| 2008 | Dave Feldberg | Valarie Jenkins |
| 2007 | Nate Doss | Valarie Jenkins |
| 2006 | Ken Climo | Des Reading |
| 2005 | Nate Doss | Des Reading |
| 2004 | Barry Schultz | Birgitta Lagerholm |
What We're Watching
Considering her current win streak and expectations, anything worse than first for Paige Pierce will be a disappointment. Pierce has won all five of her world championships in odd numbered years, so 2021 tips in her favor for yet another reason.
Will the long layoff between world championships put any extra pressure on players more than their typical Pro Worlds jitters? Some players may see their window of opportunity closing to capture a world title as they lost a year of competition and see a younger group of players on the rise.
Mulligans has a way of eating plastic. Even with the Waterdawgs doing their best to recover errant shots there may be some players without their preferred discs come the final round at The Fort.
The heat has been a major factor during the practice rounds in the buildup to the event. Temps will drop a smidgen for the five rounds but it's still another element the players will be battling. Remember the 2017 Pro Worlds in Augusta? It may be a bit like that.
Staff Picks
The Courses
Players will be playing three rounds, including the final round Saturday, at The Fort, and two rounds at Mulligans.
Extended Forecast
A hot week is shaping up for the World Championship in Ogden, Utah. A surge of moisture on Wednesday and Thursday will provide for a chance of rain and thunderstorms. This will be followed by warming conditions for the weekend rounds.
Tuesday: Hot. Highs will top out near or at 100°. Southwesterly winds of 5 to 10 mph, with higher gusts possible.
Wednesday: Highs will top out near 93°. Southwest wind around 10 mph possible. Showers and thunderstorms become more likely in the late afternoon and early evening hours.
Thursday: Showers and thunderstorms possible throughout the day. Highs will top out in the upper 80s. Westerly wind around 10 mph possible.
Friday: Highs climb back up to near 90°. Northwest wind of 10 mph possible.
Saturday: Highs top out in the low 90s. Northwest wind of 10 mph possible.
How To Watch