Woods and water await on the two Utah courses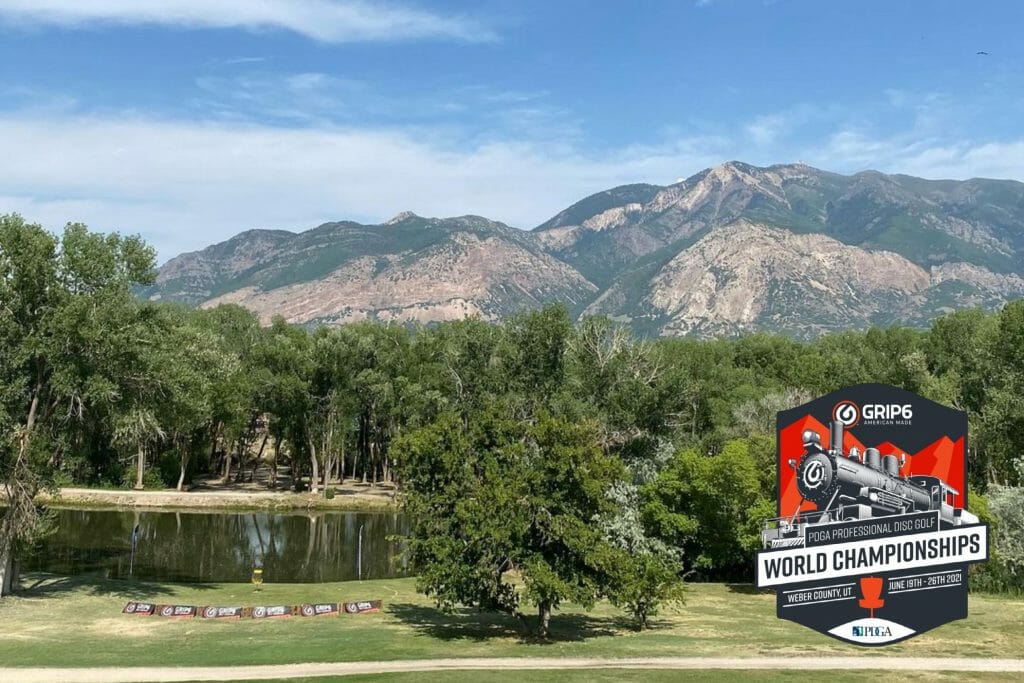 Ultiworld Disc Golf's coverage of the 2021 PDGA Pro World Championships is presented by Skybreed Discs, a top online retailer and preferred vendor of the 2021 Ledgestone Insurance Open, and Aria Discs, a new disc golf brand making discs designed for beginners.
As has become custom at PDGA Pro Worlds events over the last couple of seasons, the 2021 event will play multiple rounds on two distinct courses testing every shot players have in their bags.
Both divisions will play The Fort three times and Mulligans twice, alternating courses over the first four days before cutting the field for a final round with both divisions on The Fort.
Mulligans has been in play at the Utah Open dating back to before it joined the Disc Golf Pro Tour schedule in 2017, and while we haven't had a chance to see the majority of touring players take on The Fort yet, there is something the Ogden, Utah courses have in common.
"We have discussed it with few players and for both of these courses, you don't need the biggest arm to be competitive," said Albert Tamm. "Mulligans will test your fairway speed control and Fort your gap hitting skill."
Players will also be in store for another uncommon challenge for most of them: elevation. Discs won't fly the same at 4,300 feet above sea level the same they did in Portland a couple weeks ago some 4,200+ feet lower.
How Utah's High Altitude Will Affect Discs' Flight at Worlds
The Fort
MPO: 8,373 feet, par 63 — Rounds 2, 4, 5
FPO: 7,413 feet, par 63 — Rounds 1, 3, 5
During the Worlds Warm-up, the Utah Open a week ago, The Fort averaged about 1.5 strokes over par over 36 holes compared to a 2.76-under par average at Mulligans for the Open division. Similarly, the Open Women's division scored about three strokes worse to par at The Fort than Mulligans. Only two of more than 110 rounds finished bogey-free across both divisions, and despite eigth par 4s and 5s on the course there was not one eagle. In fact the second shortest par 4, the 540-foot hole 5, was the second toughest hole to par at the UO.
When players find their way off the often wooded fairway it'll be a tough scramble. As the final cards are making their way down the bleacher-lined fairways of hole 18 on Sunday they will sure to be mentally exhausted from the pressure of the stage and having battled a demanding layout for 54 holes.
The Fort Disc Golf Course Utah Open Pro Worlds Ogden
What hole is TD Jade Sewell's favorite?
"Hole 12. We created a tricky yet simple hole to play; I spent a lot of time working on hole 12. Once we made it a par 4 it changed the hole to one you need to manage. If you're throwing a high speed driver on this hole you're probably going to get in trouble. I absolutely love it!
What hole best captures the essence of The Fort?
"Hole 5. It has a tight fairway with small gaps and a directional green. This is the hole that says, 'The Fort,'" said Sewell.
What pros have said:
Jeremy Koling: "I think we want to reward the all-around player and reward shot placement and not just favor the longest throwers. What we want in a champion is someone who has multiple skill sets and can manage all kinds of angles. I'm looking for the course to give us tight, interesting shot types and angles."
Kristin Tattar: "On Fort, you really have to hit your lines to get birdies and the rough is very rough."
Mulligans
MPO: 7,989 feet, par 58 — Rounds 1, 3
FPO: 7,065 feet, par 58 — Rounds 2, 4
Yes, it's on a golf course. But this is not a grip-it and rip-it type of layout. Mulligans is under 8,000 feet at its longest configuration and contains hazards everywhere. The lowcut grass causes discs to skip with speed, making it extremely easy to find one of the numerous water hazards or bunkers on the property. The Waterdawgs may be able to help you get your disc back, but they won't save you any strokes.
Wind has definitely been a factor here in the past, so the game plan will need to be strong as players will have to pick their spots to attack.
Mulligans Creekside Disc Golf Course Utah Open Pro Worlds Ogden
What hole is TD Jade Sewell's favorite?
"My favorite hole at Mulligans is hole 18. Ricky [Wysocki] with the walk-off ace made it famous."
What hole best captures the essence of Mulligans?
"Hole 5, we call it 'Ice.' The fairways are very fast at Mulligans and this one is fast! It's also on one of seven ponds on the course.  Dave Feldberg once told me they are the fastest fairways he has ever played," said Sewell.
What pros have said
Sarah Hokom: "I can't throw far enough to birdie most of the holes, so the course plays like fieldwork — same shot over and over again — with a bunch of 80-120-foot upshots for par. Pretty boring for me and 90% of the FPO field."
Kristin Tattar: "In Mulligans there is danger in every hole, either a bunker or water. For [Silver Latt and me] it is scary because we still have five more events after Worlds and we don't have backups. So if we lose our discs then there's nothing to play with."