Yes, we're talking about practice!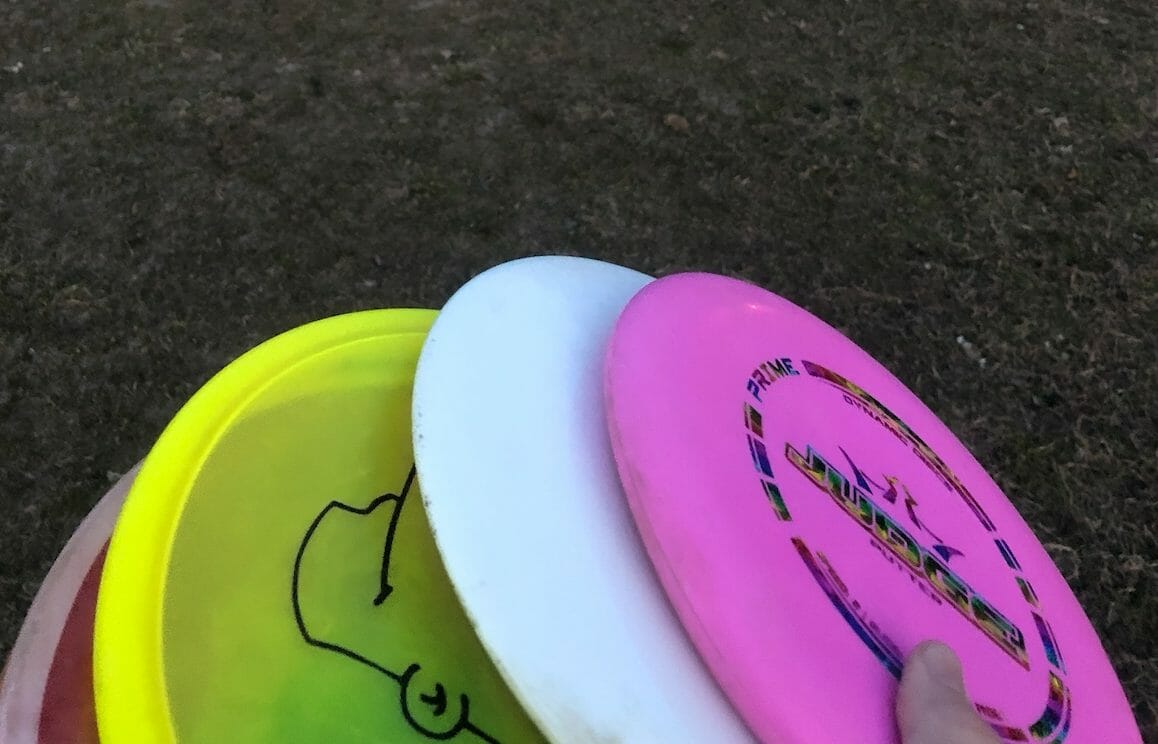 I love practice. While I sometimes practice at a course, I have also identified empty lots and fields all over town where I can have a quick throwing session and, more than once, my students have asked, "Did I see you standing out in that field next to Kroger?" Yes, that was definitely me.
When people ask me about my favorite course, I often say "the practice field." I know that everyone doesn't feel that way, but I want to make the case that even a little bit of disc golf practice can make a huge difference in your scoring and make the game more fun.
Practice is for Everyone
One of the greatest things about disc golf is that it is more than one game. It can a fun, relaxing walk around a park with barely followed rules, adult refreshments, good friends, and great music. It can be a tense sport played in tournament conditions where players fight for every stroke. It can be a walk-and-toss in flip-flops or a competitive battle in collared shirts and golf shorts. Disc golf is, of course, all these things, and we should celebrate both the recreational and competitive sides of the game. For those who think of disc golf as primarily a competitive sport, it is easy to see the need for practice. But I want to suggest that field work is not just for grinders who want to maximize their scoring. Even though it is called "field work," it has a place in every player's game. Practice can help everyone enjoy the game more, even if you never play a tournament round.
Even though I personally love to grind and look forward to spending an hour throwing upshots in an open field behind a tire store, I have had to come up with ways to make field work interesting and inspiring rather than boring and frustrating. This series will offer ways to add field work into your disc golf game and discuss how to practice, and why.
Field work is not one thing. Each practice session should have its own rhythm, structure, and goals. There are at least five different goals for field work — and probably many more. They aren't mutually exclusive (hopefully, every session generates confidence, for example), but knowing the primary goal of each session can really help:
1. Skills Acquisition
2. Evaluating Equipment
3. Tournament Preparation
4. Confidence
5. Fellowship
Let's look at each of these in turn.
Skills Acquisition
This is what most people think of as "practice" – getting better at throwing a disc. When you are learning the game, when you are adding new shots, or when you are reworking your swing, the practice field is the best place to be. There is no substitute for the concentrated throwing time you can get in the field versus on the course. In a regular round, over an hour and a half, you may throw only 18 full shots – all the rest of your throws will be upshots, trouble shots, or putts. In a field, you can throw five times that many shots (or more) in a third of that time. When you are trying to refine or change technique, there is no replacement for the number of repetitions you can get in the field. Learning to throw on the course can work, but it can be a long, frustrating process. It is like deciding to learn how to play baseball and being told that they will see you on Wednesdays and Saturdays for games and maybe you should watch some YouTube videos before then. You can learn to score on a course, but the place to learn how to throw is the field.
The field is also the best place to work on your short game – this is practice that will immediately begin saving you strokes and make the game more fun. In just twenty minutes, you can throw more upshots than you may throw in five playing rounds. This is crucial, because it takes repetition to develop the touch needed to throw it under the basket from 70, 105, or 155 feet in varying conditions. And upshots – unlike drives – are throws where consistently being 15-20 feet closer can make a massive difference in score and reduced frustration.
In the field, you can work on the process of throwing without thinking about the outcome. This helps you accurately evaluate your throws. When you are playing, it may be hard to appreciate a beautifully thrown shot that misses a mando or kicks OB. The course, where bad shots can be rewarded and good shots can be punished, is not the best place to understand how well you are really throwing the disc. The practice field is a place where it is easy to admire the beauty of a disc in flight, even if it is headed in the wrong direction.
Evaluating Equipment
The field is also the best place to decide whether to add a new disc, find holes in your bag setup, or see how much your current discs are beating in. One of the most useful ways to organize a practice session is evaluating a set of discs, such as figuring out which disc out of a group of midranges should go in the bag. This allows you to work on forehands, backhands, and standstills while being focused on answering a question. This is also a great way to get a sense of the "state of your game" – finding out how far you are throwing your discs and which ones are best for particular shots.
Tournament Preparation
As you approach a tournament, you can structure your practice to help you play your best. If the course you will play will require a lot of forehands, then it is good to focus on them in the field. Is the tournament course really long? Then work on your drivers, long approach shots, and jump putts. With a little imagination, you can practice the exact shots you know you will need.
Confidence
If skills acquisition practice sessions are about addressing your weaknesses, confidence sessions are about honing your strengths. It is important to keep the skills you have while trying to add new ones, and sometimes practice sessions are just to make you feel great about your game. Golf is a game of confidence, and it is good to have a session where you just throw the shots you throw the best – hopefully leaving you bursting with confidence.
Fellowship
Practice doesn't have to be a solo grind, endlessly throwing shots by yourself behind a tire store. It's also great to practice with a friend.
Is the course far away, or is there no time for a round after work? How about a game of HORSE on a practice basket? Practice is a great way to bond around disc golf without needing a course or a big block of time. Having a practice partner allows you to add a degree of competition to your practice. Games can be as simple as throwing five midranges each at a target for CTP or using an app like Putt360. There are lots of low-key games to play – you can have a long drive contest, play a safari hole, or set up islands to hit. Sure, you can also do all these things solo, but competition allows you to add more focus and a little pressure to your practice.
Practice is a great way to work on your game and build friendships around the love of disc golf. Sometimes we hurry to the course and then rush off when the round is over, but practice gives time to talk about discs, strategy, families, work, or anything else. Practicing with someone else gives you another set of eyes on your form, and maybe a whole other set of discs to try. Invite the best forehand thrower in your club and get some pointers or invite the newest member and see if you can help their game. The important thing is that your experience of disc golf doesn't need to depend on rounds at the course. Disc golf is wherever we throw a disc at a target, whether it's a basket or a telephone pole.
The practice field may never become your favorite disc golf course. But over the next several weeks, I hope to offer tips and ideas for how to make practice more fun and effective, no matter what you want out of the game.
Next up: how to structure your time in the field.