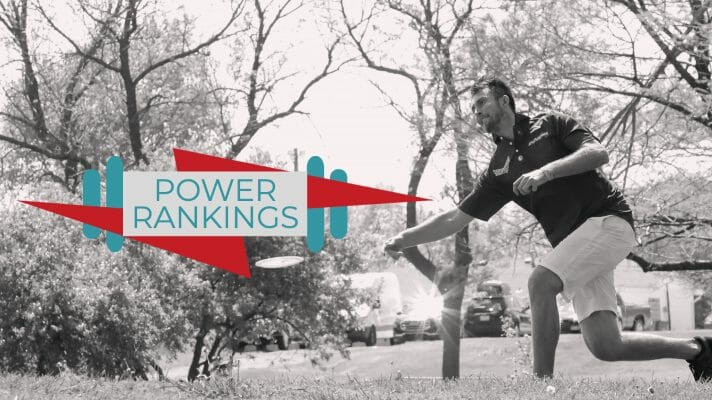 It's kinda crazy to think that Calvin Heimburg, someone who was in the hunt for the victory at the last two Elite Series events, has yet to finish below fifth at any event in 2021, is rated in the 1050s, and previously topped the Power Rankings earlier this season, could drop a position in the ranks to fourth. But that's how momentum goes.
Since winning the Jonesboro Open the week before the last rankings, Ricky Wysocki retains his top spot by finishing second at DDO, winning the Challenge at Goat Hill, going top five at the OTB Open, and reaching a new career-high rating of 1056 in this month's update. The fourth place finish at OTB is also misleading as Wysocki could have finished in second place but lost some position on the final hole of the tournament by chasing a big putt. Of course.
Wysocki's had an emotional month and responded by continuing his stellar run of golf. He's been able to hold off Eagle McMahon, who won in Stockton and has a couple second place finishes, Paul McBeth, who "finally" won an Elite Series event at the DDO, and the aforementioned Heimburg. Lingering in the background ready to challenge for one of those top four spots is James Conrad, who looked like he was clicking over the weekend in NorCal.
While the battle for no. 1 has been fun to watch, the rest of the ranks have also given us plenty to talk about. Brodie Smith (22nd) and Benjamin Callaway (16th) both make Power Ranking debuts, and Anthony Barela shot from unranked to an 11th place showing. It's time for the West Coast Swing, so we'll see who is ready to make moves before Pro Worlds.
Note: while COVID travel restrictions remain in place, this list considers players based in America. We will break out an international top 10 once the season gets underway across the pond.
Methodology: We combine an algorithmic objective ranking with subjective ballots submitted by UWDG staff. The algorithm uses a standardized scoring model to compare elite events, awards competition and cash bonuses, and features a decay function that gradually phases out past results. For the second regular season ranking, staff considered the following criteria: 1. results from the 2021 Elite and Silver Series events, 2. UDisc and PDGA statistical measures, 3. the previous UWDG Power Rankings, and 4. their super subjective vibes, gut feelings, and premonitions heading into the Dynamic Discs Open.
MPO Power Rankings
Full breakdowns for each player continue below.
Bonus Content for Ultiworld Disc Golf MPO Power Rankings (US Edition): May 20, 2021 is only available to Ultiworld Subscribers
Already have a subscription? Log in
Whether you visit Ultiworld for our reporting, our podcasts, or our video coverage, you can help us continue to provide high quality content with a subscription. By becoming a subscriber, not only do you receive benefits like bonus content and full article RSS feeds, you also help fund all of Ultiworld's coverage in general. We appreciate your support!