The top shots from the sport's top media producers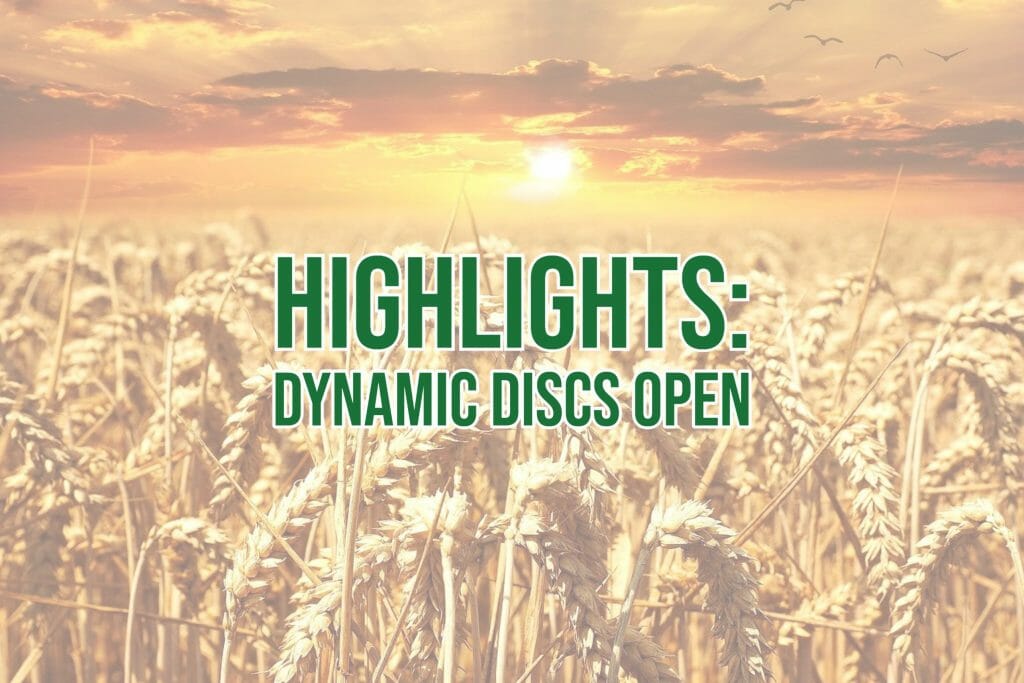 We're getting to the point where there's more post-round coverage at Elite Series events then we know what to do with.
Case in point, the 2021 Dynamic Discs Open gave us five covered cards every day over four rounds. That's almost a full day's worth of shot-by-shot disc golf video.
Thanks to the Disc Golf Network, JomezPro, Central Coast Disc Golf, GK Pro, Gatekeeper Media, and Ace Run Pro for capturing the action all weekend.
We've separated shots by course, but highlighting the best shot of the DDO, Ricky Wysocki's putt on hole 16.
ricky wysocki hole 16 putt rnd 4 ddo
Jones Gold
catrina allen hole 1 drive rnd 2 ddo
calvin heimburg hole 1 approach rnd 1 ddo
calvin heimburg hole 1 approach rnd 2 ddo
paul mcbeth hole 1 approach rnd 2 ddo
maria oliva hole 1 putt rnd 2 ddo
kona panis hole 2 drive rnd 2 ddo
eric oakley hole 2 drive rnd 1 ddo
nate sexton hole 2 putt rnd 1 ddo
chris dickerson hole 2 putt rnd 1 ddo
chris dickerson hole 2 putt rnd 2 ddo
kona panis hole 3 drive rnd 2 ddo
garrett gurthie hole 4 roller rnd 1 ddo
hailey king hole 5 putt rnd 1 ddo
sarah gilpin hole 5 putt rnd 1 ddo
eagle mcmahon hole 5 putt rnd 1 ddo
kevin jones hole 5 putt rnd 1 ddo
adam hammes hole 5 putt rnd 2 ddo
macie walker hole 6 approach rnd 1 ddo
eagle mcmahon hole 6 approach rnd 1 ddo
ricky wysocki hole 7 putt rnd 1 ddo
drew gibson hole 7 drive rnd 2 ddo
ben callaway hol 7 putt rnd 2 ddo
eagle mcmahon hole 8 roller rnd 2 ddo
jen allen hole 8 approach rd 2 ddo
macie walker hole 8 putt rnd 2 ddo
chris dickerson hole 10 drive rnd 2 ddo
gavin rathbun hole 10 drive rnd 2 ddo
heather young hole 10 putt rnd 2 ddo
ohn scoggins hole 11 putt rnd 1 ddo
heather young hole 11 putt rnd 2 ddo
hailey king hole 11 putt rnd 2 ddo
paul mcbeth hole 12 approach rnd 2 ddo
anthony barela hole 13 throw-in rnd 2 ddo
paul ulibarri hole 14 approach rnd 1 ddo
nate sexton hole 14 approach rnd 1 ddo
nikko locastro hole 14 approach rnd 1 ddo
eagle mcmahon hole 14 putt rnd 1 ddo
kona panis hole 15 approach rnd 1 ddo
miles seaborn hole 15 approach rnd 1 ddo
adam hammes hole 15 approach rnd 2 ddo
catrina allen hole 15 putt rnd 2 doo
drew gibson hole 16 drive rnd 2 ddo
paul mcbeth hole 17 putt rnd 2 ddo
jen allen hole 18 approach rnd 1 ddo
paul mcbeth hole 18 approach rnd 2 ddo
chris dickerson hole 18 putt rnd 1 ddo
chris dickerson hole 18 putt rnd 1 ddo alt
adam hammes hole 18 putt rnd 2 ddo
Emporia Country Club
kona panis hole 1 drive rnd 4 ddo
anthony barela hole 1 drive rnd 3 ddo
anthony barela hole 1 approach rnd 3 ddo
anthony barela hole 1 drive rnd 4 ddo
anthony barela hole 1 approach rnd 4 ddo
macie walker hole 1 approach rnd 3 ddo
missy gannon hole 1 approach rnd 4 ddo
catrina allen hole 2 putt rnd 4 ddo
maria oliva hole 3 drive rnd 3 ddo
paul mcbeth hole 3 drive rnd 3 ddo
paul mcbeth hole 3 drive rnd 4 ddo
calvin heimburg hole 3 drive rnd 3 ddo
gavin rathbun hole 3 drive rnd 4 ddo
zackeriath johnson hole 3 putt rnd 3 ddo
anthony barela hole 4 putt rnd 3 ddo
drew gibson hole 4 putt rnd 4 ddo
chris dickerson hole 4 putt rnd 4 ddo
paul mcbeth hole 5 approach rnd 3 ddo
macie walker hole 6 drive rnd 3 ddo
kona panis hole 6 drive rnd 4 ddo
anthony barela hole 6 drive rnd 3 ddo
chris dickerson hole 7 approach rnd 4 ddo
missy gannon hole 7 putt rnd 4 ddo
heather young hole 7 putt rnd 4 ddo
andrew marwede hole 7 putt rnd 4 ddo
hailey king hole 8 putt rd 4 ddo
macie walker hole 9 drive rnd 3 ddo
zach johnson drive hole 9 rnd 3 ddo
paul ulibarri hole 9 approach rnd 4 ddo
drew gibson hole 9 approach rnd 4 ddo
anthony barela hole 9 approach rnd 3 ddo
anthony barela hole 9 putt rnd 3 ddo
missy gannon hole 9 putt rnd 4 ddo
chris dickerson hole 9 putt rnd 3 ddo
sarah hokom hole 10 approach rnd 3 ddo
chris dickerson hole 10 putt rnd 3 ddo
noah meintsma hole 10 putt rnd 3 ddo
gavin rathbun hole 10 putt rnd 4 ddo
hailey king hole 11 drive rnd 3 ddo
adam hammes hole 11 drive rnd 3 ddo
catrina allen hole 11 putt rnd 3 ddo
drew gibson hole 11 putt rnd 4 ddo
zackeriath johnson hole 11 putt rnd 4 ddo
emily beach hole 12 drive rnd 3 ddo
drew gibson hole 12 drive rnd 3 ddo
ricky wysocki hole 12 putt rnd 3 ddo
zackeriath johnson hole 13 drive rnd 3 ddo
ben callaway hole 13 putt rnd 4 ddo
catrina allen hole 14 putt rnd 3 ddo
calvin heimburg hole 15 drive rnd 4 ddo
anthony barela hole 15 putt rnd 3 ddo
eagle mcmahon hole 15 putt rnd 4 ddo
eagle mcmahon hole 16 drive rnd 3 ddo
calvin heimburg hole 16 rnd 3 ddo
ben callaway hole 16 drive rnd 4 ddo
macie walker hole 16 putt rnd 4 ddo
heather young hole 16 putt rndn 4 ddo
paul mcbeth hole 16 putt rnd 3 ddo
kevin jones hole 17 approach rnd 3 ddo
andrew marwede hole 17 approach rnd 4 ddo
ben callaway hole 17 approach rnd 4 ddo
paul mcbeth hole 17 approach rnd 4 ddo
macie walker hole 17 putt rnd 4 ddo
drew gibson hole 18 drive rnd 4 ddo
heather young hole 18 approach rnd 4 ddo
chris dickerson hole 18 approach rnd 4 ddo
ben callaway hole 18 approach rnd 4 ddo
heather young hole 18 putt rnd 3 ddo
macie walker hole 18 putt rnd 4 ddo
paul mcbeth hole 18 putt rnd 3 ddo
gavin rathbun hole 18 putt rnd 4 ddo
eagle mcmahon hole 18 putt rnd 4 ddo