And a check-in on some under-the-radar top performers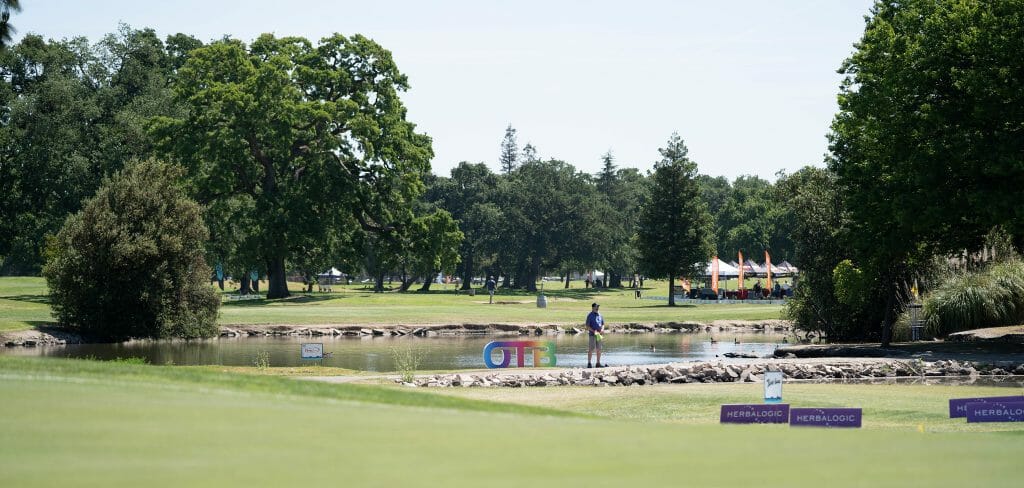 Heading into the weekend, much was made about the difficulty of the revamped and souped-up Swenson Park Disc Golf Course which hosted the OTB Open. Tales of even par earning a 1018-rated round at the AM weekend, and predictions that very few, if any, players would crack double digits under par had many players and figures in the media wondering aloud if this would be the hardest course on tour this season.
Those fears were not totally unfounded—both AM champions in MPO and FPO carded 14-over par on the weekend—and there were only five 1000-rated or better rounds carded in the men's division, and only three rounds that broke 900 from the women. But then the pros showed up and blew all of that hand wringing out of the water.
Eagle McMahon and Paige Pierce went a combined 51-under par to take home their second DGPT wins of the season after both also won the opener in Las Vegas. McMahon averaged 1068-rated gold to go 32-under on the weekend and win by four strokes, while Pierce had to go 19-under par and average 990 to squeak out the one stroke win over Catrina Allen. Neither McMahon nor Pierce really put together a full three rounds of totally dominant golf, and challengers like Jessica Weese, Calvin Heimburg, and James Conrad each had a hot round to their names, but in the end it wasn't enough to surpass McMahon and Pierce.
The Pierce vs. Allen battle was one for the ages. Pierce was up one going into the final round, extended her lead on the front going 6-under to Allen's 4-down. After the turn, though, Allen caught fire and birdied four in a row before taking what proved to be a fatal bogey on 14. Undeterred, Allen bounced back and went 3-under for the next four holes. Pierce only carded three birdies on the back nine, but avoided bogeys and was able to hold on, but just barely. Pierce said it felt like a classic duel and it very much was one.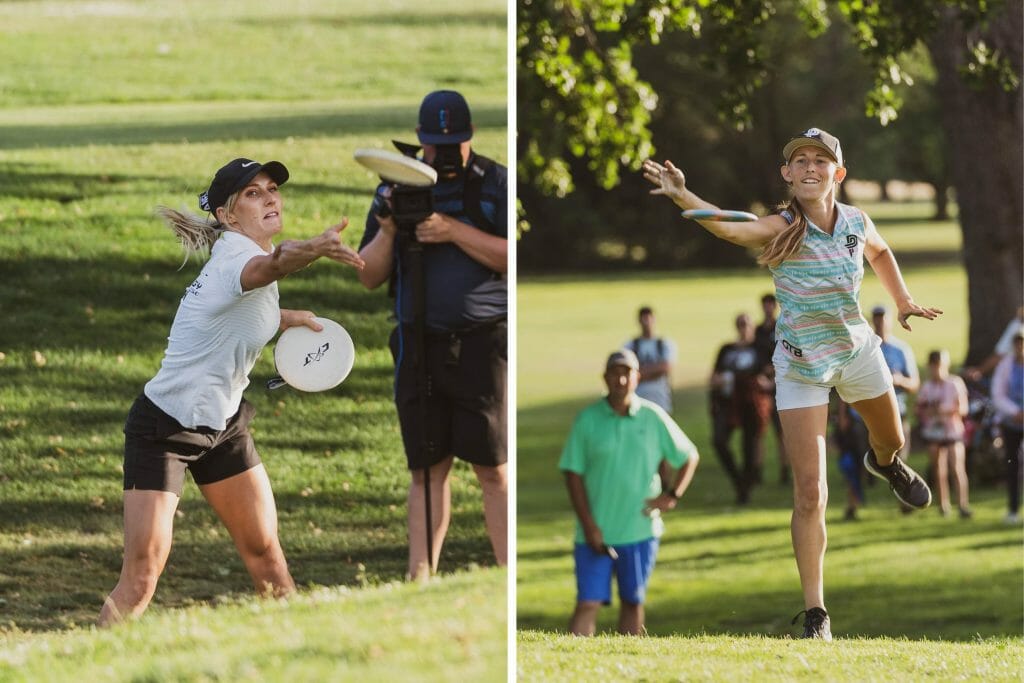 With so much ado made about the course difficulty, it is probably worth looking at how things played out relative to par. In MPO, only hole 14 in round 2 played more than half a stroke over par. In FPO, only hole 17 on day one played more than a full stroke over par. With 54 holes of golf played over the weekend, there were 16 holes which averaged under par for FPO, and 24 holes averaged under par for MPO. C1 in regulation for MPO averaged 23% to a 71.3% fairway hit rate. In FPO, those numbers were 20.5% C1 in regulation and 82% fairway average. Scores-wise, you have to scroll all the way down to the tie for 60thin MPO to find a player at even par or worse for the event, and 10th place for the FPO field.
Here are the takeaways that seem most obvious from a purely stats perspective:
This course is probably the best designed course for FPO scoring that we have seen on tour. In fairways hit, the women well out-performed the men. Only Vegas had more women shoot under par and, frankly, the Swenson course is much better than the collection in Vegas. So why did this course yield such low scores from the women? The key seems to lie in the fairway hits. Only Jonesboro, and a single round in Vegas, saw fairway hit numbers average over the 70% mark. From a design stance, finding ways to improve those numbers seems like a

relatively

easy way to bring FPO scoring to where most seem to want it to be.

Conversely, fairway hits seem much less important for scoring in the MPO field. The nearly 10% gap between divisions in this stat when taken alongside the raw scores would seem to support this. The MPO field, especially Eagle McMahon, are much more able to take advantage of extra distance and overcome OB strokes with big scrambles. In fact, the MPO field was able to scramble at a 25% rate compared to only 9% for FPO. OB strokes matter, but when the top players are essentially trading a birdie for a par, as did McMahon twice in the final round, one has to wonder if some forms of OB are actually punishing bad throws or just slowing down the pace of play.
Yes, the professionals are just that much better than the amateurs. This should not be a huge surprise, but the winning +14s turned in by the advanced division which had us all predicting something crazy would have been good for a tie for 18th in FPO, and 97th in MPO.
Stray Thoughts
As noted on the Upshot ahead of OTB, Brodie Smith continues to be a consistent top 25 range player this season. His best finish, perhaps unsurprisingly, came at Goat Hill, where he landed in eighth on a course that put distance at a super premium. Third round kills him every time, though. If he can learn to put together a full tournament, he'll probably be top 15 in 2022.
Casey White, aka young goat, has fallen back to earth a little over the last two events. An 18th place finish at DDO is definitely not terrible, but 43rd at OTB is nothing to go on a resume.  However, those who bought some stock in Casey shouldn't necessarily panic sell yet. He averaged 90% C1X putting over those two events, but also averaged three bogeys a round, and one double-bogey at each event. Those are big bomber courses, and while White has MPO power for sure, he doesn't have elite power, which may cause him to feel the need to press and cough up some strokes to OB. 
Jessica Weese is quietly putting together a very strong season. Weese has five top four finishes this season, and she is top 10 in all major stats categories excluding birdies and Circle 1X putting. They don't ask how, they ask how many strokes, and right now she is fifth in DGPT points.
Missy Gannon looks like she is rounding back into form, or is she? A couple weeks ago I highlighted the fact that much like Dre, some people had seem to have forgotten about Sarah Hokom, and it seems like Gannon has been getting similar treatment. To be sure she is not lighting the world on fire like she did during a stretch of 2020, but she has not finished outside the top 10 this season, and is averaging a fifth place finish. Not exactly headline grabbing stuff, but consistency is important and will keep a player on the road and above the cash line.