Appreciating a disc golf course I have no interest playing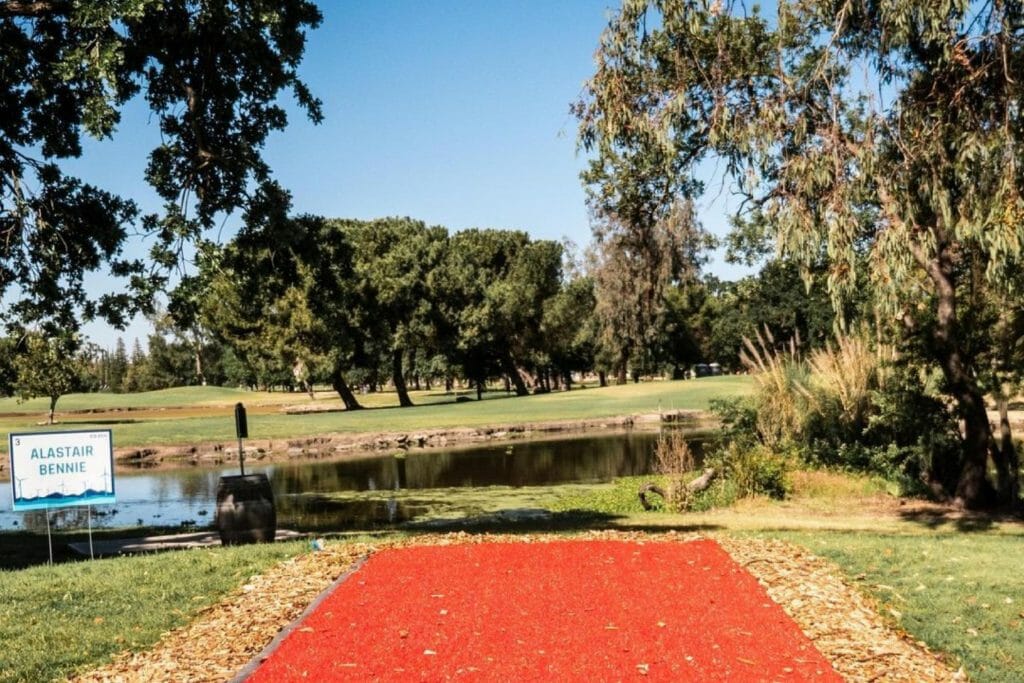 A funny thing happened while watching course previews for the OTB Open on the newly-christened Swenson Park course. A thought crossed my mind as the big arms navigated the low ceilings, long fairways, and water carries that rarely ever does when I'm on disc golf YouTube: 'I want no part of that.'
It's usually quite the opposite. When I see players on Milo McIver or Maple Hill, I'm on Airbnb looking at rentals close to the course. I'm thinking about a week in Smugglers' Notch to get a couple gos at Brewster Ridge and Fox Run Meadows. These are impressive courses in destination territories.
And when I watch coverage from tournaments at courses like these, I also think, I could maybe pull off that shot. Not ace lines through tight tunnels and albatross-level shots, but you know, occasionally some of the others. Theoretically, I can hit a 350-foot flex line through the woods. I don't, but I have that ability.
On a course like Swenson Park, however, I just don't have the skills needed to play that course how it is meant to be played.
Swenson Park designer Leonard Muise did well to transform the ball golf course into a disc golf equivalent of a U.S. Open-style course for disc golf. A challenging, technical track only meant for true professionals when playing from the Gold tee. Even par on the longest layout at Swenson is playing close to 1000-rated golf. The efforts have paid off as well. Nate Perkins called the course "magic," and Joel Freeman said it's the new no.1 tour-level course and "probably the most well-designed layout that professional disc golf has ever seen."
Ezra Aderhold OTB Open Swenson Park
Here is how I translate that: this course looks to have plenty of tweener holes — holes whose par could be higher — for an elite level talent. For me, you just start having to add those little annoying strokes to each hole, the ones where you are forced to "chip-up" an approach shot because you are too far to putt but too close to for a full run-up.
As a casual, intermediate-skill player, this kind of golf is not fun, even if it's on what is being called a special course by touring players. We're all playing disc golf, but, compared to the professionals, I am playing a different game.
In places and locations of more interest, either through natural beauty or proximity to metropolitan areas, the difference in skill-level required to play the course can be more easily overlooked. If you go to play the courses at Wildhorse Golf Club, it means you are also in Las Vegas. If you are taking on the Challenge at Goat Hill, you're also enjoying the world's most perfect weather off the coast of Southern California.
As someone who lives on the other side of the country, I need a lot more reason to visit Stockton, California, than one disc golf course that is not suited for my game.
But Swenson Park sounds like a truly great layout for the tour, and I am excited to watch the rollers at the OTB Open. And for disc golf courses and venues in the future to be able to keep up with the distance and terrain variation needed to test the growing skillsets of top players, they'll probably need to continue to look to areas like a Stockton or Jonesboro, Arkansas, to find the necessary land.
In the meantime, I'll stick to birdieing the 400-foot par 4s at my local courses and leave the Swenson Parks to the pros.