Round 3 Recap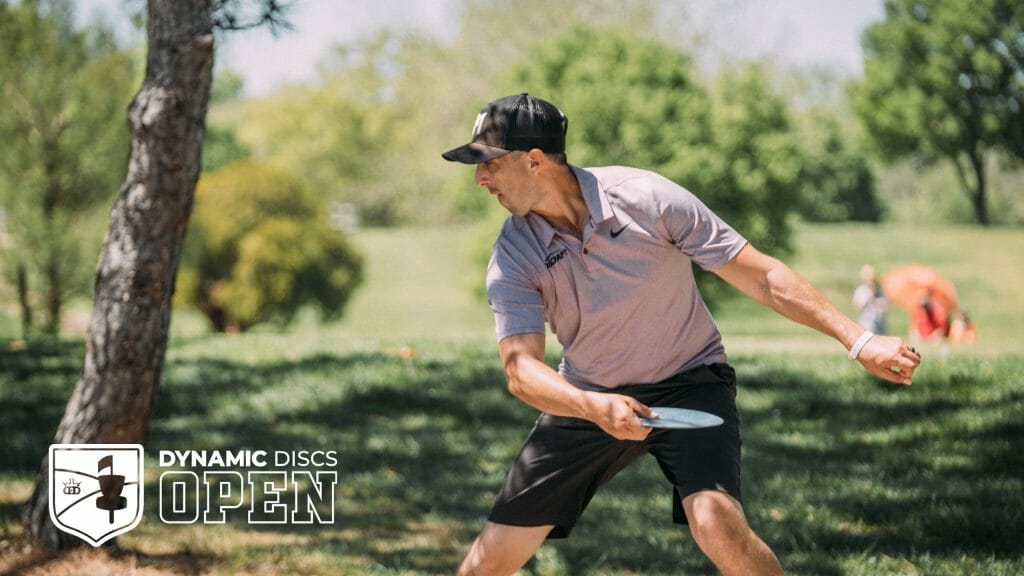 When we thought Thursday was a calm day in Kansas, the conditions were even better for scoring during round 3 of the Dynamic Discs Open. Only thing is, the Emporia Country Club has more trouble waiting than Jones Gold and the hot rounds tightened up on moving day.
As the top card battled it out with more lead shares and changes than we could count, Paul McBeth shot the hot round 9-under par to rejoin the fray in first place at 33-under par total. Playing on the chase card, McBeth's score included a double-bogey on hole 9, but his putter looked like it had gotten a tune-up. There was a miss inside Circle 1X on hole 2, however, through the finish, his Luna was on point, especially from C2 where McBeth made four attempts. He led the round in strokes gained on the putting green.
Eagle McMahon and Calvin Heimburg have not gone anywhere as they both again matched each other's 6-under par rounds to stay tied in first at 33-under par with McBeth. McMahon had a rough stretch at hole 8, where he missed a par save from inside 33 feet after looking distracted. He had to fester on the miscue with the backup on hole 9 and would throw his drive OB on the restart. He'd shake off three bogeys on the front 9 with a blemish-free back half of the course. Meanwhile, Heimburg wasn't able to take advantage of his card mates' up-and-down rounds and experienced some inconsistencies as well. He was only able to give himself easy scoring chances on half of the holes, and missed three putts from inside the circle.
After a big charge on day two, Ricky Wysocki did not record his first par until hole 13, starting his round with nine birdies and three bogeys. As the lead card of Wysocki, Heimburg, McMahon, and Ben Callaway all traded the lead, Wysocki had a chance to go solo first on hole 15 but banged a 20-footer for birdie off the basket to stay in a tie. A bogey on hole 16 keeps Wysocki one stroke back of the lead in fourth at 32-under par total after a 7-under par third round. Callaway was right there fighting with Wysocki for the final lead card spot until hole 14 when his round began to unravel. He finished 3-over on the final five holes, only reaching C2 in regulation twice as he struggled to navigate the fairways. Callaway is in sixth at 29-under par total.
Not to be counted out in fifth place is Chris Dickerson in fifth at 30-under par. He had the fewest strokes recorded over par in the top 15 and has been uncharacteristically non-automatic from the putting green, two-putting four times on Friday. Clean up the putting and we could see some of Dickerson's trademark final day heroics.
Statline
McBeth and Heimburg both hit double-digit under-par rounds at last year's DDO on the ECC course, but the winds are going to be up to the Kansas standards Saturday with sustained speeds of 25 mph and up. With the leaders tightly packed, getting scoring chances on a breezy day will be the key. McBeth is currently leading the field with a 39% parked rate over the event, and only Ricky Wysocki was able to match his 61% C1 in regulation rate during round 3 at ECC.
Highlights
A tree kick on hole 3 helped Calvin Heimburg to an early lead.
calvin heimburg hole 3 drive rnd 3 ddo
Zackeriath Johnson hole 9 drive
Eagle McMahon almost rings up hole 16 but stays close for an easy birdie.
eagle mcmahon hole 16 drive rnd 3 ddo
Death putt is no worry for Paul McBeth.
paul mcbeth hole 16 putt rnd 3 ddo