Final Round Recap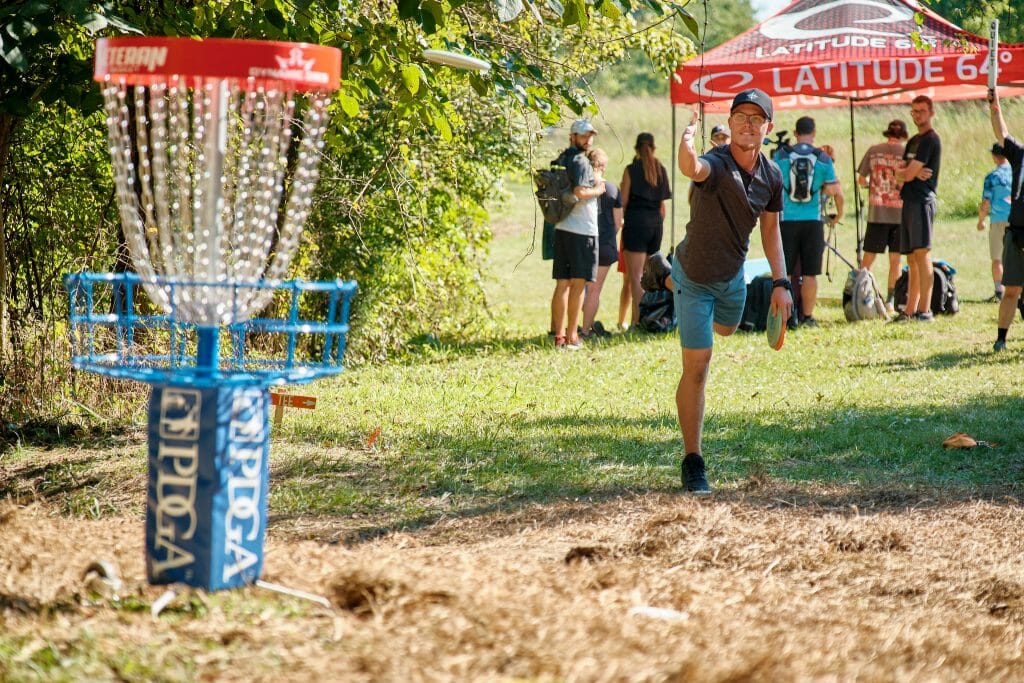 Mason Ford had led the Music City Open for close to 54 holes before finally seeing Ricky Wysocki overtake him at the end of moving day on Saturday. With 18 holes to go on Sunday, it would have been understandable, if not expected, to see Ford make way for a world champion and multi-time PDGA National Tour to take home the win and for himself to settle for a career-best Elite Series finish comfortably in the top five somewhere.
Ford, however, did not come to Nashville to settle for second place.
Out of the gate, Ford tied things up on hole 2 with a 50-footer for birdie from a knee and obstructed by trees before taking the lead outright with a Wysocki bogey on hole 4. It was the same steely concentration we saw all four rounds from Ford.
"I felt like I prepared really well for the event," said Ford. "I was very confident the course, I never doubted myself, even if I threw a bad shot.  Trusted my game, trusted my putt, left it in God's hands."
Wysocki and Ford would not be the only two players battling for first, as Adam Hammes, also playing on the lead card, would tie for the lead on the front 9 during a six hole birdie streak between holes 2 and 7. Chris Dickerson, on the lead card, Kevin Jones, Ben Callaway, and Garrett Gurthie would also flash into the picture at times over the 4+ hour long round.
Ford was momentarily able to create a two-stroke advantage alone in first on the back 9 as Wysocki and others would hit some pars, but an errant tee shot into the left side thicket on hole 15 — which almost resulted in a lost disc penalty and could have been called for a time delay — resulted in Ford's only bogey and allowed others to close the gap. Hammes own mistake, a double-bogey on hole 16, pushed him down into third place where he would eventually finish. Wysocki, though, would get himself into position on hole 17 to nail a Circle 2 birdie to tie Ford at 31-under par heading into hole 18.
Teeing first, Wysocki's big hyzer went long of the basket, sticking safely uphill and about 20 feet from the pin putting the pressure on Ford. In response, Ford would take a similar line and adjust the power accordingly, his disc flashing the top metal band of the basket for a near-walk-off ace and landing in bullseye range. Birdies for both players pushed the two back to hole 1 for a sudden death playoff with 32-under par total scores.
Wysocki had birdied hole 1 both rounds at Mill Ridge and Ford had gotten the 2 on Sunday. Ford was first on the tee for the playoff, and stroked a midrange backhand to within tap-in range again on the 215-foot hole. Wysocki's forehand was lower and a bit turned over, hitting the ground and stopping early between C1 and C2. His putt to push the playoff never had a chance.
"I don't know how you can settle down after that, I don't know if I did," said Ford, on how he tempered his adrenaline after almost getting the hole-in-one on hole 18 minutes prior. "I just threw the shot I knew I had to throw."
Ford's Music City Open victory is his first PDGA National Tour and Elite Series win of his career. For the event he was first in finding C1 in regulation, 52%, and seventh in strokes gained from tee-to-green, 18.18. He is the fifth different Open winner at five NT events this season, and third consecutive first-time Elite Series winner at NTs this year.
Wysocki's second place finish gives him the 2021 PDGA National Tour points title. It is his fourth NT podium finish of the season. Dickerson, Jones, and Garrett Gurthie tied for fourth place. Gurthie and Jones tied Bradley Williams (7th) for the hot round 11-under par.
A final round 7-under par moved Väinö Mäkelä into a tie for 22nd at 18-under par total and earned him one of the final five USDGC qualifier spots along with Joey Lutz, Sam Lee, Dustin Keegan, and Luke Samson.