Round 2 Recap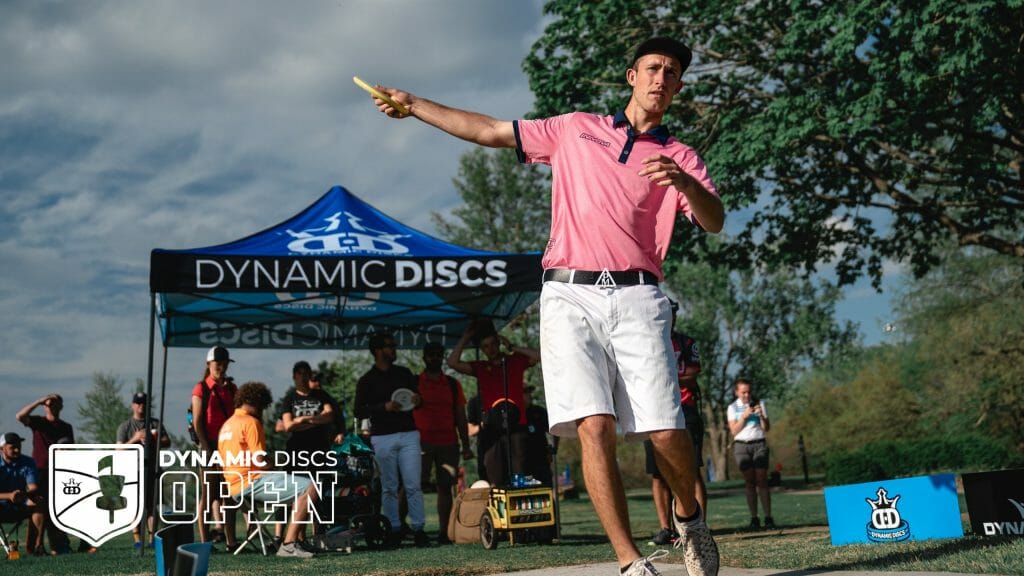 The weather could not have been better for scoring by Kansas standards than it was during the second round of the Dynamic Discs Open. Jones Gold gave way to a new course record, and players had to shoot double-digit low if they wanted to make any moves before heading over to the Emporia Country Club.
Ricky Wysocki was on a tear all day Thursday and set the course record on Jones Gold at 15-under par, moving up six positions in the process to solo fourth at 25-under par total. He did not have to attempt a Circle 2 putt during the bogey-free 18, but did miss one wipe-open chance from Circle 1X for birdie on hole 16. It wasn't just Wysocki playing hot on the fourth card. Zackeriath Johnson finished 11-under par and was keeping pace with Wysocki until the final third of the course, and Anthony Barela shot a 10-under par, getting the only eagle on hole 13 with a 200-foot throw-in. Johnson is in a tie for seventh with Kevin Jones and Drew Gibson at 21-under par total. Barela is 10th at 20-under par total.
We watched Ben Callaway struggle on the lead card during round 2 of the Jonesboro Open, but a strong finish with six consecutive birdies and a lot of big putts has Callaway in a tie for first heading into round 3. He hit 9-of-10 C1X putts and 3-of-4 from C2 while going 14-under par to raise his total to 27-under. Callaway was playing a bit under the radar due to the rounds Eagle McMahon and Calvin Heimburg were putting together, but both turned in 2-under par finishes over the final four holes to let Callaway get back into the conversation.
McMahon had his first bogey of the round on hole 18 to drop him back into a tie for first with Callaway and Heimburg. Both Heimburg and McMahon carded 13-under par rounds and hit 90% of their fairways. Over two days on Jones Gold, McMahon recorded three eagles to Heimburg's zero, however, Heimburg leads the tournament with a 78% under-par rate. One of McMahon's eagles was a 570-foot roller on hole 8 that reached Circle 1. It was the only eagle on hole 8 over two days and 278 plays.
Chris Dickerson did the impossible by dropping positions on the leaderboard despite recording a 12-hole birdie streak. Those birdies on holes 5 through 16 were his only birdies of the round, and his 11-under par round 2 dropped him into a tie for fifth with Paul McBeth at 24-under par total. McBeth matched Callaway's 14-under par with a bogey-free round of his own from the third card. He only had to attempt four C1X putts, as he parked more than 55% of the holes on the course and hit 1-of-3 from C2.
Doing a lot to stay in contention with two rounds left to play was Jones. His 13-under moved him up 16 spots into the tie for seventh. Jones was 8-under par on the back 9 and at one point connected on 10 consecutive birdies.
Heard
"I mean, a lot of emotions going on with my sister, and having to travel back to see her on Tuesday. It is awesome I got to see her before she passed away, but I didn't get much practice going into day one. I played blind, but it was obviously for a good cause. I got to see the course day one and made the adjustments for day two and was able to come out and shred… It's going to be an emotional week and it's good to have my sister looking down. I think she's got a great spirit and is looking out for the best for me." – Ricky Wysocki.
Statline
If it stands, Ben Callaway's 1073-rated round will be the highest of his career, topping his 1066-rated round from a league night in 2016. Callaway is the 2011 U.S. Amateur champion, and his highest-rated round in route to his amateur crown 10 years ago was a 1012-rated final. MMA fighter Ben Askren finished second to Callaway at that U.S. Amateur Championship.
Highlights
Chris Dickerson's slow start required big par saves like this putt on hole 2.
chris dickerson hole 2 putt rnd 2 ddo
Ben Callaway had a couple of these.
An absurd roller from Eagle McMahon on hole 8.
eagle mcmahon hole 8 roller rnd 2 ddo
Ricky Wysocki sets it up nicely for eagle on hole 12.
ricky wysocki hole 12 drive rnd 2 ddo
Anthony Barela throws it in on hole 13.
anthony barela hole 13 throw-in rnd 2 ddo