Round 1 Recap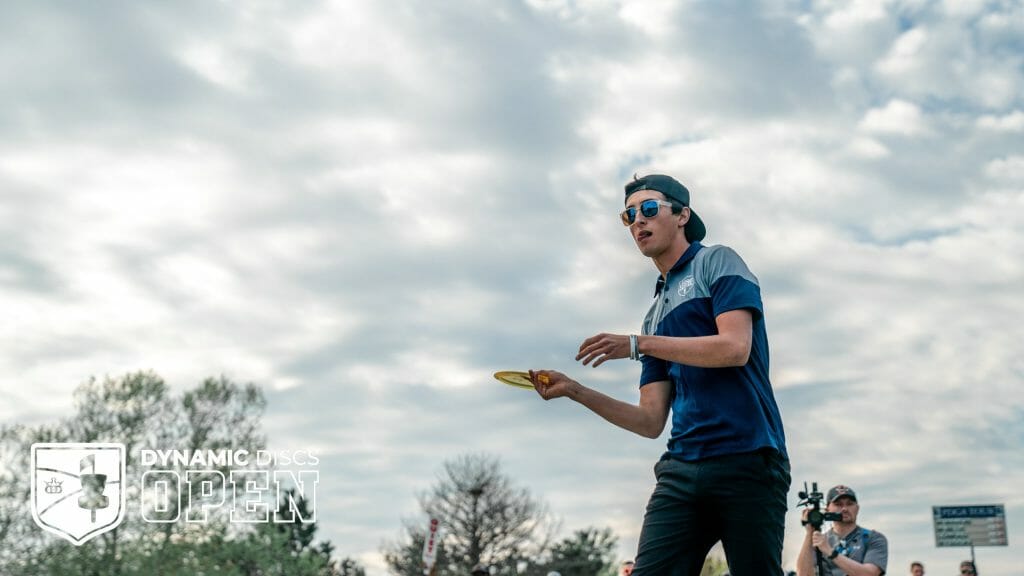 Just as the feature cards in the Open division teed off during round 1 of the Dynamic Discs Open, a lightning delay sat them back down. The players looked unaffected out of the early break with a co-leader taking advantage of the reset.
Eagle McMahon and Calvin Heimburg were playing together on the second feature card of the round and had just thrown their second shots on hole 1 when the lightning delay struck. McMahon had sailed out of bounds when the horn sounded, cleaned up a bogey on the hardest hole on the course when play resumed. He proceeded to go 15-under over the remaining 17 holes to finish at 14-under par total. He shares the day one lead with Heimburg, who also recorded a bogey, but otherwise turned in 15 birdies on the round. Both players were perfect from inside Circle 1X, and McMahon also hit three C2 putts.
Not to be overshadowed by McMahon and Heimburg's rounds, Chris Dickerson, playing on the same card, reminded everybody he also deserved to be on the lead card. Dickerson made a falling putt from a knee around a tree to birdie hole 18 and reach 13-under par. He's tied with Ben Callaway and Andrew Presnell in third place. Callaway will join Dickerson on the lead card in round 2 making this the second consecutive Elite Series event Callaway shoots onto the top card.
It was unknown if Ricky Wysocki would return to play the DDO after the death of his sister, Lauren, to brain cancer this morning. Wysocki had flown to be with family yesterday and returned to Kansas today prior to his tee time at 1:20 pm local time. Wysocki played on the lead feature card and shot a 10-under par round, tying him for 10th with Paul McBeth and six others. Wysocki had a single bogey, and a highlight 100-foot par-saving putt on hole 7.
Justin Rosak is tied in seventh with Drew Gibson and Gavin Rathbun at 11-under par, one stroke behind Adam Hammes in sixth at 12-under par. Rosak is a collegiate disc golfer with Liberty University and nabbed a practice ace on hole 10 at the Emporia Country Club earlier this week.
Weather was about as calm as it gets in Emporia during some of the early cards of the day, and players like Callaway took advantage posting double-digit rounds under par. Anyone on the course after 1 pm local time got hit by rain showers at some point.
Heard
"I had to sort myself out in the rain delay. Came back and told myself to play one hole at a time. With the rain on and off for the first half of the course, all I was thinking about was just not throwing hard or shanking any shot out of bounds. Just chipping away, because I knew that some of the earlier guys put in some hot scores." – Eagle McMahon
Statline
The 819-foot, par 5 hole 14 was the second easiest hole to par in round 1, and more players recorded eagles, 21, than did over-par scores, 15. However, for the day, 62% of players were under-par on hole 14 compared to 71% of players birdieing the easiest hole on the course, the 613-foot, par 4 hole 9.
Highlights
Ricky Wysocki par save on hole 7.
ricky wysocki hole 7 putt rnd 1 ddo
Nikko Locastro calls his shot on hole 14.
nikko locastro hole 14 approach rnd 1 ddo
Eagle McMahon closes out a 14-under.
eagle mcmahon hole 18 putt rnd 1 ddo
Chris Dickerson does not get big-putted by McMahon.
chris dickerson hole 18 putt rnd 1 ddo
chris dickerson hole 18 putt rnd 1 ddo alt