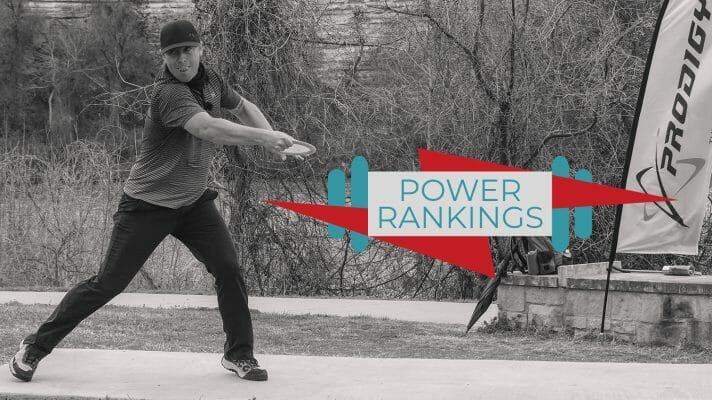 Two Elite Series events into the 2021 season and the top of the Power Rankings don't look too different then they did prior to Las Vegas. Two different winners at the events, yet neither breaks into the top three.
A few of our 1050-rated players — Calvin Heimburg, Ricky Wysocki, Paul McBeth — have been as consistent as can be expected, but the rest of the division has been battling the ups and downs coming out of the offseason. Eagle McMahon looked commanding in Vegas and then stumbled for two rounds in Waco. Nikko Locastro won in dramatic fashion in Waco after sitting out prior tournaments due to a self-imposed hand injury.
With the return of the National Tour to a tough track at Dogwood, it's hard to see how the next couple of weeks shake out. Much of the tour will also head to Arkansas after to another event we don't have much data on with a full touring field. April may be a month where we see if some early season returns are legit, or if our top five is going to stay the same for a couple more months.
Note: while COVID travel restrictions remain in place, this list considers players based in America. We will break out an international top 10 once the season gets underway across the pond.
Methodology: We combine an algorithmic objective ranking with subjective ballots submitted by UWDG staff. The algorithm uses a standardized scoring model to compare elite events, awards competition and cash bonuses, and features a decay function that gradually phases out past results. For the preseason ranking, staff and subscribers considered the following criteria: 1. the results from the most recent Elite Series events, the Jonesboro Open, the USDGC/WNC, and the DGPT Tour Championship, 2. the 2020 UWDG World Rankings, and 3. their super subjective vibes, gut feelings, and premonitions heading into the new season.
Full breakdowns for each player continue below.
Bonus Content for Ultiworld Disc Golf MPO Power Rankings (US Edition): March 19, 2021 is only available to Ultiworld Subscribers
Already have a subscription? Log in
Whether you visit Ultiworld for our reporting, our podcasts, or our video coverage, you can help us continue to provide high quality content with a subscription. By becoming a subscriber, not only do you receive benefits like bonus content and full article RSS feeds, you also help fund all of Ultiworld's coverage in general. We appreciate your support!