When an invite-only event features only the top eight players does anyone have an advantage?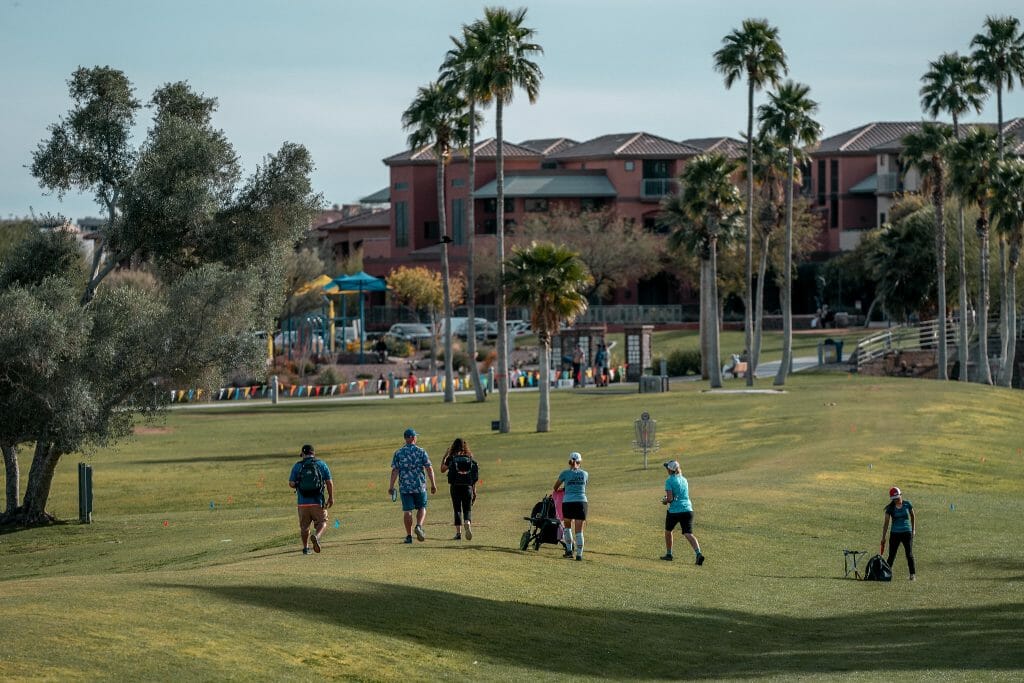 Even with the Memorial Championship not making the final cut for the 2021 Disc Golf Pro Tour, the Tour will still starts its season in Arizona at Fountain Hills for the inaugural DGPT All-Stars event.
The All-Stars event has taken several shapes since originally being announced in late 2020. The initial plan was a weekend event in Orlando in January. That plan was scrapped and replaced with a scaled-down vision in Arizona, closer to the start of the Tour in Las Vegas both time wise and geographically. Even with that announcement, the format of the event has also been altered.
What we are left with is a new competition on a revamped Fountain Hills.
The first round of the tournament — nine holes of best shot doubles and nine holes of tough shot1 doubles — will be played Saturday, with a single round of stroke play deciding the winner of each division on Sunday. Paige Pierce and Ricky Wysocki gave us a preview of the safari layout of Fountain Hills recently, and the DGPT provided an updated course map.

Saturday's doubles round should be coverage worth tuning in for as it's rare to see players team up in a competitive setting, and getting out to a good start on day one will be imperative for the eventual winner. With the invite-only All-Stars event reserved for the top eight players from last season, no doubles pairing stands out with an extreme advantage over any other.
DGPT All-Stars will be closed to spectators as a Phase 1 event. There won't be a crowd to play up to, but these players are going to be trying to impress each other.
Card Pairings
#1 Paige Pierce / #8 Heather Young vs. #4 Hailey King / #5 Missy Gannon
Paige Pierce has won seven of the last 10 Memorial Championships, including a 14-stroke win in 2020 when she threw two 1000+ rated rounds in the 40s at Fountain Hills. Heather Young has never played in Arizona, but any beginner troubles she has will be offset with what she brings to the table on the putting green. The lefty angles don't hurt either. Hailey King and Missy Gannon are both great putters in their own right, so even though neither has ever placed better than 7th at the Memorial the team should still be in a good position come Sunday.
Advantage: Pierce/Young
#2 Catrina Allen / #7 Kona Panis vs. #3 Sarah Hokom / #6 Jessica Weese
Expect Catrina Allen and Kona Panis to be able to get down these elongated fairways pretty easily with their control off the tee. It could go any way for them inside Circle 1X, however. For the 2020 DGPT season, Allen and Panis ranked no. 19 and no. 17, respectively, in C1X putting, both at around a 60% conversion rate. As a team, no FPO pairing has played more rounds at Fountain Hills than Sarah Hokom and Jessica Weese. When it comes to worst shot in the back 9 on Saturday, the duo should never find themselves in a place too unfamiliar.
Advantage: Push
#1 Paul McBeth / #8 James Conrad vs. #4 Eagle McMahon / #5 Chris Dickerson
The withdrawal of Nikko Locastro shuffled teams a bit on the MPO side, and moved James Conrad onto a card with Paul McBeth. McBeth's long track record of success will be heavily leaned on as Conrad will be playing his first event with a new MVP bag. Conrad had a sixth place finish at the Memorial in 2018 but his best round was at Vista. Like his fellow Volunteer Heather Young, Chris Dickerson has never played in the Phoenix area. Do you question the player coming off a USDGC win, though? Probably not worth it. He's also got a former Memorial champion in Eagle McMahon — he of the tour's best forehand — as a partner. Their score could get very low.
Advantage: McMahon/Dickerson
#2 Calvin Heimburg / #7 Garrett Gurthie vs. #3 Ricky Wysocki / #6 Kevin Jones
With Ricky Wysocki and Kevin Jones on a team together, this feels like a group that will be making a lot of side bets. Fountain Hills is also one of the few courses Wysocki has failed to take home a big trophy from, so maybe it's this week. Jones will have to tighten things up if that's going to happen. He's never finished better than 29th at the Memorial and was 90th in OB rate at the event last year. That could spell trouble in the 'tough shot' format. Calvin Heimburg is coming in as the reigning champion of the Memorial and will have bomber Garrett Gurthie to help find some extra birdie opportunities on the long safari layout. Gurthie could have easily finished better than his eventual sixth place at last year's event had he only putted better at Fountain Hills. Heimburg only missed three C1X putts on the course en route to the W, but that includes layups. Team Florida Men will be just fine.
Advantage: Push
How To Watch
Disc Golf Network will carry the doubles rounds Saturday and singles rounds Sunday. A CTP challenge after the rounds on Saturday will be available to stream on the DGPT YouTube channel. We have everything covered here.
---
like worst shot, but making just one putt ends the hole ↩