Live coverage, commentators, a CTP event, and more.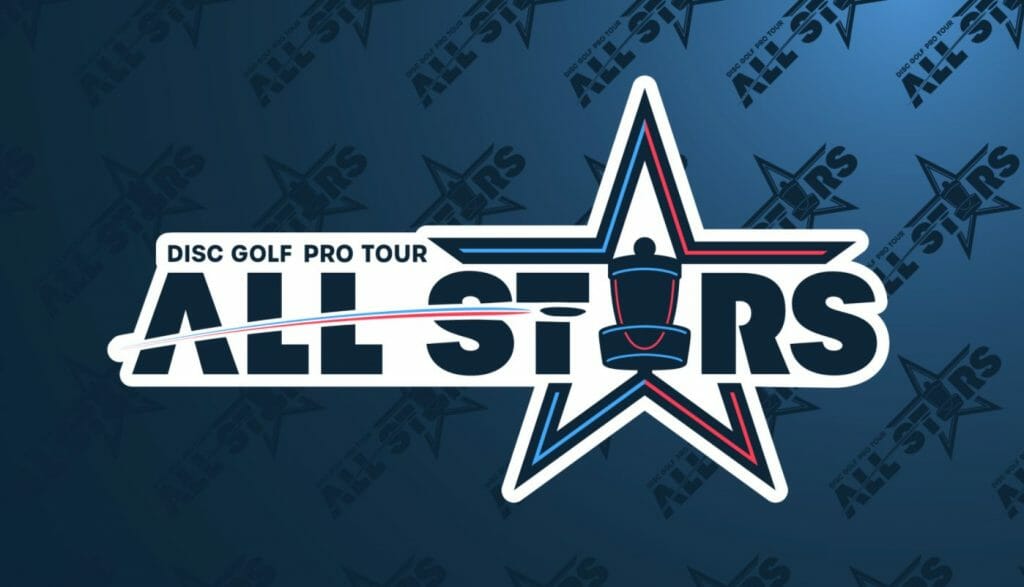 The unofficial start to the 2021 disc golf season takes place this weekend in Arizona, as the Disc Golf Pro Tour All-Star Weekend brings together the top players from 2020 for doubles and singles stroke play action at the Fountain Hills disc golf course.
The coverage of the DGPT All-Star Weekend will be exclusively available live on the Disc Golf Network, the DGPT's over-the-top subscription service.
What is the schedule of events at the 2021 DGPT All-Star Weekend?
The first round of the tournament — nine holes of best shot doubles and nine holes of tough shot doubles — starts at 1 PM Eastern / 10 AM Pacific on Saturday, February 20th.
At 1:05 PM Eastern, doubles pairing #1 Paul McBeth and #8 James Conrad will tee off with #4 Eagle McMahon and #5 Chris Dickerson. At 1:20 PM, the other MPO card will follow: #2 Calvin Heimburg and #7 Garrett Gurthie will join #3 Ricky Wysocki and #6 Kevin Jones.
The first FPO card will tee off at 1:40 PM: #2 Catrina Allen / #7 Kona Panis and #3 Sarah Hokom / #6 Jessica Weese. The final card — #1 Paige Pierce / #8 Heather Young and #4 Hailey King / #5 Missy Gannon — will go out at 2 PM.
Saturday's live coverage will focus on the McBeth and Pierce cards, with two cameras following each, though there will be coverage of all of the players.
The singles coverage on Sunday, February 21st, will begin at 1 PM Eastern / 10 AM Pacific.
Will Jomez Productions be covering the 2021 DGPT All-Star Weekend?
No, neither Jomez Productions nor any other post-production video team will be covering the All-Star Weekend. Coverage will be exclusively on DGN.
Following the live broadcasts, VOD versions of the round coverage will be available on DGN.
Is there any free coverage of the All-Star Weekend?
Round coverage will be fully paywalled, but the DGPT will have two events available for free on their YouTube channel.
On Friday starting at 2 PM Eastern, there will be a live press conference with many of the athletes competing in the event. Here is the schedule (all times Eastern):
| Time | Player |
| --- | --- |
| 2:00 PM | Garrett Gurthie |
| 2:10 PM | Jessica Weese |
| 2:20 PM | Calvin Heimburg |
| 2:30 PM | Kona Panis |
| 2:40 PM | James Conrad |
| 2:50 PM | Paul McBeth |
| 3:00 PM | Paige Pierce |
| 3:10 PM | Missy Gannon |
| 3:20 PM | Eagle McMahon |
| 3:30 PM | Hailey King |
| 3:40 PM | Ricky Wysocki |
| 3:50 PM | Sarah Hokom |
| 4:00 PM | Catrina Allen |
| 4:10 PM | Heather Young |
| 4:20 PM | Kevin Jones |
| 4:30 PM | Chris Dickerson |
On Saturday following the doubles round, there will be a CTP1 throw-off on hole 1 also available on the DGPT YouTube. Each player will get two chances to ace the first hole at Fountain Hills.
Any aces will be awarded $1000, metal hits are worth $500, and the CTP winner will get $500.
Who is commentating the All-Star Weekend?
Terry Miller will be doing play-by-play with Nate Doss and Valarie Doss providing color commentary on MPO and FPO, respectively. Jamie Thomas will be at Fountain Hills providing updates from the course.
---
closest to the pin ↩