A look at how much James Conrad spent on overnight accommodations in 2020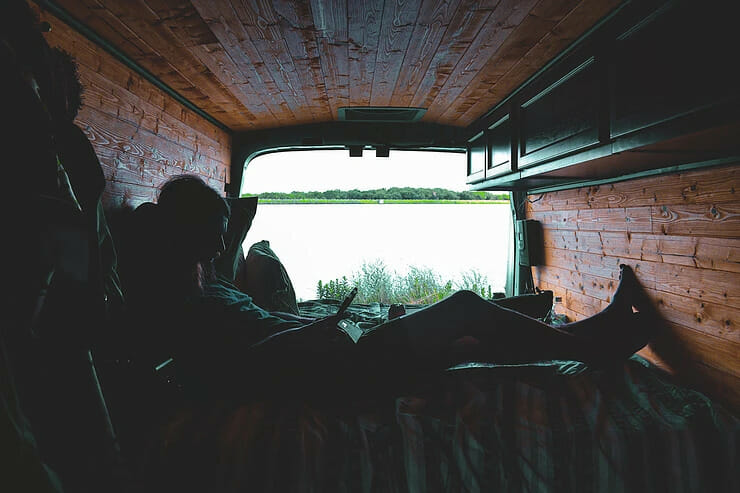 Joining "Tour Life" with a built out camper van has become a rite of passage for disc golfers.
For many players who spend extended periods of time traversing the country in overstuffed hatchbacks and sedans, the transition to a mini-RV and a home-away-from-home you can park at the course can be a true difference maker.
But what does it cost to hit the road full-time with a packed down van? Jordan Kim, James Conrad's partner and travel companion, recently analyzed what a year of accommodations in their Ford Transit cost them on her blog, The Chaotic Good.
Kim's breakdown doesn't capture the entire financial commitment needed to live the van life, such as payments on the vehicle and maintenance (or food, of course), but it does cover what a disc golfer's cost per night or event may look like.
"Honestly, as our gas was mostly covered by James' sponsorship last year and our van is already set up for solar, our actual daily cost of living is rather low," Kim told Ultiworld Disc Golf.
With many tour seasons mapped out well ahead of time, Kim said they can sometimes plan where they'll stay during events or on breaks, but much is also done in the lead-up to arriving at a destination.
"How we plan accommodations varies widely. Since James has toured for a few years, during most tournaments, we have a general idea of where we will be staying as it will probably be similar to the year before," said Kim. "For example, the tour family camps on the course every year at Idlewild and Maple Hill and has rented a similar place in Kansas near the course for the Dynamic Discs Open for the past two years. Some places we get in advance, but most actual reservations are made between a week and a day in advance."
They do take full advantage of the flexibility of their lifestyle as well.
"We like to have a general plan such as 'find a campsite near this hiking spot,' or 'get a hotel or Airbnb for that night/week in this town,' but we often hold off on reservations since plans change so quickly that it helps us keep our options open," said Kim. "The freedom that comes from van life is reduced if you over-plan or over-commit."
Kim said that her and Conrad did not go into 2020 with a fleshed out budget, more of a loose mental accounting, but retroactively analyzed their 2020 to see what it looked like.
Last year, the two spent 294 nights in the van, or more than 80% of the year. Kim said the majority of the time not spent in the Ford Transit came when the two traveled to Thailand and several other countries last winter. In total for 2020, the couple spent about $2,600 for lodging accommodations, a little over $7 a day. Kim compared that to someone who spends $800 a month in rent, which comes out to about $27 a day.
Costs were kept low because 286 nights in total were free stays, with more than 200 nights spent on family or friends' property and another 68 at free campsites or at disc golf courses. There were a handful of nights at rest stops, as well as a couple nights on overnight flights to Asia. Between the season hiatus in April and May and the offseason in November and December, Conrad and Kim spent $0 in accommodations for those four months while staying with friends and family.
For the paid accommodations, 51 nights were shared rentals, and the remaining time was either paid campsites or paid camping at disc golf courses.
Conrad and Kim have the advantage of a wide network of disc golf connections across the U.S. to shoulder the burden of extra lodging costs, but their 2020 accounting shows it's still possible to stay out on tour without too much overhead when you're behind the wheel of your own mobile domicile.