Many top players have reacted negatively to the format.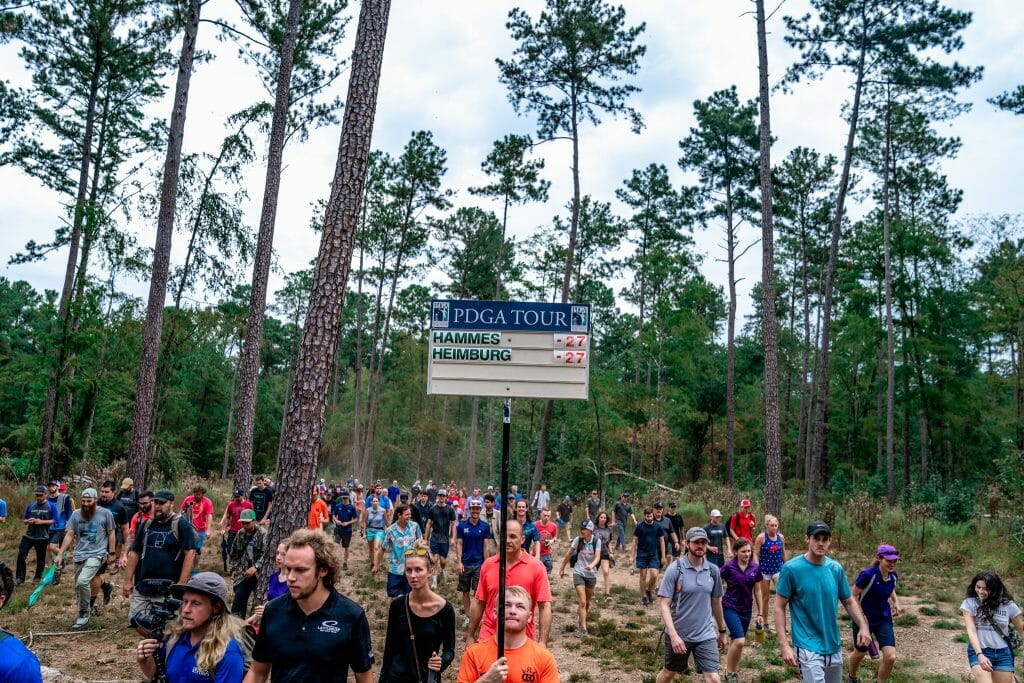 With a fourth PDGA Major tournament officially announced for the 2022 season comes a controversial format announcement. The April event, dubbed the PDGA Champions Cup, is to be hosted at the International Disc Golf Center's W.R. Jackson course in Appling, Georgia, and will feature four rounds of traditional stroke play with a fifth and final day sending the top four stroke play finishers in both MPO and FPO into a seeded match play tournament held over two rounds.
Many pros reacted unfavorably to the introduction of match play to a major, even if they were excited to return to W.R. Jackson for an elite event. The Disc Golf Pro Tour Championship features a unique knockout style bracket based on player rankings, but every round is decided by stroke play.
Two-time pro world champion Ricky Wysocki, who won one of those championships partly on W.R. Jackson, is not in favor of the change.
"Majors aren't the tournaments that we should be messing around with new formats on," said Wysocki. "I think a format like they are trying to implement should start as a lower level and maybe work its way up to being a Major. I'm all for a unique format in events in the future but a Major should be a regular three to four round event."
Eagle McMahon had similar sentiments.
"Happy for a new major but I am sorry, this format is not good," said McMahon. "Majors should be purely based on stroke play. Match play is an exciting format for exhibition purposes but not to determine a Major champion."
Chairman of the PDGA Pro Touring Players Committee Paul Ulibarri said his committee was not consulted on the format of the Champions Cup, and he would be using his platform to voice his concerns.
"Majors are not to be messed with in sports. I get that you want to be different. I respect thinking outside the box," said Ulibarri. "Disc golf is a stroke play individual sport. We don't practice match play for a reason. There aren't even match play tournaments to practice. There is no warming up for it. This is silly."
Reigning world champ Paul McBeth did not respond to Ultiworld Disc Golf's request for comment but left disapproving reactions to both the PDGA and UWDG news articles on the announcement. His wife, Hannah, did leave her opinion.
"I'm all for trying new things, but I just need to put it out there that Paige Pierce has come out of a tournament ahead of fourth place by double digits in multiple events. This includes majors such as European Open, Worlds, and Women's Nationals," said Hannah McBeth. "For her to do that then face that individual in match play feels… odd?"
The same reason McBeth is reluctant to embrace match play is why Major winner Sarah Hokom is looking forward to it.
"I think it will be a fun and unpredictable format. I like that no player can 'run away with it,'" said Hokom. "It will really up the excitement, especially with a Major title on the line. Also, we won't see any players winning by a landslide or players coasting to the finish. When the top four have their scores reset and face off head-to-head, anything could happen. We could potentially see some breakout major winners with a format like this."
Chris Dickerson, who finished third at the 2019 Hall of Fame Classic at the IDGC, seems game for the new challenge, yet thinks the plan to bid out the Champions Cup to new locations each season may backfire.
"This is very exciting," said Dickerson. "W.R. Jackson is a very underutilized course. I do think this event has a better chance of being prestigious if it stays at this venue instead of moving around though."