It's time to get down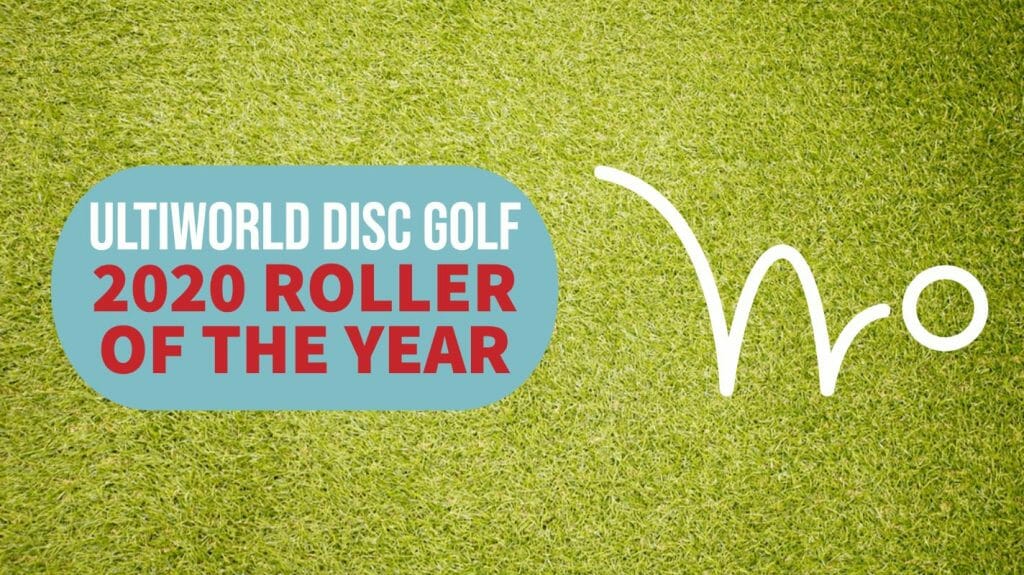 The 2020 professional season was one for the books, filled with rollers causing us to pick our jaws up off the floor. And there were so many, we figured we'd enlist Ultiworld Disc Golf readers to help us decide on the season's best.
With that in mind, we are proud to present the final of four bracket challenges to close out the year. We've culled highlights from the sport's best media providers and broken them down into four categories: Roller of the Year, Air Shot of the Year, Putt of the Year, and Ace of the Year. After each bracket is decided, the winners will battle in a four-way, College Football Playoff-style bracket that will determine the 2020 Shot of the Year.
Pick up to three shots for Roller of the Year to make it to the finals. And if you're having fun with this, feel free to share the love on social media. We've also included a blank space to add your own nominee if you think we missed it.
A special thanks to Jomez Productions, Central Coast Disc Golf, Disc Golf Pro Tour, Par Save Productions, GK Pro, Gatekeeper, Disc Golf Guy, Smashboxx, Ace Run Pro, and others for capturing these clips. And we're off!
---
Garrett Gurthie at USDGC – hole 5
garrett gurthie usdgc hole 5 roller GIF
Kyle Klein at USDGC – hole 4
kyle klein usdgc hole 4 roller GIF
Alden Harris at Battle at Boomtown – hole 3
alden harrie battle at boomtown hole 3 roller GIF
Paige Pierce at DDO – hole 14
paige pierce ddo hole 14 roller GIF
Brian Earhart at Music City Open – hole 8
brian earhart music city open hole 8 roller GIF
Paul Ulibarri at Ledgestone – hole 1
paul ulibarri ledgestone hole 1 roller GIF
Gregg Barsby at Ledgestone – hole 13
gregg barsby ledgestone hole 13 roller GIF
Emerson Keith at Memorial – hole 15
emerson keith memorial hole 15 roller GIF
Eagle McMahon at Preserve – hole 4
eagle mcmahon preserve hole 4 roller GIF
Andrew Fish at Lost Valley Open – hole 1
andrew fish lost valley hole 1 roller GIF
Steve Rico at Halloween Classic – hole 6
steve rico halloween classic hole 6 roller GIF
Kyle Klein at MVP – hole 2
kyle klein mvp hole 2 roller GIF
Simon Lizotte at GLO – hole 18
simon lizotte glo hole 18 roller GIF
Catrina Allen at WNC – hole 8
catrina allen roller hole 8 wnc round 1 GIF
Eagle McMahon at Preserve – hole 11
eagle mcmahon preserve hole 11 roller GIF
Garrett Gurthie at Music City – hole 2
garrett gurthie music city hole 2 roller GIF
Kevin Jones at GLO – hole 9
kevin jones glo hole 9 roller GIF
Andrew Martin at PFDO – hole 6
andrew martin pfdo hole 6 roller GIF
Reid Frescura at Music City – hole 15
reid frescura music city open hole 15 roller GIF
Charlie Goodpasture at Chain Hawk Open – hole 15
charlie goodpasture chain hawk hole 15 roller GIF
Ricky Wysocki at Ledgestone – hole 7
ricky wysocki ledgestone hole 7 roller GIF
Kevin Jones at Jonesboro – hole 11
kevin jones jonesboro hole 11 GIF
Eagle McMahon at Idlewild – hole 8
eagle mcmahon idlewild hole 8 roller GIF