The new Finnish island disc golf resort is now open.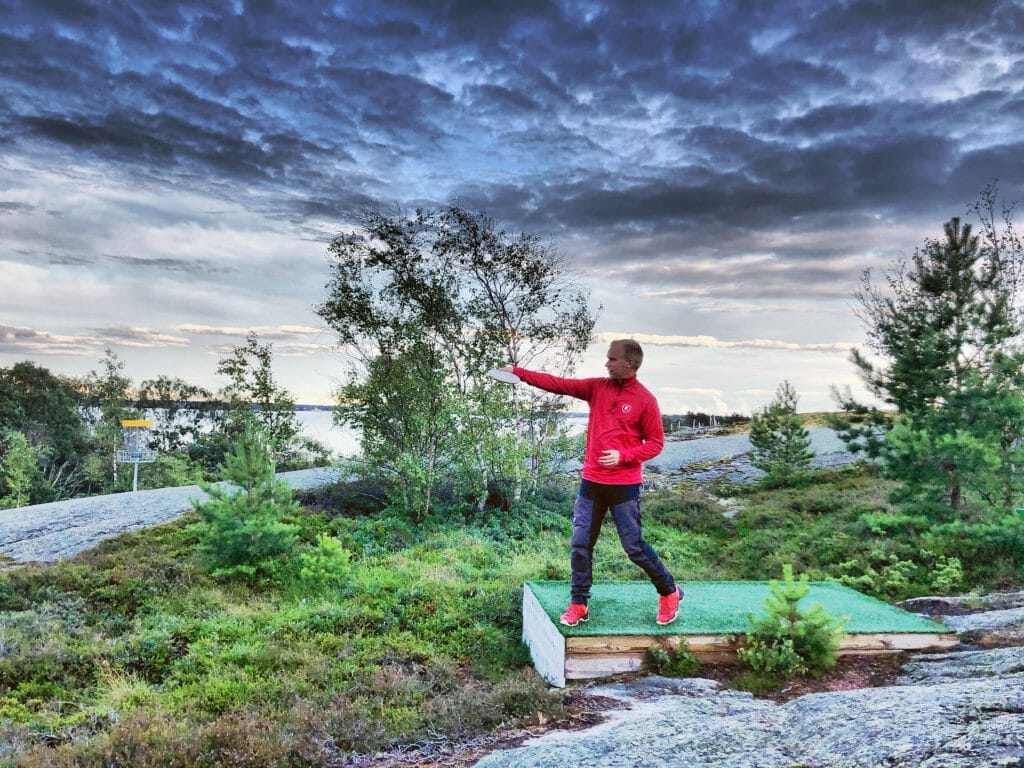 A white eagle soars majestically above the slippery, boulder-strewn hills of Geta before spotting its prey in the flora below and crashing left with lightning speed into a den of trees, never to be seen again. This Eagle was hewn out of 162 grams of Star plastic, and logic would dictate that the raging headwind blasting our faces from out of the sea below would flip it to flat, if not all the way over, and aid its flight towards the target 220 meters below. But no such luck.
Moments earlier, Jussi Meresmaa had launched his first ever drive in Åland off this cliff below tee pad 10, and it held a straight line towards the invisible basket nestled deep in the abyss below. Moments later, the man responsible for this monstrosity of a hole, one Pasi Koivu, sails a couple of drives in the same direction as mine, proving that he's learned nothing from our displays. His discs, miraculously, end up side by side on a moss covered cliff face far below, owing to his "making the same mistake with the same disc twice."  Mine, as well as the pink Champion Krait I sacrificed the day before, will, however, never find their way back to my bag again.
Later, in the comforts of his shiny white Tesla, Jussi admits that Åland is a lot different than he imagined. Knowing how Mr. Meresmaa doesn't quite wear his heart on his sleeve, I inquire. "A lot better, I assume?"
Coaxing him to a completely blank faced "Yes." The tenor is now set for the rest of the trip.
***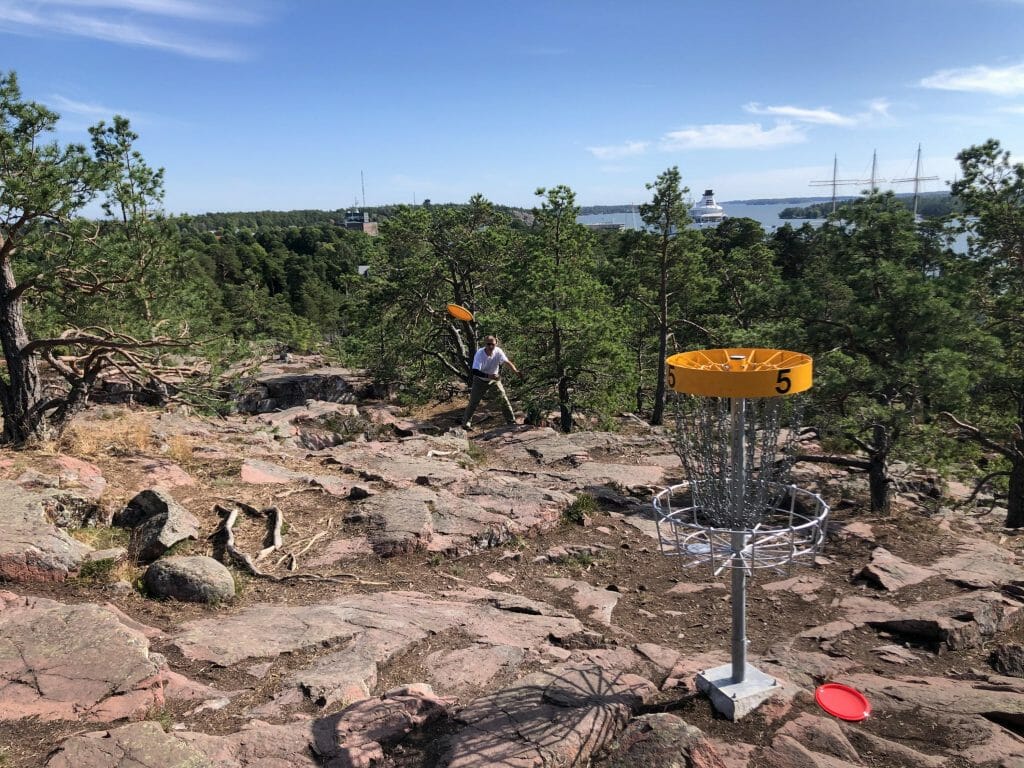 Pasi Koivu loves two things above everything else. His trusty forehand and designing long, technical holes where the basket is not visible from the tee and the tight fairways break hard to the side shortly before the pin, making birdies a hard fought battle. At Geta's 18 hole course, and Svinö's 9 holes (upgrading to 18 in the coming weeks), I hit every first available, last available, and hardly available tree in quick succession. I obviously blame the wind.
After a two hour ferry ride to Lappo, an island on the easternmost point of the archipelago populated by a mere 30 souls, we meet Juho Rantalaiho, who's been tasked with converting the nine holes he designed six years ago into a more challenging 18 hole course. Rantalaiho, being a man of great principle with a protestant work ethic, has gone the extra mile during the interim period and acquired some very serviceable Swedish to better communicate with the local population.
Jättebra!1
Venturing deep into the island's wilderness, the newly added nine holes connect the first four holes of the existing course to the last five with a much more demanding layout, adding some very hard par 4s, and arguably the greatest single hole I played out of the seven courses I managed to cram in to my short stay. That was the par four 13th, whose fairly wide fairway traces a lazy U-turn through the trees up and down a rock strewn hill, only to then leap up a steep cliff to a green perched above a calm Baltic sea, bathed in the purple haze of the setting midnight sun.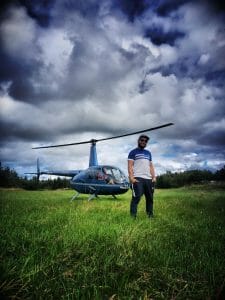 At these northerly latitudes, the light never wanes in the summer months, and much like Koivu's hidden baskets, the sun is merely playing a brief spot of peekaboo. As it nears its zenith in the sky the next day, a small helicopter descends on the field next to our red, wooden house. Today is the grand opening of the whole disc golf project, and the skies have cleared and the wind has calmed in preparation.
Next to the rocky outcropping of green 12B, which leads all putts into Davy Jones' Locker, Prime Minister Veronica Thörnroos gives a speech, along with some words from venue owner Tiina Thörnroos (no relation), course designer Juha Rantalaiho, and the man with the master plan, Mats Adamczak. After this humble opening ceremony, Adamczak, Meresmaa, and Esa Arokki, a videographer from Spin TV, take off on a seven hour long airborne odyssey to launch a world record eleven disc golf courses in one day. Behind them, Koivu and I make a mad dash by car, school van, a speed boat, a schooner, two separate ferries, and Meresmaa's tarmac-tearing Tesla to play a fun little nine hole course at Seglinge. I get lucky with a couple C2 putts and a 70 foot throw-in with my first run Atlas to set the course record at 5-under par, and Koivu trails one behind at -4 after we go into the final hole all tied up.
A deep debt of gratitude is owed to our host Tiina Thörnroos for hatching this escape plan at the drop of a hat as well as to the various drivers and boatmen that graciously donated their work so that we might squeeze in one extra course.
After a spot of "road testing" with the Tesla (fun fact: it does indeed go 0 to 60 MPH in 2.5 seconds, as advertised), we arrive at the rendezvous point at Stallhagen DGC, next to the eponymous brewery. I think it's fair to assume that this particular course would bore the average reader to tears with its short, open holes and general lack of demanding features, but it fills a needed function in catering to every skill level, and, hey, it is next to a brewery with a full service bar, restaurant, and outdoor dining patio!
After riding around in the chopper all day, hotshot CEO Jussi Meresmaa is like so totally over it, and he gracefully gives his seat up to yours truly so that I can go make the ceremonial first drive at the last remaining course at the extremely wooded Eckerö, before we all meet back in the capital of Mariehamn to tie a neat little bow on the proceedings at the pre-existing Lions Club DGC. This fun little nine hole exercise in death putts and twisted ankles hops, leaps, and skips up and down a convoluted cliff face adorned with something akin to an overgrown bonsai forest. From the top, you can spot the ferry port, the massive sail ship Pommern, docked and rigged out as a museum, or just hang out by the rustic light house and chug a beer from the tax-free store while you take in the stunning view.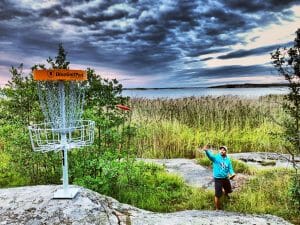 Although small and isolated, Mariehamn is a renowned tourist hotspot with all the resort amenities you could ever need or wish for. When stage two brings the total number of courses up to 16 this fall, and upgrades a number of nine hole courses to the standard 18, the Åland Island Disc Golf Park project may yet have an ace left up its sleeve: an 18 hole championship level pay-to-play course right outside Mariehamn, built on a canvas resembling your traditional tour venues. More like your Järva type course and less like the super-sized DeLaveaga style monster that lives on the cliffs of Getaberget.
This venue, if plans come to pass, will act as a central point tying the whole experience/experiment together, and serve as a venue both to large scale tournaments as well as a meeting point for players from far and abroad to set out on various wild adventures on the thousands of little islands and islets that dot the horizon as far as the spotter can see.
In the post-Covid age to come, when travel is hopefully back to something loosely resembling normal, your best bet as an outsider is to fly into Stockholm, play Järva, and then hop on a ferry to Åland and rent a car on the other side. An alternative for those traveling in from different directions, or for those weird couple of contrarians out there who claim not to like Järva for some reason, is to fly into Helsinki or Tallinn and hop on an overnight party cruise ship, or take a connecting flight from Vantaa Airport. Finland and Estonia do also offer a combined total of 1000 or so courses, so the possibilities are endless.
Amid myriad little islands that set the scene with stunning backdrops hewn out of wood-lined fairways, greens that fall into the shining sea, and smooth boulder faces that skip your disc into the heart of the chains or out into the briny maw of the ocean, the Åland islands, led by entrepreneur extraordinaire Mats Adamczak, have executed something truly remarkable in a short amount of time: an archipelago spanning resort fully dedicated to disc golf that caters to every level and preference of play.
In one word: amazing!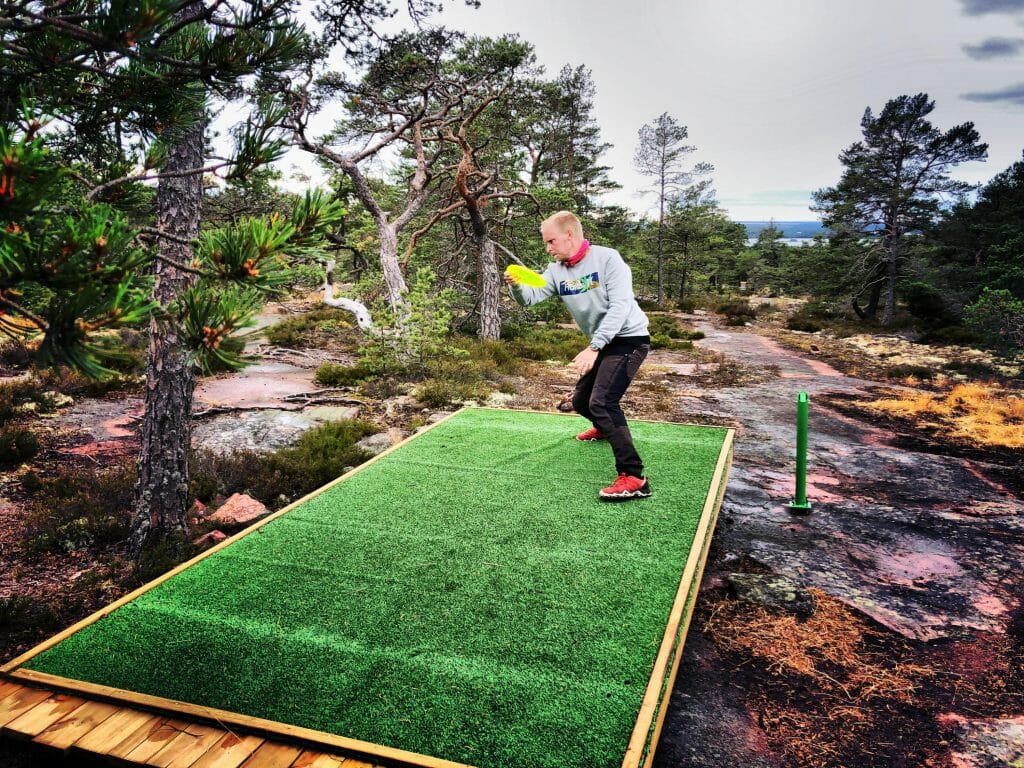 ---
Swedish is a language poor in adjectives and "Jättebra!", the word "good" in the comparative degree, is the highest form of verbal praise available to a Swede. ↩