The teenager from Littoinen has quickly established himself among Europe's elite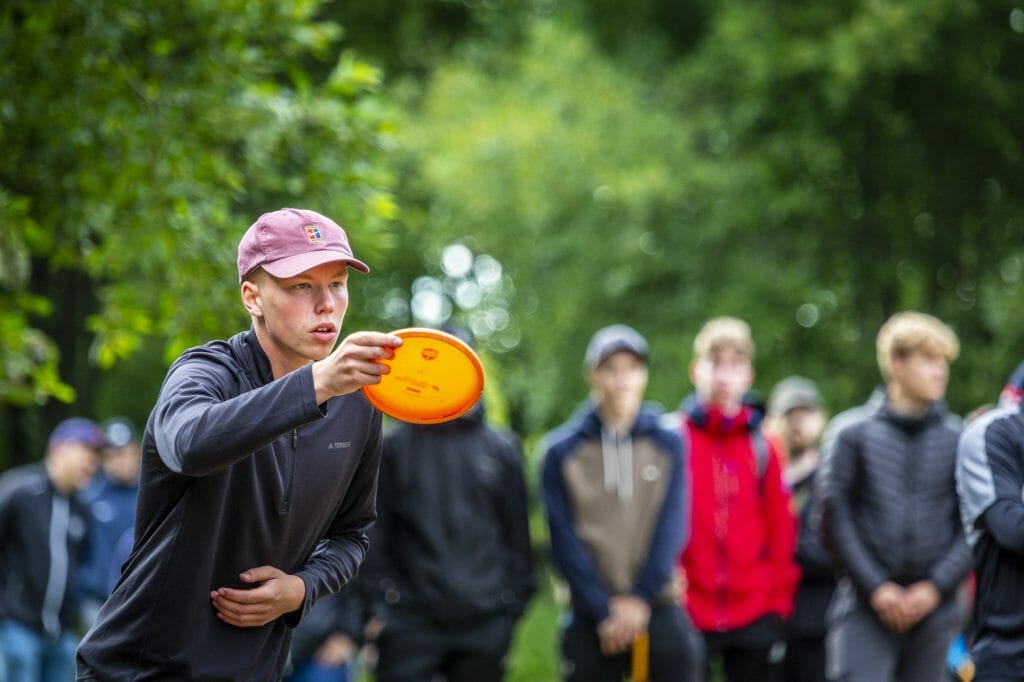 Ultiworld Disc Golf will be publishing this interview with Severi Saviniemi in both English and Finnish. 
Severi Saviniemi has quickly risen to the elite tier of Finland's top players. He is becoming a household name known to the entire discing nation this season. The 16-year-old is in the top spot on the Prodigy Disc Pro Tour, leading the overall race by one point over Niklas Anttila, who won the first event at Tali, Helsinki. The previous event winner, Seppo Paju, is ranked third, six and a half points behind the leader. Saviniemi has placed second in both PDPT events.
At the second event in Aninkainen, Turku, the superiority of Saviniemi and Paju was decided in a thriller with three sudden death holes. Paju won with an experienced performance taking the victory with a 10.5 meter birdie putt on the final sudden death hole.
"Who is Severi Saviniemi?" asked Seppo Paju in a recent vlog. "Well, a 16-year-old kid," Saviniemi modestly replied with a small twinkle in the corner of his eye. However, the on-course performance of the high schooler has been anything but modest.
The results so far have caused a little wonder, if not frustration, even among his competitors. "Severi is a carefree kid who doesn't stress too much about competing. That is his great strength," said fellow Finn Väinö Mäkelä of Saviniemi's on-course demeanor. Both payers are currently sponsored by Powergrip, so they often see each other on tour.
We caught up with Saviniemi to learn a little more about the teenager tearing up Finnish tournaments. He had just jumped 14 points in the latest PDGA rating update to hit 1005, and was preparing for last weekend's Tahkovuori Open.
---
Ultiworld Disc Golf: When did you start playing or get to know the sport for the first time?
Saviniemi: At school in 2015 we played in PE class. The teacher and really no one else knew the techniques of the sport, so I had to learn it myself for starters. 
UWDG: So how have you risen to such a high level? Did you watch some video of the pros? Or did a more experienced player help you at first? 
Saviniemi: Well, I saw a few videos. There wasn't anyone to help at first, so I taught myself. The other classmates weren't excited about the sport in 2015, but I got excited. The very next summer, 2016, I started going to Lauste to train. Topias Jokinen was often with me. With him, we developed our game at first by training constantly, almost every day. I'd say I have developed to a level that I have separated myself. I started playing PDGA tournaments in 2016.
UWDG: Your backhand technique is really effective. Would you say that it is your strongest part of your game at the moment? 
Saviniemi: Yeah, definitely. I didn't really throw forehand at all for the first few years.
UWDG: How long did it take to break the 100 meter (328 feet) mark with a backhand?
Saviniemi: Well, I had already broken it in 2015. I remember one huge bomb from one of my first-ever training sessions. It was a Blizzard Destroyer: I think I hit 75 meters with it.
UWDG: So your backhand is strong. What would you like to develop in your game?
Saviniemi: Well, my forehand is OK-ish now. More distance with my forehand would be nice to have. It would be good to have a 100 meter forehand consistently.
UWDG: With backhand, you throw really far and you have a lot of arm leverage brought by your height (Severi is 193 cm/6'3″). Could you challenge, let's say, Oskari Vikström, who can hit almost 200 meters (650 feet) on flat ground?
Saviniemi: Well, Oskari probably beats me at least by 10 meters now, but I've beaten him previously in a distance competition in 2017 in Kokkola, Finland. There I threw 137 meters (450 feet) and Oskari threw 134 meters (439 feet). We have both gained distance to our shots quite a lot since then.
UWDG: So the technique is in good shape. Do you feel like you have a lot of pressure during tournament performance? It's hard to notice that when watching you on video. 
Saviniemi: Yes, I feel a lot of pressure sometimes. Maybe I put the pressure on myself, at least in Aninkainen I did. I was really nervous and tense. I was still able to play really well, so I guess that my mindset is mostly kind of OK.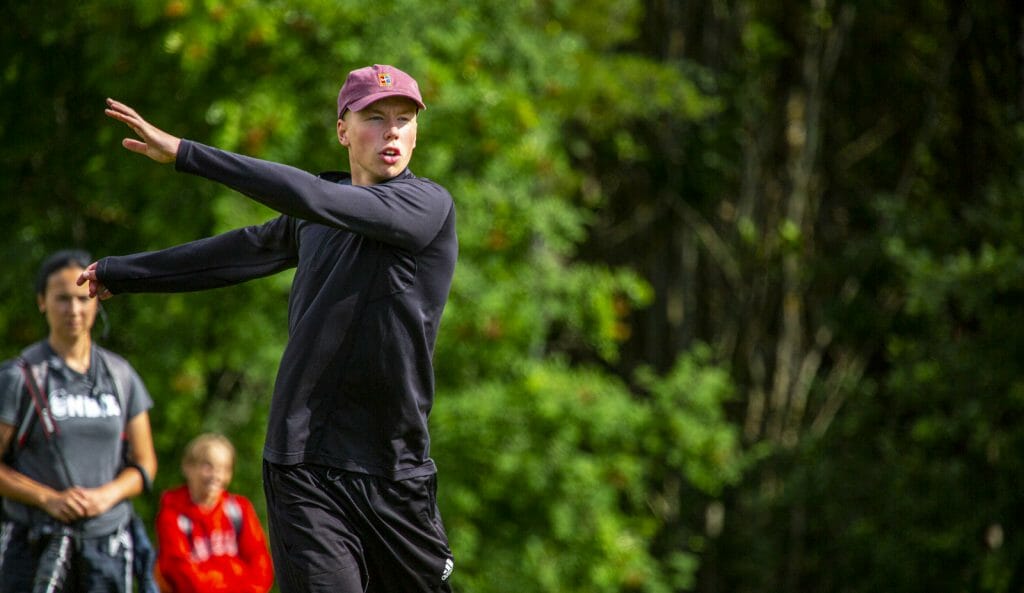 Janne Hirsimäki from Team Powergrip has this to say about Severi: "Severi is a young man who is enthusiastic about the game and really committed to his training. He has gained distance to his shots almost each year. The Kid's putting is bold and unprejudiced. Severi isn't afraid to fail, he trusts his skills beyond any doubt."
UWDG: It is clear from the Prodigy Disc Pro Tour videos that you are throwing several discs of different brands. Is it the case that you have no sponsors other than Powergrip at the moment? 
Saviniemi: Yeah, that's how it is for now.
UWDG: What are your plans for late summer? At least end the pro tour and…
Saviniemi: Tahkovuori Open first, then the Tampere Pro Tour competition, Kuopio Pro Tour event, and finally the Finnish Nationals in Sibbe from August 6-9.
UWDG: Have you set goals for these competitions?
Saviniemi: It would be nice to play well on the Pro Tour to get good scores in the overall tournament. Sibbe's championship course may not be the best fit for my style of play. I know the Sibbe course somewhat, but I could learn it even more. I'm going to the Nationals to do my best. We will see what happens.
UWDG: You play a lot of practice rounds with Seppo Paju. Both of you live in the same area. Have you received any tips for your game from Seppo? 
Saviniemi: I haven't been taught by Seppo, but I think playing in the same company with Seppo has helped to develop my own game as well.
UWDG: Next season, you're probably a sponsored player with more financial support. Where would you like to play if the situation was such that you could play anywhere you wanted?
Saviniemi: Since I'm still in high school, I don't plan a trip over seas to the US next year. I still have a lot of time to develop and tour, so I'll take it easy. But probably Estonia next year. We were supposed to go there this year too, but the situation was what it was. 
UWDG: To end our chat, a few multiple-choice questions. Whichever you prefer:
A) Feature Card at USDGC with Paul, Ricky and Simon, or
B) You beat Seppo in all the competitions where you are playing at the same time?
Saviniemi: Definitely A
UWDG: Water, Coke, or Battery energy drinks?
Saviniemi: Water
UWDG: To whom would you like to send greetings?
Saviniemi: Definitely my parents! My club 7k Turku! Follow @Severisaviniemi on Insta.