It's been more than three months since an Elite Series event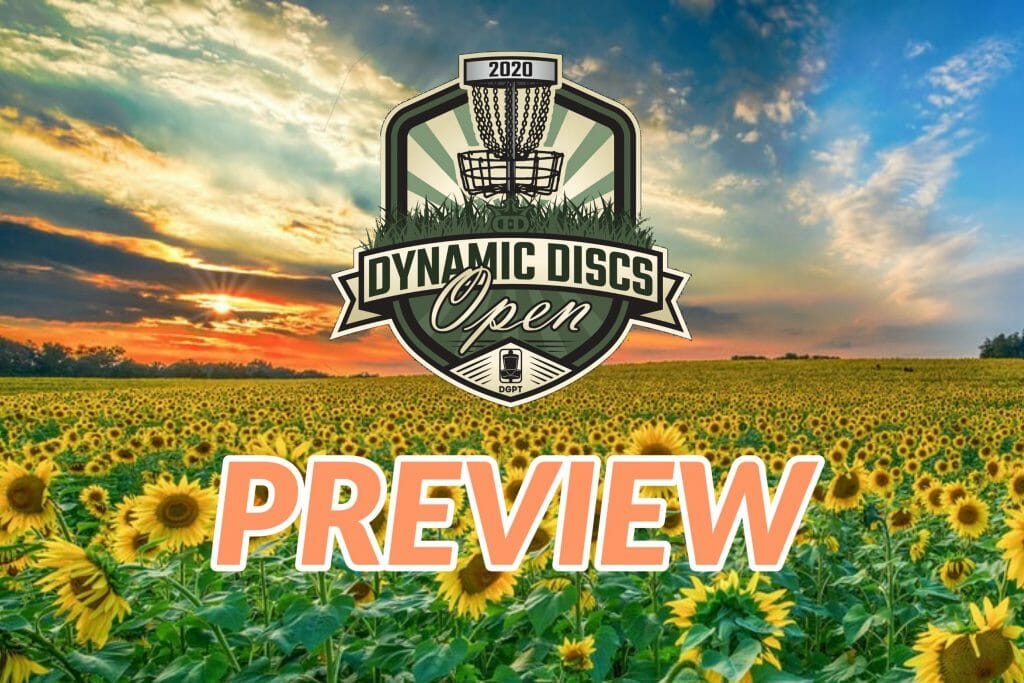 The Disc Golf Pro Tour is officially  back in action this weekend for the Dynamic Discs Open in Emporia, Kansas. The DDO will be the first Elite Series event since the truncated Waco Annual Charity Open in March, and a hopeful first step in restarting what is sure to be an exciting, and highly unusual 2020 season of professional disc golf.
As of now, the field is looking stacked. Almost every top player in both the Open and Open Women's division will be in attendance. Some players will be looking to pick up right where they left off. Calvin Heimburg won at the Memorial, and Colten Montgomery took home the W after two rounds in Waco. Catrina Allen won in Las Vegas, and Paige Pierce won the Memorial. The DDO will be Pierce's first event back in Emporia since leaving her Dynamic Discs sponsorship over the 2019-2020 offseason. 
Some players are probably looking at the DDO as an opportunity to re-restart their 2020 season. Kevin Jones and Ricky Wysocki both looked a little shaky, by their standards, to start the year. Wysocki fans will be hoping that the two-time world champion has continued to regain some of the strength and form he appeared to have lost while fighting Lyme disease. Jones has been a slow-starter in the past, but has come out of quarantine on fire with four wins. We'll be watching to see if these two marquis Open talents have benefited from the time off.
Current travel restrictions realistically ruled out seeing Henna Blomroos, Eveliina Salonen, and Kristin Tattar in Emporia. As disappointing as this will be for fans, the lack of European firepower in attendance may open up some room on the podium for the likes of Holly Finley and Missy Gannon, both of whom have had solid, albeit limited, seasons in 2020, and showed marked improvement and growth as players in 2019. Sarah Hokom will not be in attendance, but we will see her at the next DGPT stop in Minnesota.
One story line which will certainly bear watching is how well the DGPT and Dynamic Discs handle running an event in the age of social distancing, mask wearing, contact tracing, and testing. Jeff Spring has said that they will not tolerate players flouting the rules, and some players have been prohibited from playing the event because they did not meet the state of Kansas's rules for quarantine following out of state travel. With media teams on the ground, there will be plenty of eyes and lenses on the scene, and, for better or worse, players and event staff will be under extra scrutiny.
This is a high stakes moment for everyone involved.
Past Winners
This is the first Dynamic Discs Open on the Elite Series. Layouts at the DD Open will be similar to past Glass Blown Opens.
| | PDGA Tier | Open | Open Women |
| --- | --- | --- | --- |
| 2022 | DGPT | Ricky Wysocki | Kristin Tattar |
| 2021 | NT | Paul McBeth | Hailey King |
| 2020 | DGPT | Paul McBeth | Paige Pierce |
| 2019 | NT | Paul McBeth | Catrina Allen |
| 2018 | NT | Eagle McMahon | Paige Pierce |
| 2017 | NT | Paul McBeth | Paige Pierce/Hannah Leatherman |
| 2016 | NT | Cam Todd | Catrina Allen |
| 2015 | NT | Paul McBeth | Paige Pierce |
| 2014 | A | Simon Lizotte | Catrina Allen |
| 2013 | A | Will Schusterick | Paige Pierce |
| 2012 | A | Will Schusterick | Catrina Allen |
| 2011 | A | Cale Leiviska | Valarie Jenkins |
| 2010 | A | Eric McCabe | Liz Lopez |
| 2009 | A | Nate Doss | Robin Reimer |
| 2008 | A | David Hemmeline | Liz Lopez |
| 2007 | A | Eric McCabe | Jennifer Allen |
| 2006 | A | Kevin McCoy | Angela Tschiggfrie |
| 2005 | B | Eric McCabe | Tavish Sanders |
| 2004 | B | Daniel Stacy | Terri Clark |
| 2003 | B | Ron Convers | Shelly Bunch |
The Course
Emporia Country Club: MPO – 10,944 feet, par 65; FPO – 9,375 feet, par 67
A canceled GBO prevents us from seeing the Jones Gold course, but a familiar and formidable foe in the country club looms.
Hole 16 is perhaps the signature hole of the course: an island — literally an island — green that epitomizes risk vs. reward. As we have seen in the past, most notably in 2018, if two players are neck and neck going into the final three holes, how one chooses to attack, or not attack, 16 could be a huge difference maker. 
The island will be looking different, however, as a wall has been erected on the backside of the green. Yes, there's a potential backstop, but it may also tempt players into the riskier play.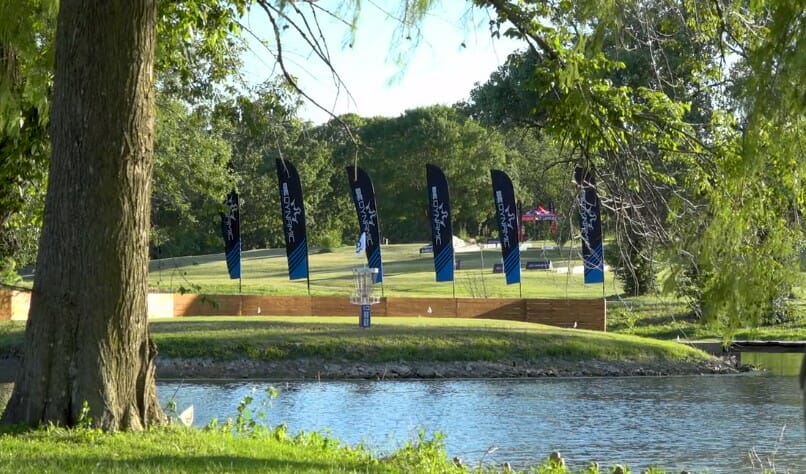 Weather Forecast
Summer is the season, so you can expect conditions to be hot for the Dynamic Discs Open in Emporia, KS. Each day of the tournament will feature temperatures in the low to mid 90s.
Friday: Temperatures to start the day will be around 71°. However, the afternoon high temperature will top out around 94°. Southerly winds will be gusty. Sustained winds of 10 to 15 mph appear likely, with occasional gusts over 25 mph possible.

While outside of competition hours, strong to severe storms are possible during the late evening and overnight hours in Emporia. Large hail, gusty winds, and heavy rainfall will be the main concern.

Saturday: A few leftover showers may work through the region during the morning hours. Temperatures should once again top out in the low 90s. Southerly winds of 10 to 15 mph will once again be in play, with higher gusts possible. A few afternoon showers and thunderstorms will be possible.

Sunday: Even windier conditions are expected on Sunday. Southerly winds may gust in excess of 35 mph throughout the day. Current thinking is that Sunday should remain dry, but I wouldn't be that shocked to see very isolated showers and storms during the afternoon. Highs will top out in the low to mid 90s.
How to Watch
The Disc Golf Pro Tour will be providing live coverage via Disc Golf Network. The Open feature card of Wysocki, Jeremy Koling, Eagle McMahon, and Eric Oakley begins Friday at 2 p.m. Central. The Open Women's feature card with Allen, Pierce, Paige Shue, and Rebecca Cox will tee off and join the broadcast at 4 p.m. Rounds 1 and 2 will be on DGN, with the final round simulcast on both DGN and the DGPT YouTube channel.
Next day video coverage will only be available for lead Open Women's cards on the GK Pro YouTube channel. Dynamic Discs and the DGPT announced plans for four 1-hour specials to air on CBS Sports Network in August. Full round coverage of Open lead and chase cards will be released in September on JomezPro and Central Coast Disc Golf.
UDisc Live to track scores as they happen.