Disc golf is coming to a halt.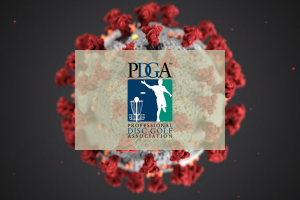 In response to growing concern over the COVID-19 coronavirus pandemic, the PDGA has suspended sanctioning for all events through at least March 31st, effective immediately.
The announcement follows new CDC guidance that all events of 50 or more people be avoided for the next eight weeks. The Trump Administration also announced yesterday that gatherings of more than 10 people should be avoided. Some cities — including New York and Los Angeles — have begun shutting down restaurants and bars and discouraging any discretionary travel. California has announced a 'shelter in place' order for six counties in the Bay Area to all but require people to remain in their homes.
"The health and safety of the disc golf community is our top priority," said PDGA Board of Directors President Justin Menickelli in a statement. "Undoubtedly, this decision affects many stakeholders. We understand the burden this may put on tournament directors who have invested time, money, and energy into their events; on players who are now forced to alter travel plans; on sponsor relationships; as well as thousands of members who look forward to playing in sanctioned events each weekend.
"However, as the COVID-19 pandemic touches more communities and puts several age groups and those with underlying health conditions at risk, it is requiring sacrifices from everyone. We know our members will keep this in mind and be great ambassadors for our sport. Eventually, we will get back to business as usual, and we look forward to seeing thousands of disc golf events resume on courses around the world."
The coronavirus impact on disc golf continues to widen after two National Tour events — the Glass Blown Open and Masters Cup — were cancelled within the last week. The Disc Golf Pro Tour's Jonesboro Open is postponed indefinitely.