Wysocki, Tanner round out MPO lead; Paige Shue four shots back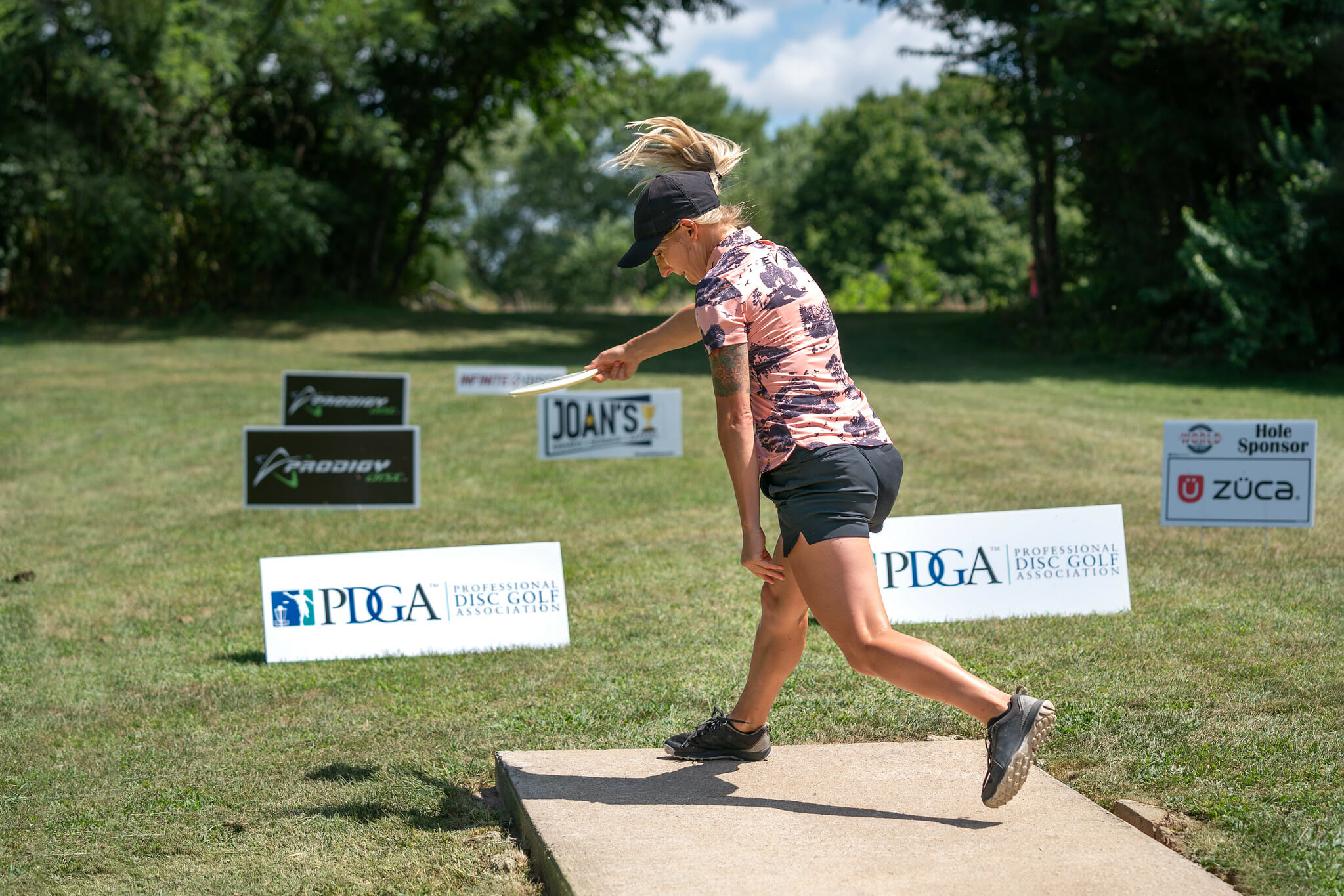 Ultiworld Disc Golf's coverage of the 2020 Las Vegas Challenge is presented by Innova Discs; all opinions are those of the authors. 
The front nine once again was ripe for picking during the second round of the 2020 Las Vegas Challenge, this time on the Innova course. Of the 41 total birdies for the FPO division today, only eight came on a hole on the back 9. Friday's conditions featured easily the best weather for a Las Vegas Challenge competition day in recent memory, and Catrina Allen relished lobbing fairway bombs early and often. The clubhouse leader found fairways 83% of the time, and for the second consecutive round found herself 4-under par and bogey free through 9 holes.
Make no mistake about it: her 29% C1x putting (2/7 attempts) is an ugly number, and the missed opportunities may just have been the difference between a great round and a record-setting one, but the fact remains that against a quality field she leads everyone in Fairway Hits by a 14% margin, C2 in regulation by a 13% margin, and is tied with Henna Blomroos for the best 'Circle 1 in Regulation' percentage through 36 holes. While we could armchair caddy all day and repeat the statistically debunked "drive for show, putt for dough" mantra ad nauseum, to focus only on the coulda-woulda-shoulda would be to gloss over the fact that Allen was the only player in the division under par. If you literally took the putter out of her bag, she could still find a way to shoot a 1000+ rated round.
"I'm not going to dwell on missed putts, everyone misses putts," Allen said. "I've made some great putts too – downhill death putts, outside the circle putts. I really feel confident in my game plan and [in] how I'm breaking down the courses, so I'm going to just keep my focus on that!"
And it's true: she's sixth in the field in Circle 2 putting (15%) this week.
While Allen's focus is on the course, Paige Shue has been focusing on getting into position to recreate last year's clutch finale. Rewinding the clock back one year, Shue (then Bjerkaas) was trailing by the same four-stroke deficit albeit with only 18 holes left in regulation. This year, Shue's scoresheet is significantly more consistent – having scored par on 30 of 36 holes compared to 20 of 36 holes in 2019. Her path to her 2nd place standing looks far more textbook, as she is inside the Top 10 on every statistical category except Parked Percentage. Keep an eye on that field-leading C2 putting percentage, however, as that was the clinching dagger in the playoff to earn her first career National Tour victory.
Two strokes are all that separate the remainder of the top five, rounded out by Eveliina Salonen, Callie McMorran, and Henna Bloomroos, respectively. Of those three, only Henna Blomroos was able to generate enough inside C2 looks to potentially throw down a statement round, but four OB throws relegated her to top of the chase card for moving day.
"I think [that] score isn't really good for me. This course was supposed to be easier for me because I can throw hard and far, but I threw too many shots OB and missed too many putts," lamented Blomroos of her 1-over par 62 performance. It's hard to disagree, considering her OB throws were the difference between a 2nd place and 5th place position ahead of the weekend.
For Salonen, Blomroos' Finnish compatriot, the lingering sentiment was very similar. In addition to also earning four OB strokes, disaster on the green of #17 kept her over par for the round. She now sits five throws off the lead.
"It was much harder today, although I should have played under par anyways. Putting was ok until the 17th, where I four-putted. My attempts hit the basket twice only to see the disc roll away each time," Salonen chuckled with an emoji. When asked about changing the game plan, she responded, "No, usually trying to play too aggressively costs me. I'll try to be more focused and take my time tomorrow. Hopefully it'll be enough."
Rounding out the lead card for moving day coverage is Callie McMorran. The 929-rated Tennessee product has spent the offseason training in Arizona with Jennifer Allen and already has four PDGA events under her belt in 2020. The third-year pro has seen her rating jump about 30 points in the last 12 months and thus far maintained the best C1x putting rate (79%) out of everyone mentioned above.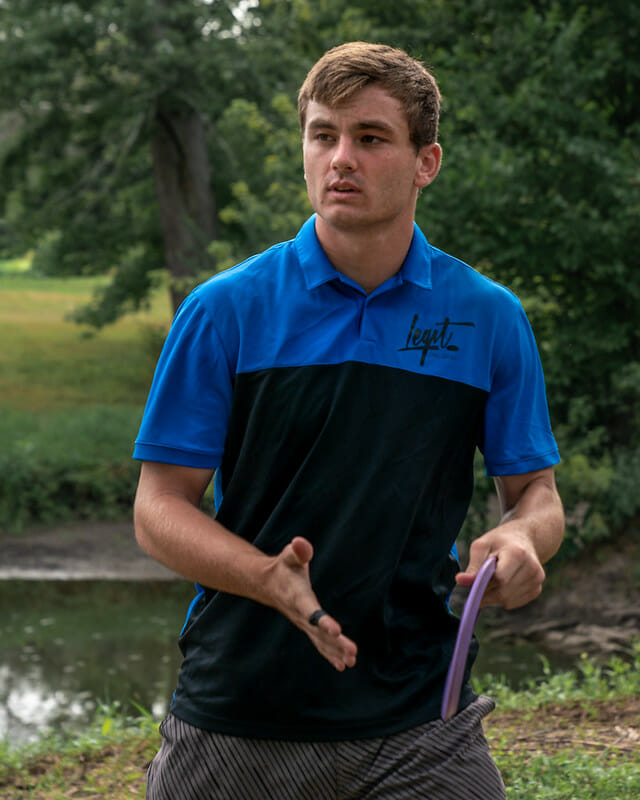 As MPO filtered onto the course, the conditions continued to offer no resistance, and players scored at will. After a disappointing opening round and a missed birdie putt on the first hole, Kevin Jones put together the kind of bounce back round that gets fans excited.
"All of my drives were feeling really good today and gave me plenty of chances to cash in. I was really timid on the first putt of the round, but missing low felt good because I just simply didn't commit. That was a super easy fix. Fully committing made the disc fly straight to the chains," Jones said of his stumble out of the gate.
Commitment is a great catch-all to describe Jones' Friday. He proceeded to jam five straight C1x birdie looks, and then after an OB drive on #7 led to a par, he would rattle off another six straight C1x attempts en route to tying the hot round with a 12-under par 49. Jones carded only four pars and found C1 in regulation on 15 of 18 holes, jumping up 41 spots in the process.
Matching that hot round effort, but faring just slightly better on #7? Garrett Gurthie. "Double G" made quick work of the front nine, going 9-under with two pars. Yep, read that again.
"It's really good vibes whenever you hit an ace during the round, especially when it's a par four – my first time getting an albatross so that was pretty dope," Gurthie beamed. "I tried to throw it really nice and smooth and get the disc to fly right between the two patches of sand right there [by the basket], and I saw the disc coming in really hot. I was like, 'Man that's gonna be long gone if the basket doesn't stop it' — then I heard Ricky in the background saying 'That's going in!' — sure enough, just that quick, that disc was in the basket at a hundred miles an hour. It was freaking awesome."
WATCH: Garrett Gurthie Aces 432′ Par 4
Gurthie's stats tell a similar story to Jones' – missing a C1x attempt on the first hole and then making the rest en route to a -12 round. A bogey on #18 due to a second shot misfire that didn't hyzer in quickly enough did nothing to cloud his sunny disposition after the round.
"I had a bunch of friends and fans out today and they were really rooting me on. I didn't feel any nerves after that [ace], I just wanted to take it to the next level," said Gurthie, who trails Nate Sexton now by only three strokes.
Sexton was fantastic again today, shooting just one off the hot round at 11-under, including another torrid start with eight birdies and an eagle in the first 11 holes.
Double G's cardmates weren't too shabby either on the Innova course: both Tristan Tanner (-10) and Ricky Wysocki (-11) went double-digit low and earned their way onto the lead card for moving day on the Factory Store course. The standout stat for Tanner was a 43% C2 connection rate (3/7 attempts made), which follows a 50% C2 putting performance in Round 1. From distance, and with no wind to speak of, Tanner was able to perfectly float in looks from all over the 11-14m range with finesse that would make the oldest of old school frisbee heads jealous.
Wysocki, backing up his talk of feeling at (or close to) 100% following his four month battle with lyme disease, was in classic form. When he wasn't stringing multiple holes together, he was still threatening to, which is impressive considering he's not far removed from days where he would wake up unable to move the fingers on this throwing hand.
All in all, there were 52 rounds in MPO rated over 1000, too many stories of epic putts and daring tee shots to share in one article. The UDisc scoreboard at the end of the day looks much like the sky above Wildhorse did, mostly blue with some puffs of white. Rain could potentially disrupt the scoring streak we've seen through two rounds, and the Factory Store course is the longest on the property, measuring in at just under 9100'.
With four media crews in attendance creating post-round videos, you may just have to see it all for yourself to believe it, because what happens at the Las Vegas Challenge…lives on YouTube for eternity.