James Conrad one stroke behind in title defense mode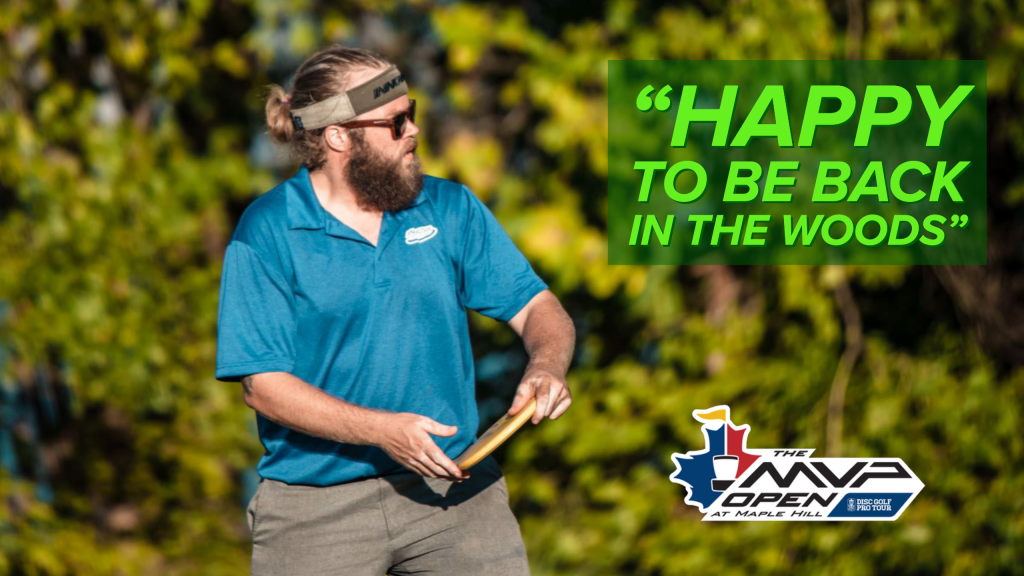 "It feels good to be back in the woods," joked Nathan Queen.
After 18 holes at Maple Hill, the North Carolinian is in a share for the lead at the MVP Open with Adam Hammes at 9-under par 51. 
Hammes was an early tee time and posted the hot round before the feature card had even teed off. Queen was similarly earlier but had a score he could set his sights on. 
After getting out to a quick 4-under par with birdies on holes 1-4, Queen was slowed by some misfortune.
"The wind tricked me on hole 5 and I went long," Queen said of his first bogey. As for the double-bogey on hole 7: "I hit first available." 
Queen said that was the last time of the round he checked his score, when he was 1-under par after giving back those early strokes. From there he would go bogey-free with eight birdies, hitting two Circle 2 putts and parking five of the remaining holes in the process. He was 100% from C1X, is first in C1 in regulation at 56%, and second in C2 in regulation at 78%.
He missed a putt from inside C1, but Hammes was equally sharp with his driving, tying Queen in first at C1 in regulation. 
Hammes attributed his success to, "hitting my lines and making my putts when I needed to." He finished the round with a 78% fairway hit rate, sixth in the division, and made two C2 putts, both for birdie. Hammes work wasn't done for the day after shooting a 1082-rated opener; he'd go back out onto the course to run the UDisc Live scorecard for the feature card with James Conrad and Paul McBeth. 
Last year's winner Conrad gave Hammes a front-row seat to his title defense, going out and posting an 8-under par 52. While he began his round with a bogey and never strung more than two consecutive birdies together, he was consistent from the tee, ranking second in fairway hits at 83%, and first in C2 in regulation at 89%. Joel Freeman, who had an early tee time like Hammes, is rounding at the lead card tied in second place with Conrad at 8-under par. 
At the start of the livestream, McBeth did not look sharp. He was getting zero world champ love from the trees and was just missing his lines. After a monster drive on hole 9 got McBeth all the way down the hill but found him OB in the water, he saved a birdie from 60 feet at water's edge on the elevated basket and quickly flipped a switch. The birdie on hole 9 got McBeth back to even par making the turn to the back nine, and he would stack birdies from there. A late bogey on hole 18 leaves him in a tie for ninth with five other players at 5-under par 55.
Discmania teammates Simon Lizotte and Colten Montgomery were the only two players to finish bogey-free. Lizotte is in solo fifth at 7-under par 53 and Montgomery is at 2-under par 58 in a tie for 24th.