Mäkelä's hot round moves him up 13 spots into tie for second place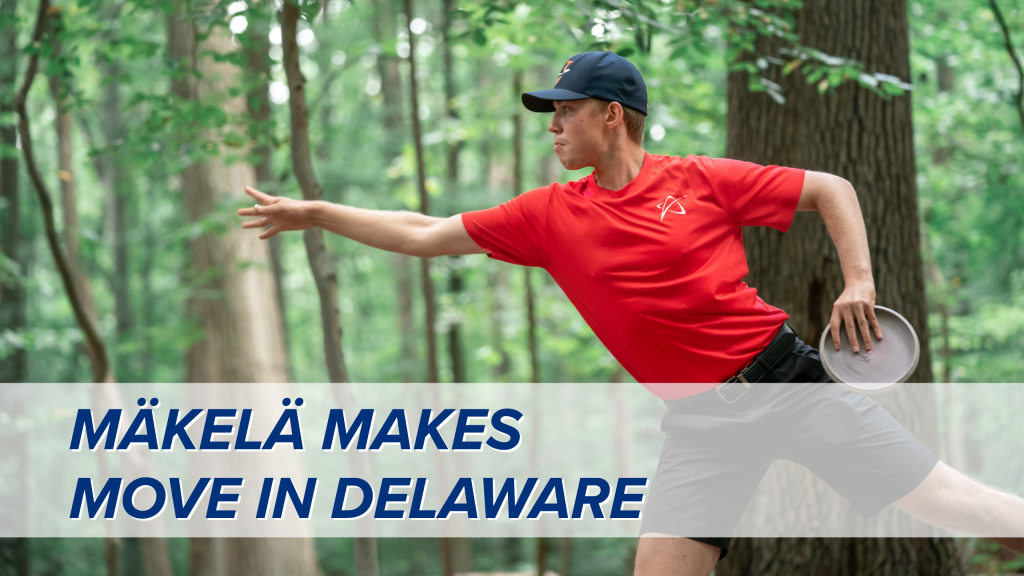 Scores dropped across the board during round two of the Delaware Disc Golf Challenge but it's still anyone's tournament with 18 holes to play.
Going into the final round, Ricky Wysocki is alone in first at 11-under par 127. Wysocki shot a 1036-rated 6-under par on the day and is in position to claim his first PDGA National Tour win of 2019. A 175-foot throw-in for birdie on the par 4 after an incredible scramble recovery roller on his second shot was definitely the highlight of the day. 
2019 Delaware Challenge Round 2 Ricky Wysocki hole 11 throw-in
Hot on his heels is the trio of Eagle McMahon, Joel Freeman, and Väino Mäkelä. All three are poised to strike at the lead at 10-under par 128. Makela shot a scorching hot 1053-rated 9-under par 60 to jump up 13 spots on the leaderboard. He recovered from his only bogey of the day with an outside Circle 2 birdie, one of his two birdies from throw-in range, and was perfect from C1X. McMahon may feel a little hard done as he fell out of the lead despite posting a bogey-free round and going 100% from C1X as well. He did only pick up one birdie between holes 6 and 17. 
For a moment there, Albert Tamm had a two stroke lead on the field and was looking unstoppable. The Estonian was 8-under on the day going into hole 14, but the youngster bogeyed three of the final five holes and finished his day with a 5-under par 64, and in a tie for fifth with Simon Lizotte and Matt Bell at 9-under par overall. 
The lack of rain helped lower scores during round two, as round averages dropped from 4.76 over par to 1.92 over par. Holes 4, 6, 8, and 11 played under par with hole 8 being the easiest of the bunch, coming in at a staggering 0.21 stroke under par on average. The par 4 hole 10 saw zero birdies and played 0.62 strokes over par.