Some things remain the same; Wysocki shoots course record to keep the pressure on, finishes second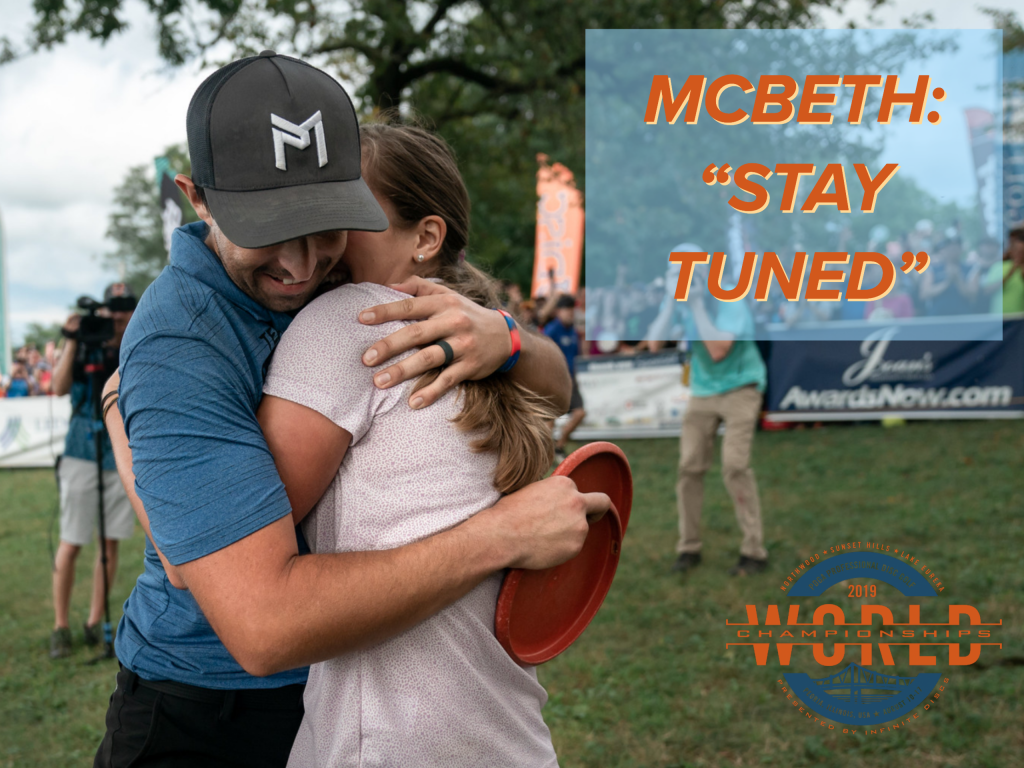 Winning a first world championship is hard. Near impossible really if you consider the number of quality players through history that don't, or never will, have a PDGA Pro Worlds title to their name.
Paul McBeth has had a more unique situation. He got his world championship, cresting that hump in 2012. He'd ride that momentum to three more Worlds crowns in as many tries to make it four consecutive years at the top, immediately pushing himself into the conversation as one of the best to ever pick up plastic. However, a dominant 2015 would be the last time McBeth would lift the trophy for years. McBeth continued to win Majors and National Tour events, but he was second fiddle at Worlds.
Playing back at a level we hadn't seen since 2015, setting new PDGA player rating highs in the process, McBeth came into Peoria, Illinois the far-and-away favorite. He earned a spot on the lead card after round one and never left, taking the lead in round three and never giving it back.1 McBeth made good on the expectations to win his fifth Pro World Championship and did so in front of a record-setting viewing audience of close to 15,000.
"This one's huge," McBeth said after tapping out on the 18th green at Lake Eureka Saturday. "I mean, I don't want to say it was a drought, because it's the world championships, but three seconds in a row was rough."
As the closest competition on the top card, breakout Emerson Keith, faded at the start of the final round going 4-over par on the front nine, McBeth looked poised to walk-in with the win. A resilient and longtime McBeth foil made sure to keep the pressure firmly on.
Ricky Wysocki, 2016 & 2017 world champion, shot a course record on Friday at Northwood Gold to move onto the lead card. Starting the day six strokes back, he would need to put something special together to make a run at the top spot.
"I definitely knew there's an opportunity," said Wysocki, who himself struggled with a finger injury all week. "There's nobody invincible in this sport, there's so many variables. So many things can happen with all the pressure. Nobody's immune to it and it doesn't matter who you are. I knew that if I put myself in the driver's seat and gave myself a chance to win, you know, that's what we play for. We play for the chance to win."
The baseball field hole, hole 5, would offer an opportunity. McBeth was a little hot on his booming hyzer, hitting inside Circle 1 and skipping out the backside of the green. He would be moving to the dropzone. Wysocki guided his drive to settle near the hay bales at the base of the elevated basket for an easy birdie. McBeth would short-arm his approach and miss a C2 putt for the par save. The lead was down to three and it felt like a new round.
McBeth and Wysocki matched each other stroke for stroke through the middle portion of the course. It wasn't until hole 13 that either flinched. It was Wysocki who juiced an approach shot on the long par 5, hitting high and left up the green from the basket to skip OB. The miscue didn't phase Wysocki, as he would can the 60-foot death putt for the par save, but McBeth calmly picked up a birdie to extend the lead to four.
The lead remained with four to play and McBeth needed to put his own worries to bed. Hole 15 at Lake Eureka had caused McBeth trouble on the week, including an ugly three-putt during round three on the elevated basket.
"I mean the first two rounds here I threw that shot and I just didn't get [the disc] over and it drifted out to circles edge," McBeth said. "I was on the tee pad thinking I'll just crank it over in my head. I was like, 'Just get it over, get it over.' And as soon as I let it go, I knew it was turning over."
McBeth let out audible relief as his Big Z Lune drifted toward the pin for a parked birdie attempt. Even as trouble remained on the final three holes, McBeth would only need to play safe for his fifth world title.
2019 Pro Worlds Round 5 Lake Eureka Paul McBeth hole 15 drive
To his credit, Wysocki did everything he needed to do, birdieing the final three holes to McBeth's pars, making the final margin of defeat only one stroke.
"Rick was right there," McBeth said. "He went course record, course record and that's what you've got to do. There was one OB that he had on the par 5 and that could have been the difference. It just shows you he's not going to quit."
Wysocki shot an 1105-rated final round to tie the 14-under par 49 course record Eagle McMahon set in round three and finished at 44-under par 273 total. McBeth didn't get to 50-under like he thought he may need to win, but a final round 9-under par 54 saw his finish at 45-under par 272 total, averaging 1071-rated golf in the victory.
For a player who has already achieved so much, there is still plenty to prove. A major sponsor change to Discraft from Innova in the offseason was possibly the biggest news story the sport's ever seen, and provided some extra motivation for McBeth. The extra time in the practice fields learning his new equipment helped refocus an already disciplined pro.
"I think I might be the first player that switched and won a Worlds the next season," McBeth said. "So, I mean it's an incredible feat and I feel like I'm only getting better. Especially the more I learn with the discs."
He also draws inspiration from his home life. McBeth's wife, Hannah McBeth, was providing color commentary for the Open Women's livestream in the morning, and walked all afternoon beside her husband providing support.
"It was amazing having her right there. The dedication that she has to the media, to be able to just go and do the FPO media in the morning and still come out here and have the energy to be here and watch," McBeth gushed. "I know I'm giving her little heart attacks by not making it a runaway, but it's a special moment to have her here, and, you know, I just love her and I'm glad she's able to be here for these moments."
Hannah says she feels the world title win as much as Paul. She's been there through the close finishes and knows the importance of the moment.
"The first Worlds that I watched him win was his fourth in 2015, and I just remember thinking like, 'Wow, this is great. This guy that I have a crush on — we're talking and we're really good friends and I'm pretty sure we're going to date — is just winning everything. This is so easy. I love this.'" Hannah remembers. "And afterward I watched him lose and take second in 2016 and 2017, and then last year to Gregg Barsby.
"It's such a difficult feeling to describe. I mean, I'm so happy for him. We've been through so much just as a couple in disc golf, as a husband and wife and a professional sport. Having to put aside everything and zone everything out from family stuff to personal stuff to all these different things, just to make Worlds successful. It's like — to have it pay off in this way is so awesome for us and for him. It's a lot to process what I feel like."
McBeth has recemented his status unequivocally as the world's best. He's done it for the first time with a life partner by his side, and with discs he hasn't even been throwing for a year.
Asked what else can he do, the five-timer responded: "I guess just stay tuned."
---
There was a slight hiccup near the end of round four, but McBeth finished the day in first. ↩