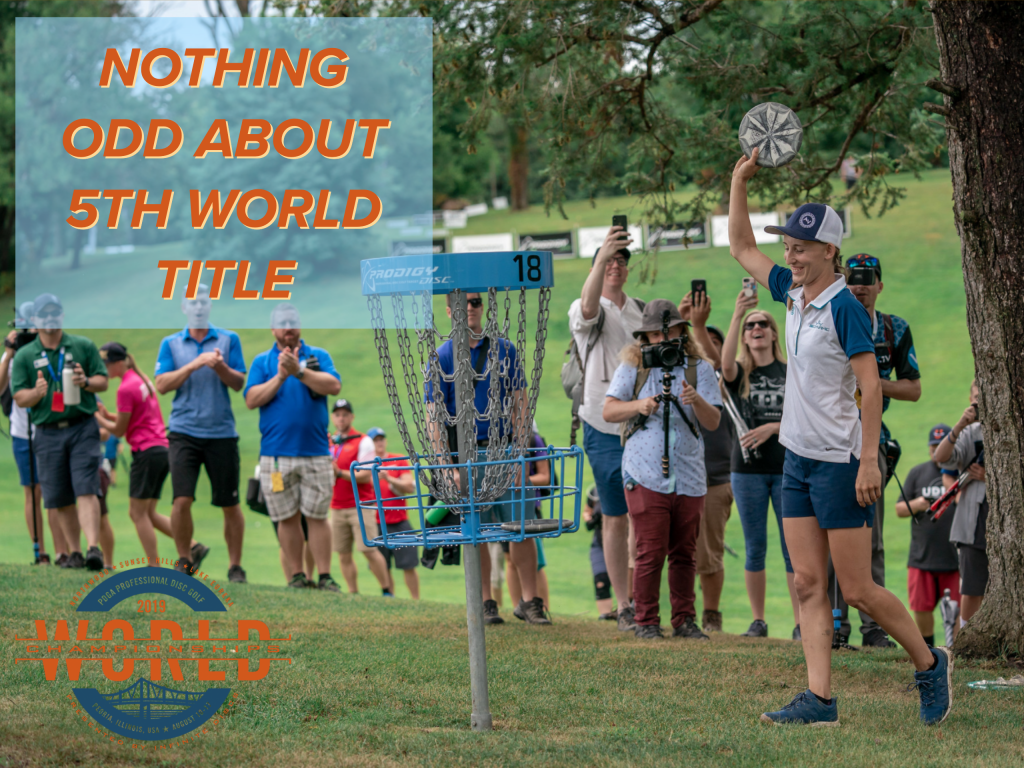 Three were tied at the top coming into the final Open Women's round of the 2019 PDGA Pro World Championship.
Two were used to seeing each other vying for the top spot at tournaments, and the third was younger, playing her first Worlds but had beaten the other two at a major before.
Catrina Allen, Paige Pierce, and Eveliina Salonen were well clear of the field. The winner was going to come down to these three women. Only 18 holes stood between them and a world title.
As if the pressure wasn't enough, add in the last-minute arrival of five-time world champion Juliana Korver to the spectator gallery and a delayed start due to lightning and Saturday was setting the stage for something special.
Allen was doing her part early. She grabbed the only birdie from the leaders on hole 1 and picked up another stroke by hole 3 to go up two early. The Circle 2 connection from the first hole offset a missed shorty on hole 2 to soothe any concerns about Allen's putting. Her drive had been consistent all week, best in the division in major UDisc Live categories including C1 and C2 in regulation, so if she missed a couple it should be ok. She should still be in position to score all day. Her quick start backed that up.
As Salonen fell off the pace quickly with a couple bogeys, Pierce knew there was plenty of golf left to play, but had to get something going.
"I gave a stroke away on hole 1, but I didn't even get upset about it," Pierce said. "Strokes are gonna come and go. There's lots of hazard and water and two-stroke swings all over the course."
Even with the swings, being back two after only three holes raised the urgency a bit. Allen was inside C1 for her birdie on hole 4 and Pierce was up.
"At that point I was feeling like I needed a little bit of a momentum shift," Pierce said, thinking about her upcoming drive. "I tried to tell myself to commit, like really, really commit to the shot and don't leave it short, don't go in the water. I actually threw it past the basket about 55 feet and I had that same exact shot yesterday and it was one of the two that I missed.
"It was a good feeling to line-up behind the same putt knowing I'm down in the final round and to hit it. That was the moment that I felt like I got all the momentum and I didn't really lose it."
From hole 4 on, Pierce would go bogey-free with 10 birdies. She and Allen were within a stroke of each other for much of the remaining front half of the course until hole 9, when one of those two-stroke swings Pierce knew were out there struck.
Pierce was safe on the far side of the green on the par 4, looking back at the elevated basket with water behind the putt. Allen took a wide stance to help get around a tree on her upshot. Her approach clipped some low hanging branches and dropped her disc into the water in front of the pin. With Allen having to pitch over to save bogey, Pierce was faced with a 30-foot death putt for birdie.
She drilled the putt, raised her fist, and took the lead. Allen would tie things back up one hole later, but the putting caught up to her and Pierce pulled away down the stretch on the way to a 9-under par 52 round. The 1016-rated final was her second 1000+ effort in as many days at Sunset, and brought her winning total to 25-under par 284, and five strokes clear of second.
2019 Pro Worlds Final Round Sunset Hills Paige Pierce hole 9 putt
Allen had more competition than just Pierce. Salonen shook off the bogeys and went on a similar run as Pierce.
"My first three holes I was nervous and my hand shakes," Salonen said. "I don't know happened, I just decided that I need birdies."
Salonen went 6-under par from hole 6 on with no bogeys. She timed two late birdies to late a late double-bogey and bogey from Allen to complete a five-stroke swing and take solo second place at 20-under par 289 total. Allen fell into third place at 16-under par 293 total.
"This means a lot to me. My first Worlds and I ended up in second! This is good motivation for getting better and maybe some year I will be champion," Salonen said. "This was an unforgettable trip and an awesome experience with my best friend Henna. I feel so happy now!"
For her part, her best friend Henna Blomroos put a solid final round together to get up to fourth place. She'll also be returning to Finland feeling pretty good and taking away some important lessons.
"I still have a lot to improve in my game. I have to practice my putting game," Blomroos said. "If you play one bad round, like my first one, you still have good opportunities to get a good place."
The newly-christened 5X Pierce is also taking a lot away from the performance.
"Last year, I just didn't really work for it enough," Pierce said. "I'm throwing the discs super well right now and it's good that's being rewarded for my own confidence levels. When you go a whole year and you know it all amounts to this and then you lose, it hits you hard."
After the round, Pierce was struggling at times to wrap her head around her week, visibily overwhelmed in the moment. Something you might not expect from someone who's been in this position before.
"Everybody that's around me is still gonna love me whether I win or not," Pierce says, working through things aloud. "It's pressure that I put on myself and it's hard when this is such a huge goal for me. Like, the weight of it. It was hard to find that balance of focusing and still being confident."
Besides her caddy for the week, Tina Oakley, Pierce had some extra support in the crowd to lean on. Her father, Wayne, was walking with the gallery.
"I'm kind of biased cause I'm her dad, but she's fun to watch, man," Wayne said while still holding the first signed "5X" Pierce disc, ready to go in the family safe at home. "I knew she'd be a world champion at 12. [But] I didn't know we'd ever get this far. The feeling for me is, um —  just like she was saying, I haven't processed it yet, but it's not a bad feeling.
"It's just a privilege to be her father."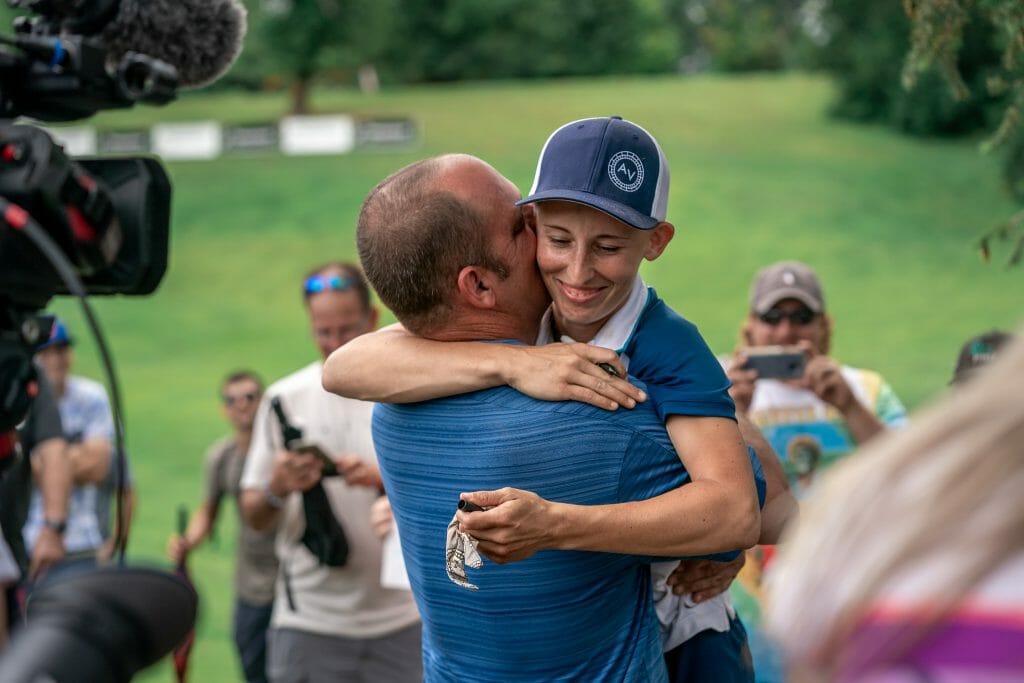 It makes sense for her father to be overcome with emotion, and the moment wasn't lost on Korver either. She said she felt the goosebumps as well over the final holes knowing Pierce would be joining a club only she and Elaine King have access to. Pierce still processing the accomplishment.
"I feel like my skills are there, but it's cool to know that the titles are also matched," Pierce said. "I'm just honored, I don't really even know how to put it into words."
When told that Korver was in the crowd impressed by the new world champion, Pierce took a moment to reflect on the circuitous nature of the statement.
"All these years she's been inspiring me," Pierce said. "Maybe now I'm inspiring her a little too."