Ricky Wysocki charges into third place, six shots back.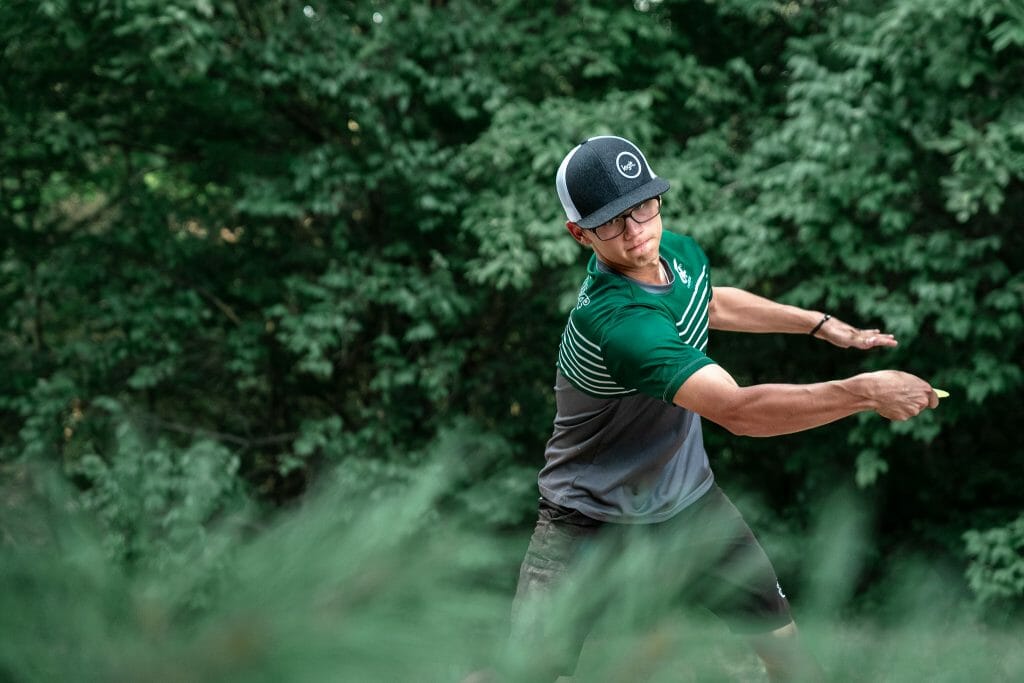 PEORIA, Ill. — Paul McBeth, up four strokes on an untested Emerson Keith and at least eight strokes on the rest of the field, was heading back to Northwood Gold, where he'd shot the hot round just two days prior. The four-time World Champion had begun to feel inevitable in a way that only all-time greats can. It was time for a 36-hole victory lap, for the #McBea5t merch to get into production. Right?
Not so fast.
Emerson Keith went toe-to-toe with McBeth on a tumultuous lead card and emerged, slightly scathed, two strokes closer than he started after shooting a six-under par 58. Meanwhile, from the third card, Ricky Wysocki surged up the leaderboard with the day's best round, an 11-under par 53.
The start of the round was largely uneventful: the three aforementioned players all carded birdies early and often. Through nine holes, both McBeth and Keith had posted six birdies and no bogeys, their separation from the field continuing to grow. That stretch included some spectacular shotmaking from everyone on the lead card, though no shot was more impressive than Keith's upshot on the 680 foot par four 8th.
Keith's backhand roller cut too far left, splitting the gallery, and curled back towards the fairway, settling behind a tree. Keith pondered his shot for much longer than usual, before deciding to line up a forehand. He asked the gallery along the left side of the fairway to step back five feet. "I don't want to kill anyone today!" he said.
He proceeded to launch a 300 foot hyzer forehand that swept out wide before taking a hard skip right up to the basket. The largest gallery of the week went wild. Any question about Keith's ability to stay connected to McBeth was already answered.
He finally started to chip away at the lead in the back nine.
On hole 10, McBeth started running into trouble. His tee shot was a bit short and left of the ideal landing zone, taking away a good angle for his upshot. He took a par as Keith birdied. Another short tee shot after clipping a tree on 11. Off the fairway on the treacherous par five 12th. Out of bounds on 13.
For the first time all tournament, McBeth looked mortal.
Keith wasn't spectacular through the same slate of holes, but he was getting to at least circle 2 with a birdie look and carding pars while McBeth took bogeys. The lead shrank to just a stroke by hole 14.
McBeth found another tree on the 15th, which kicked his drive out of bounds. Keith sent a gorgeous shot through the gap and inside the circle. McBeth bogey. Keith birdie. All of a sudden, Emerson was back in sole possession of first place for the first time since hole five in round three.
"I don't think anything changed," said McBeth. "I think I was throwing it right down the middle, but they would just catch late trees and put me in a terrible spot. [On hole] 10, I thought I threw even better than I did the last round and caught a tree at the top of the hill and kicked it into a bad spot. I thought I could almost get it. I just didn't have any putts really to get birdies except the putts I missed on 13 and 14. I don't know. It was frustrating. I didn't think I was throwing shots bad except maybe two tee shots that weren't the greatest."
Certainly, Northwood Gold is fickle — kicks can give you a nice boost (like when James Conrad's tee shot on hole 5 ricocheted off of a fairway tree to put him inside the circle for a birdie) or leave you in a dreadful spot.
Keith learned that the hard way.
Sitting at 8-under through 15 holes, Keith put up what looked to be a perfect backhand off the 16th tee. But he caught the right side of a small guardian tree, knocking his drive straight down and out of bounds. From the drop zone, he fired a backhand down the tunnel too far left and it shot off of the sign for the short tee pad into the woods.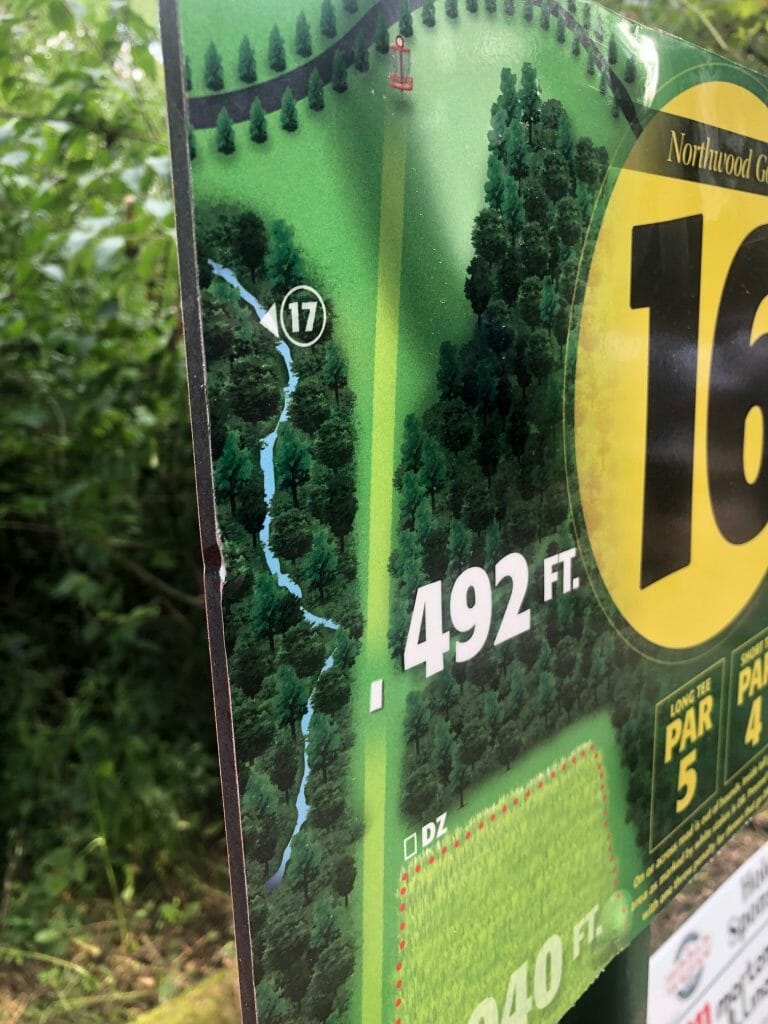 Keith tried to get some extra distance instead of just pitching out of the woods, and his forehand hyzered into the woods on the opposite side of the fairway. He ended up back in the woods on the left after his fifth shot, and he was still hundreds of feet from the basket, while McBeth was in perfect position to attack the green for a birdie.
Heroically, Keith managed to launch a forehand to inside circle one and make his putt to save double bogey and avoid compounding an already disastrous hole.
"I started paying attention to what Paul did, and it bit me," he said. "I could have just pitched out like my game plan would have been and then at least saved a stroke on that hole. So I got outside my comfort zone and I shouldn't have done that and it cost me."
McBeth only managed to get a par after his forehand upshot rolled away, but he still stole back the lead by a stroke. He would make it two strokes by round's end after Keith got mired in the trees again on hole 17 and took a bogey.
"To have a lead, yeah, I was kinda surprised," said McBeth. "That's all this course is. [Keith] still shot a six down, which is still good for this track1. I'm surprised I'm in the lead by two, but I'm not at the same time with this course."
Wysocki Surges To Within Six
With a bogey-free 11-under, Ricky Wysocki moved to within six strokes of McBeth and will battle it out with him, Keith, and James Conrad on the lead card during Saturday's final round.
"This was really close [to an ideal round]," said Wysocki. "Obviously, I'm happy with what I shot. I definitely played a lot of great shots. I stuck to my game plan on a lot of holes. I didn't break from it. So I think I'm overall pretty happy and definitely pumped with the position I put myself in going into the final day."
Wysocki led the field in every major statistical category except Circle 2 putting, where he went 1/3. He found the green in regulation on 13 holes and successfully scrambled on the other five.
"A lot of people probably thought I was done and that I'm not gonna come back," he said. "But the course set up well for me, and I practiced a lot out here."
Of course, the question remains: can he complete what would be a historic comeback in the final round?
"It's definitely doable out at Eureka," he said. "If it gets windy, even if it doesn't, you can play aggressive and put the pressure on. It's the World Championships — this is the most pressure we have. The pressure, it can get to anybody. I don't care who you are. The pressure's there and you gotta handle it to win the tournament. I know that going down the stretch. I've been here and I've won the Worlds in different ways. A lot of times it's been from the lead to start, but I'm excited to have a new ride this week."
Notes & Quotes
Paul McBeth and Emerson Keith were chatting quite a bit on the course today, even during the lead swings in the back nine. McBeth: "It's awesome playing with Emerson. We really get along. We like we each other. We have some of the same sponsors. It's kinda harder to play against a friend than it is someone you're not really good friends with. It is harder to focus in like, 'I want to beat this guy.'" He said he'd probably be able to as he looks for his fifth championship, though.
Kevin Jones was incredibly resilient today, managing to post a two-under despite some real struggles throughout the round. Perhaps nothing today was most emblematic of the Northwood course than his stretch on holes 9 to 15: birdie, birdie, birdie, quadruple bogey, birdie, birdie, birdie. Yep, hole 12 got him good, as every shot seemed to find a tree and kick him off the fairway. But only Chris Dickerson managed as many birdies on that series of holes today.
On 15, Jones threw a beautiful turnover backhand down to the green. "That's a James Conrad shot," he said, as Conrad high fived him. Indeed.
Anthony Barela bounced back from a terrible round yesterday at Eureka to post the day's second best score (-8).  His combined 16-under in his two rounds at Northwood was only matched by Emerson Keith.
For the second time this week, James Conrad found metal from a tee shot. Today, it was on the 330′ hole 14. Chains!
Chris Dickerson just missed out on the lead card after another very solid round. His 86% scramble rate this week — tied with Michael Johansen for best at the tournament — has been key to his success. He's seven shots out of the lead heading into the final round.
---
Only two players shot better than six-under on Friday — Ricky Wysocki and Anthony Barela ↩