Five cards of coverage on day one captured some jaw-dropping shots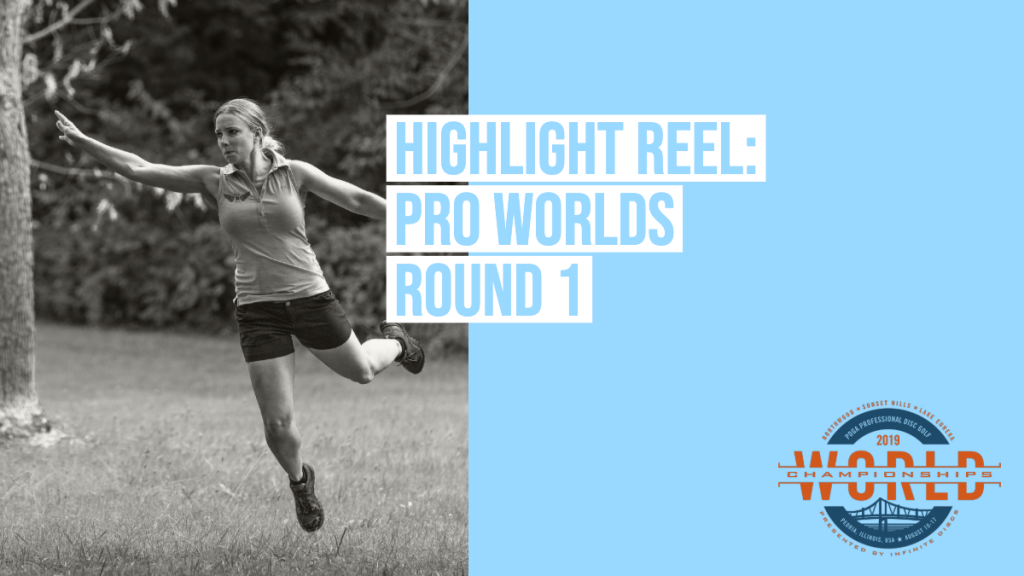 The first round at the 2019 PDGA Pro World Championship saw five total cards covered through livestreaming and next day videos.
Smashboxx TV featured defending champion Gregg Barsby headlining at Lake Eureka, and Central Coast Disc Golf had the women's reigning champion, Paige Bjerkaas, highlighted at Northwood Park. CCDG added another MPO card with Paul McBeth and Kevin Jones, JomezPro followed 2x Ricky Wysocki, and Dynamic Discs had another 2xer in Barry Schultz.
We've broken down highlights by division.
---
Open Women – Northwood Blue
2019 Pro Worlds Round 1 Northwood Blue Catrina Allen hole 1 putt
2019 Pro Worlds Round 1 Northwood Blue Sarah Hokom hole 4 drive 
2019 Pro Worlds Round 1 Northwood Blue Vanessa Van Dyken hole 4 putt 
2019 Pro Worlds Round 1 Northwood Blue Paige Bjerkaas Hole 13 putt
2019 Pro Worlds Round 1 Northwood Blue Catrina Allen hole 14 putt
2019 Pro Worlds Round 1 Northwood Blue Paige Bjerkaas Hole 17 putt
Open – Lake Eureka
2019 Pro Worlds Round 1 Lake Eureka Jalle Stoor hole 2 putt
2019 Pro Worlds Round 1 Lake Eureka Kevin Jones hole 3 putt
2019 Pro Worlds Round 1 Lake Eureka Barry Schultz hole 4 drive
2019 Pro Worlds Round 1 Lake Eureka Chris Dickerson hole 4 drive
2019 Pro Worlds Round 1 Lake Eureka Jalle Stoor hole 4 drive
2019 Pro Worlds Round 1 Lake Eureka Paul McBeth hole 4 drive
2019 Pro Worlds Round 1 Lake Eureka Ricky Wysocki hole 8 approach
2019 Pro Worlds Round 1 Lake Eureka Paul McBeth hole 8 approach
2019 Pro Worlds Round 1 Lake Eureka Kevin Jones hole 8 approach
2019 Pro Worlds Round 1 Lake Eureka Knut Haaland hole 9 bridge ace
2019 Pro Worlds Round 1 Lake Eureka Ricky Wysocki hole 9 drive
2019 Pro Worlds Round 1 Lake Eureka Paul McBeth hole 10 drive
2019 Pro Worlds Round 1 Lake Eureka Garry Patton hole 10 putt
2019 Pro Worlds Rnd 1 Michael Johansen Hole 12 Forehand Putt Around Water Tower
2019 Pro Worlds Round 1 Lake Eureka Jalle Stoor hole 13 throw in eagle
2019 Pro Worlds Round 1 Lake Eureka Vaino Makela hole 13 putt
2019 Pro Worlds Round 1 Lake Eureka Kevin Jones hole 14 throw in eagle
2019 Pro Worlds Round 1 Lake Eureka Michael Johansen hole 15 putt
2019 Pro Worlds Round 1 Lake Eureka Simon Lizotte hole 15 putt
2019 Pro Worlds Round 1 Lake Eureka Simon Lizotte hole 16 approach roller
2019 Pro Worlds Round 1 Lake Eureka AJ Risley hole 18 roller