Allen undone by bad luck in playoff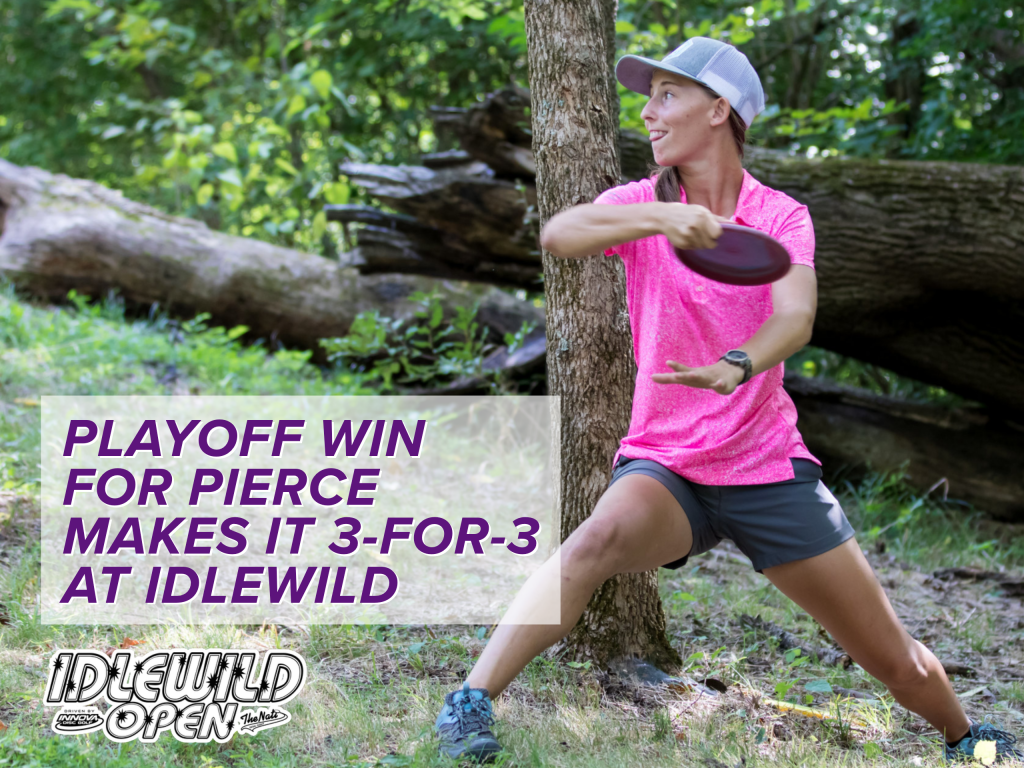 Make it 3-for-3 for Paige Pierce at the Idlewild Open, and seven consecutive tournaments where Pierce has finished on top of the podium.
The current run of dominance doesn't properly portray the weekend in Kentucky. Pierce and Catrina Allen matched each other stroke-for-stroke on Sunday after coming into the round tied, and we were all robbed of a fitting finish due to some bad luck. Allen should feel hard done by the results, but Pierce is still playing close to her best as the tour heads into Pro Worlds.
"The basket feels really big right now. I've been zoning in on the chains," Pierce said. "I didn't really run many greens. I decided to lay-up and confidently hit 35-footers and in. It helps me feel more confident in my putt but shows me my drive is not as good as I thought it has been.
"We've been playing these wide-open courses and this is the true test. I was scrambling everywhere, I was not clean off the tee. That gives me a little something to think about going into Worlds and Northwoods. I need to get my release point more solid."
While she doesn't say her drive feels right, she was still rated first, second, and third in the division in fairway hits, Circle 1 in regulation, and Circle 2 in regulation, respectively. That should scare opponents. Pierce is putting well, third this weekend at 84% from C1X, and thinks she can drive better even though she's continuing to play at or near the top tier of the Open Women field.
Back to the final round, Pierce was definitely relying on her putting stroke. She took the outright lead four times, stretching the lead up to two strokes twice, but Allen was able to tie things back up four times. Three times Pierce hit from C2 and twice at important junctures. A 50-footer on the par 5 hole 8 kept things tied after Pierce had given back strokes early. But the biggest putt came on hole 17.
Allen was on the green for a tap-in par and Pierce had scrambled her way to a par save look from 50 feet again. Despite what could have been tournament-losing OB behind the basket, Pierce ran the putt without abandon hitting the heart of the chains to keep things knotted up.
Another clutch 25-footer for Pierce on hole 18 kept the score tied and sent Allen and Pierce to a sudden-death playoff.
Both players were down the fairway of the par 4 hole 1 clean and had looks for birdie after their approaches. Allen was short left at circle's edge with some meat left. Pierce was around 25 feet again, looking back up at the basket.
"My putt's been feeling great this week. Still, with that putt having to go in or I lose, it's a little bit different. Way more nervewracking," Pierce said of the inside C1X look on the elevated basket. "When [Allen] missed and it started rolling it was kind of a relief."
Allen's birdie bid hit metal but stood up upon landing and rolled down the backside slope to about 80 feet. She had to pitch back up for any real attempt at the par save. She was not able to convert.
Pierce layed up her birdie look to tap-in for par and the W.
Allen averaged 977-rated golf and was first in the division in fairway hits, C1 in regulation, and C2 in regulation. The second place finish was 26 strokes better than her eight place finish in 2018. Pierce and Allen finished at 13-over par 214 total.
Madison Walker tied her season-best elite series finish with a third place showing, two strokes behind the leaders at 15-over par 216 total. She was top five in every major UDisc Live statistical category.
Heather Young, the 16-year-old from Tennessee who played on lead card Sunday, retained her fourth place standing and finished at 19-over par 220 total. She led the field in C1X putting at 89%.