James Conrad has never finished lower than second at DGPT event

It feels like this article should have been written a year ago.
Kevin Jones, who had just made his presence felt at the tail end of the 2017 season at the United States Disc Golf Championship, was up by three strokes heading into the final round of the 2018 Idlewild Open. 
He looked poised to take down his first elite series win before falling victim to the back nine at Idlewild and dropping to fifth place with a sub-1000-rated final round. The collapse was captured by Alyssa Van Lanen in one of 2018's most lasting image.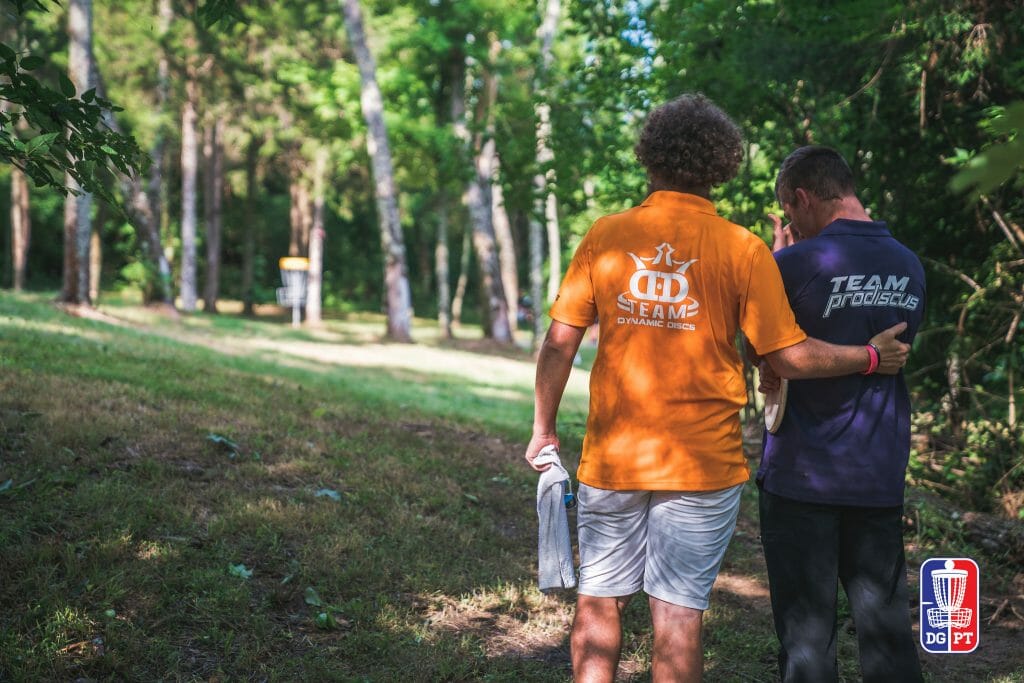 But here we are, just over 370+ days later getting to finish the article we thought we'd be writing.
Kevin Jones has won his first Disc Golf Pro Tour event at the Idlewild Open.
Jones shot a 27-under par 177 over three rounds at Idlewild, leading wire-to-wire after opening with a course-record on Friday, to take home his now-signature win. 
"I'm just happy to get the monkey off my back," Jones said after the round. "This course is so hard, especially when it's coming down the stretch it's extremely stressful. You've got to be on your shots. You've got to be committing. I'm lucky enough today to hold up the crown and I feel really good about it." 
He only needed a 5-under par 63 third round to hold off 2017 champion James Conrad. Long-bomber Jones knocked down four eagles on the weekend, was first in hitting Circle in regulation at a 54% rate, and second in finding C2 in regulation at 67%. He averaged 1053-rated golf in the victory.
Conrad did his level best to make up ground on Sunday, but never closed Jones's lead to less than three strokes. Conrad went 2-under over the front nine to Jones's 6-under. Despite pulling away for a time, Jones knew Conrad could not be counted out.
"For Conrad it's easy, he's the best line-thrower in the game," Jones said. "As far as hitting the gap and getting down the fairway he's the best in the world at it."
Jones slipped a bit on the back nine, going 1-over with three bogeys covering two birdies. Conrad had opportunities to close the gap, but his putter let him down. The usually dead-eyed Conrad only hit 73% of his putts from inside 10 meters, two-putting on three occasions. 
Conrad finished at 23-under par 181 total. Not counting the EuroTour Estonian Open, Idlewild is Conrad's first podium at an elite event this season. He has finished first or second at all three Idlewild Opens.
Garrett Gurthie earned bragging rights for the final day with a hot round 9-under par 59. He turned in a clean card and jumped up to snag sole possession of third place at 20-under par 184 total. Calvin Heimburg and Trevor Harbolt tied for fourth place at 18-under par 186 total.