Walker one strokes behind, newcomer Young on lead card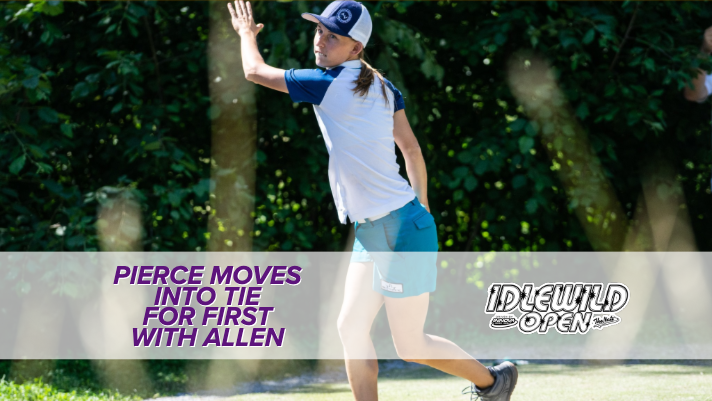 There was a moment during round two where it looked like we were going to see the first-ever even par or better round at the Idlewild Open from an Open Women player, and then Idlewild bit back.
Playing on the chase card, Paige Pierce was even par through 17 holes before picking up a triple-bogey while crisscrossing the fairway of hole 18. The finishing hole was playing 1.52 strokes over par for the day, so Pierce did not lose much ground on the field with her biggest number on Saturday. The 7 moved Pierce to 3-over par 70 for the round but also saw her work into a tie for the lead at 10-over par 144 total. Pierce picked up the only birdie in the field on the par 3, 437-foot hole 6, and is third or better in every major UDisc Live category.
Maintaining her position in first with a 6-over par 73 day was Catrina Allen. Allen continues to drive the disc well in the woods, leading the event in every major driving stat — fairway hits, 69%; parked, 7%; Circle 1 in regulation, 24%; C2 in regulation, 41% — but struggling a bit around the greens and still finding OB. Out of 23 competitors, she is 12th C1X putting and 16th in OB rate.
Madison Walker is in third place, just one stroke off the lead at 11-over par 145 total, turning in a 5-over par 72. She had the only birdies on the day on holes 4 and 16.
The story to follow during the final round will be 16-year-old Heather Young, who will be playing on the lead card Sunday and is in fourth at 15-over par. Young has been playing competitively for just over a year and has seven FPO wins. Her only second place finish in 2019 came in a playoff loss to Elaine King at the Tennessee State Championships where she finished above Ellen Widboom and Christine Jennings. The lefty from Tennessee will be easy to notice as she'll be decked out in all purple.