Henna Blomroos top European finisher in second place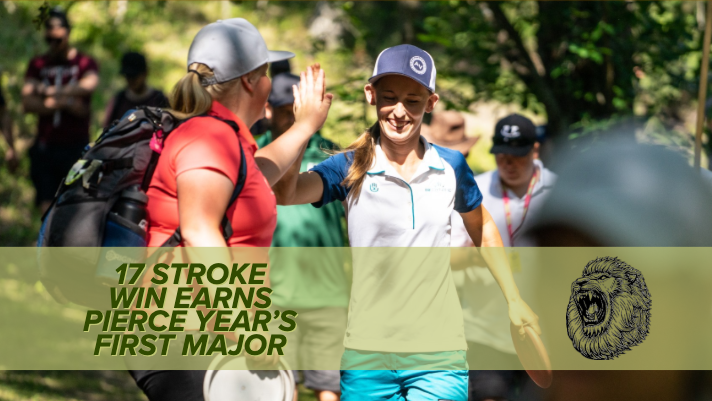 Paige Pierce did not average 1000-rated golf en route to her European Open victory like she had at her previous two elite series wins.
Paige Pierce did win the 2019 European Open by 17 strokes while averaging close to 20 points abover her rating.
Sometimes our predetermined benchmarks for player performance don't matter much.
"My game feels good, every tournament is a restart," Pierce said after a wire-to-wire win for her 12th PDGA Major championship. "I'm trying not to think about the numbers, just how I feel."
The numbers in Nokia were pretty staggering for Pierce. Besides the large margin of victory and relative rating comparison, she was top of the division in six of eight major UDisc Live categories, and top five in the other two. Her FPO-best Circle 1X putting percentage of 83% marks the first time she has finished first in that category at a UDisc event since the 2017 Green Mountain Championship.1 She's won almost 30 tournaments over that time.
Perhaps Pierce's only misstep at the Beast came when she posted a 9 on the par 4 island hole 16 during the final round of the EO. She lost at least four strokes to the other three women on the lead card Sunday, but heading into the hole she was up 18 strokes. Pierce made up for the mistake on 16 by getting the only birdie 3 on hole 18 of the entire Open Women's event to close out the win.  She finished at 2-under par 254 total.
The year's first major makes it six straight individual wins for Pierce as the tour heads back to the American heartland this week with Pro Worlds around the corner.
While first place wasn't really up for grabs on Sunday, the other two podium spots were wide open.
Henna Blomroos had a six stroke hold on second over Catrina Allen, and Eveliina Salonen was two strokes behind Allen in fourth.
Blomroos breezed through the front nine with three birdies and looked as if she'd comfortably coast into the clubhouse with her third silver medal at a major. A double-bogey for Blomroos on hole 10, however, opened the door for Allen. For her part, Allen became only the second woman (behind Pierce) to birdie 10 and the three stroke swing made the race for second a bit more interesting over the back nine.
Unfortunately for Allen, despite shooting the even par 64 hot round during round four, there was too much ground to make up. Blomroos remained in second at 15-over par 271 total to Allen's third place showing at 17-over par 273 total.
Blomroos was first in the division in fairway hits and C2 in regulation, second in finding C1 in regulation, but was 17th in C1X putting. Allen tied Blomroos for tops in fairways and C2IR, and was a touch better in C1x putting finishing in 12th. A separator for the women were holes 15 and 16. Over four rounds, Allen recorded 45 strokes on the two holes, with zero birdies and only two pars, including 15 strokes alone during a tough second round. Blomroos was 10 strokes better, going 35 total throws over four days with two birdies and three pars.
Salonen was not able to mount any momentum to catch Allen for third, going 2-over par on the front nine and staying in fourth at 26-over par for the event. Kristin Tattar momentarily had moved ahead of Salonen until a 10 on hole 16 pushed her back to fifth where she finished at 30-over par.
---
Pierce may have finished first in C1X putting at the 2018 Canadian Championship, as the first place finisher, Hayley Flintoft, did not have advanced stats recorded for one round. ↩