Top shots from the top video providers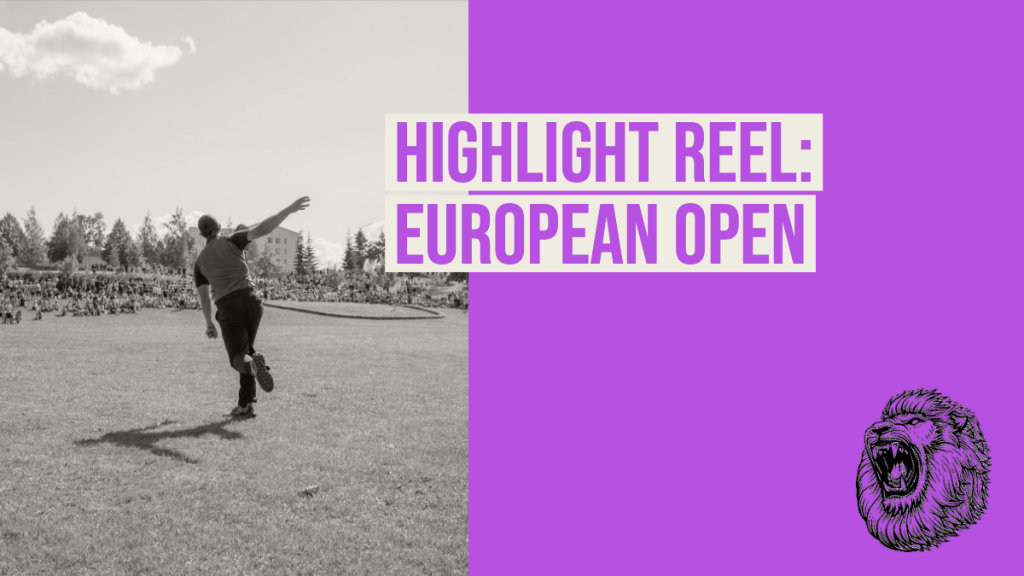 The Spin TV was doing double-duty at the first PDGA Major of the season and captured both the Open and Open Women's fields take on the Beast in Nokia, Finland.
We've broken down highlights by division, and tried to limit it to the best of the best.1 We're reposting SpinTV's own highlight reel as well.
Did you favorite shot make the cut? What did we miss?
---
Open Women
European Open 2019 FPO Lead Card Round 3 Catrina Allen hole 1 drive
European Open 2019 FPO Feature Card Round 1 Eveliina Salonen hole 1 putt
European Open 2019 FPO Lead Card Round 2 Kristin Tattar hole 2 drive
European Open 2019 FPO Lead Card Round 2 Henna Blomroos hole 2 putt
European Open 2019 FPO Lead Card Final Round Henna Blomroos hole 4 drive
European Open 2019 FPO Lead Card Final Round Paige Pierce hole 4 putt
European Open 2019 FPO Feature Card Round 1 Catrina Allen hole 5 putt
European Open 2019 FPO Lead Card Final Round Paige Pierce hole 6 drive
European Open 2019 FPO Feature Card Round 1 Catrina Allen hole 6 putt
European Open 2019 FPO Feature Card Round 1 Paige Pierce hole 6 putt
European Open 2019 FPO Lead Card Final Round Paige Pierce hole 7 putt
European Open 2019 FPO Feature Card Round 1 Kristin Tattar hole 8 drive
European Open 2019 FPO Lead Card Round 3 Catrina Allen hole 8 drive
European Open 2019 FPO Lead Card Final Round Eveliina Salonen hole 10 approach
European Open 2019 FPO Feature Card Round 1 Paige Pierce hole 10 putt
European Open 2019 FPO Lead Card Round 2 Paige Pierce hole 10 putt
European Open Round 2 Catrina Allen hole 12 approach
European Open 2019 FPO Lead Card Henna Blomroos hole 14 drive
European Open 2019 FPO Lead Card Final Round Henna Blomroos hole 14 drive
European Open Round 2 Catrina Allen hole 14 putt
European Open 2019 FPO Lead Card Round 3 Henna Blomroos hole 16 approach
European Open Round 2 Paige Pierce hole 17 drive
European Open 2019 FPO Lead Card Final Round Paige Pierce hole 18 approach
Open
2019 European Open Round 2 Paul McBeth hole 1 drive
2019 European Open Round 1 Simon Lizotte hole 1 putt
2019 European Open Round 1 Eagle McMahon hole 2 drive
2019 European Open Round 2 Jesse Nieminen hole 2 drive
2019 European Open Round 4 Paul McBeth hole 2 drive
2019 European Open Round 4 Albert Tamm hole 2 drive
2019 European Open Round 4 Eagle McMahon hole 2 drive
2019 European Open Round 3 Eagle McMahon hole 2 putt
2019 European Open Round 3 Ricky Wysocki hole 2 putt
2019 European Open Round 4 Ricky Wysocki hole 3 putt
2019 European Open Round 3 Eagle McMahon hole 4 drive
2019 European Open Round 3 Paul McBeth hole 4 approach
2019 European Open Round 4 Albert Tamm hole 4 approach
2019 European Open Round 4 Ricky Wysocki hole 4 roller approach
2019 European Open Round 1 Eagle McMahon hole 6 putt
2019 European Open Round 2 Eagle McMahon hole 7 approach
2019 European Open Round 3 Paul McBeth hole 8 putt
2019 European Open Round 4 Ricky Wysocki hole 8 putt
2019 European Open Round 1 Kevin Jones hole 9 drive
2019 European Open Round 4 Paul McBeth hole 9 drive
2019 European Open Round 4 Albert Tamm hole 9 putt
2019 European Open Round 2 Paul McBeth hole 10 approach
2019 European Open Round 4 Eagle McMahon hole 10 approach
2019 European Open Round 1 Simon Lizotte hole 11 drive
2019 European Open Round 3 Austin Hannum hole 11 approach
2019 European Open Round 2 Eagle McMahon hole 11 putt
2019 European Open Round 4 Paul McBeth hole 11 putt
2019 European Open Round 1 Paul McBeth hole 12 approach
2019 European Open Round 3 Eagle McMahon hole 12 approach
2019 European Open Round 4 Ricky Wysocki hole 12 approach
2019 European Open Round 1 Kevin Jones hole 13 roller
2019 European Open Round 2 Ricky Wysocki hole 13 approach
2019 European Open Round 4 Paul McBeth hole 13 approach
2019 European Open Round 1 Kevin Jones hole 14 drive
2019 European Open Round 4 Paul McBeth hole 14 putt
2019 European Open Round 3 Austin Hannum hole 15 drive
2019 European Open Round 1 Paul McBeth hole 16 approach
2019 European Open Round 3 Eagle McMahon hole 16 approach
2019 European Open Round 2 Eagle McMahon hole 16 putt
2019 European Open Round 2 Paul McBeth hole 17 drive
2019 European Open Round 1 Eagle McMahon hole 17 putt
2019 European Open Round 3 Austin Hannum hole 18 approach
2019 European Open Round 3 Ricky Wysocki hole 18 approach
2019 European Open Round 3 Eagle McMahon hole 18 putt
The Spin TV Highlight Reel
Spin TV European open top 10 shots
---
We didn't. ↩