Three Europeans in top five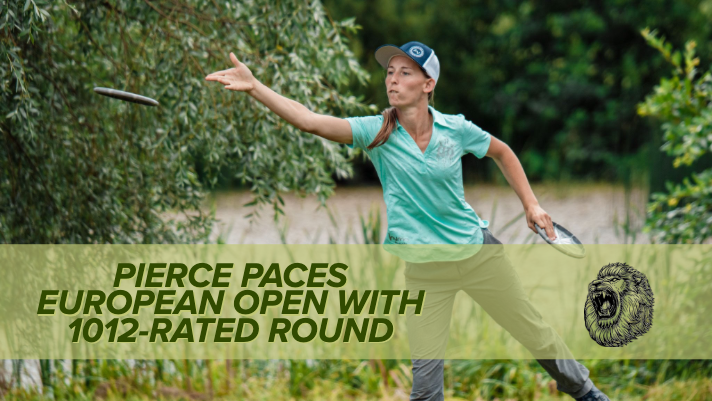 Once the turn occurs at the Beast, birdies are hard to come by for the Open Women's division. 
While the top of the leaderboard after day one of the European Open is covered in blue squares on the UDisc Live scorecard, the player who had almost as many birdies by herself on the back nine as the rest of the field combined is rightfully the one with a two stroke lead.
Paige Pierce is in first place at 3-under par 61. The 1012-rated round has her ahead of Henna Blomroos and Catrina Allen, but the day didn't start that way.
Both Blomroos and Allen were cruising to open the first PDGA Major of the year on Thursday. Blomroos was 4-under par through hole 7 and Allen was 3-under through 6, hitting two Circle 2 putts for birdie back-to-back on holes 5 and 6. On the back nine, the two combined for only one birdie to nine bogeys.
On the other hand, Pierce was not looking focused, trading birdies and bogeys on her opening holes, including a hard-to-watch three-putt on hole 4. The back-and-forth play around the green seemed to stay with her as she would two-putt twice more on the front half of the course, but remain a stroke under par. 
Starting at hole 10, however, Pierce would find her stroke. Besides picking up the only birdie of the day on the upgraded par 4 hole 10, she'd get three more scores under par between holes 13-16 to begin separating from her competitors. Only Pierce and Heidi Laine, tied for sixth at 9-over par, were able to record more than one birdie over the back nine. 
In her commentary for round one, Pierce noted that throwing straight will help you play well at Nokia DiscGolfPark, and she was the best at that in round one. With the exception of parked percentage, she leads FPO in every major driving category including both Circle 1 in regulation and fairway hits.
Bloomroos is in second place at 1-under par 63, the only other under par score for round one. Allen is in third at 2-over par 66; she only shot 66 or better twice in four rounds during her 2017 European Open win. 
Kristin Tattar is fourth at 3-over par, and Eveliina Salonen fifth at 5-over par.