Can Team Europe win the trophy for the first time?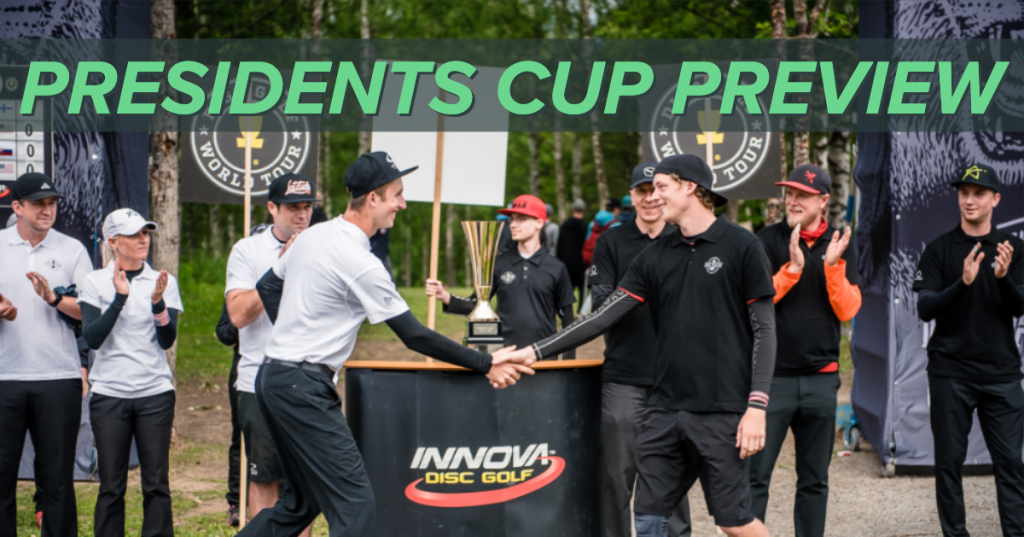 Don't think of the Presidents Cup purely as a sideshow to the European Open.
Bragging rights are on the line between the best players from the United States and Europe, and they won't be taking the event lightly.
Paige Pierce has been vocal in her eagerness to faceoff with Eveliina Salonen and Henna Blomroos, and the entire Euro team is looking to win the competition for the first time. That's right, Team USA is undefeated in the history of the Presidents Cup, a perfect 8-for-8 dating back to 2oo6. It may be Team Europe's year though with its strongest team to date.
As is an unfortunate tradition, team rosters have remained in flux leading up to Wednesday's Presidents Cup. Paul Ulibarri was originally a reserve player for the US, but was replaced by Nikko Locastro after his ACL injury. Locastro was replaced by Jeremy Koling this week when it became apparent that he would not be in Finland. Similarly, Vanessa Van Dyken was also a reserve for the United States but the FPO spot is now Hannah McBeth's.
Europe had a bigger shake-up, as starter Seppo Paju announced on Monday that he would not be taking part in the Presidents Cup or European Open. Sylvain Gouge moved into Paju's position and Leo Piironen is now Europe's MPO reserve player.
Teams as of July 16:
Team USA: Nate Sexton (Captain), Paul McBeth, Ricky Wysocki, James Conrad, Gregg Barsby, Kevin Jones (Fans' Choice), Eagle McMahon (Captain's Choice), Catrina Allen, Paige Pierce, Jeremy Koling (reserve), Hannah McBeth (r)
Team Europe: Janne Hirsimäki (C), Simon Lizotte, Väinö Mäkelä, Teemu Nissinen, Sylvain Gouge, Jalle Stoor (FC), KJ Nybo (CC), Henna Blomroos, Eveliina Salonen, Leo Piironen (r), Kristin Tattar (r)
Format
One hour prior to tee-off, captains designate MPO players 1-6 and FPO players 1-2, captains do not play. Players break into four-player groups — three MPO cards with two players from each team, and one FPO card with all players — playing with the corresponding rated player from the opposite team. MPO 1 & 2 from the US play with MPO 1 & 2 from Europe, and so on.
There are two rounds of nine holes each. First round is based on best individual score with seven points available for each card to win — lowest score earns four points, second lowest score is two points, third lowest score is one point, fourth lowest score earns zero, ties split the points in question. There are 28 available points in round one.
Round two is match play, with players matching up directly with the similarly-ranked player from the opposite team, i.e. US 1 vs. EU 1. There are  24 points available in round two, with match play winners earning three points and ties resulting in 1.5 points each.
To win the Presidents Cup, a team must earn 26.5 points out of 52 available points. In case of a tie between teams after all holes are played, a one player sudden death playoff on holes 16, 17, and 18 occurs.  Team captains will nominate the sudden death players.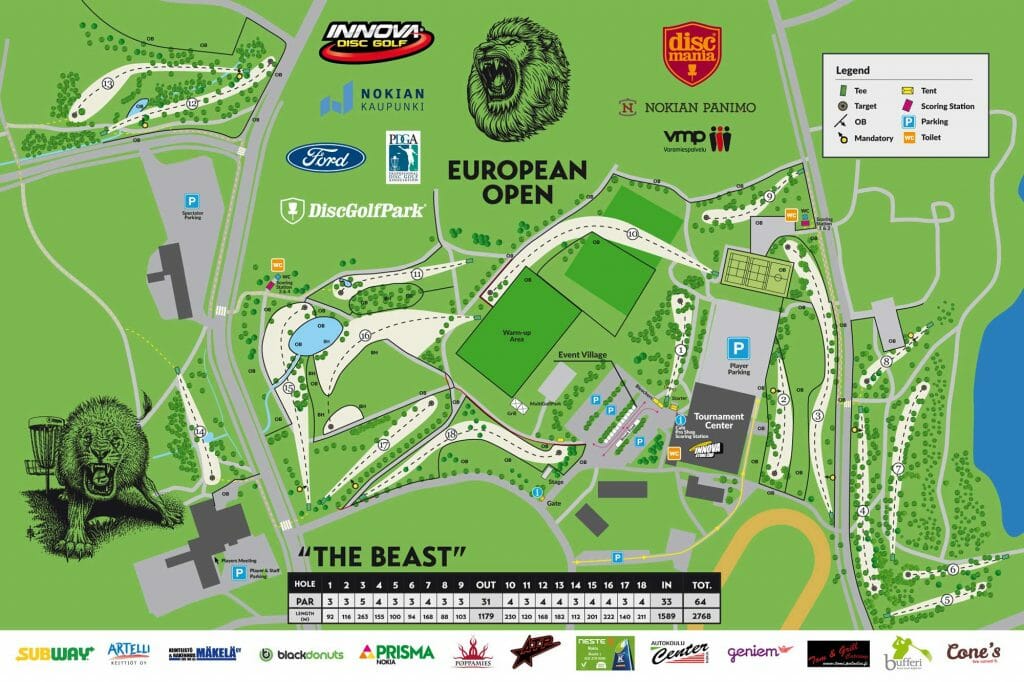 The Course
Presidents Cup will be played on the Beast, just like the European Open, but will only be using holes 1-3, 9-11, and 16-18 for the 9-hole circuit.
In the event of a tie after the second round of match play, holes 16-18 will be played until a winner is decided.
How To Follow
Play will be livestreamed starting at 2:45 pm Finnish time, or 7:45 am Eastern for those of us watching in the States. FPO coverage will be on the PDGA Facebook page, with commentary by Steve Hill, and MPO coverage will be on the SpinTV Facebook page, with commentary by Avery Jenkins. UDisc Live is keeping track of all the scoring.