McBeast hunting fifth consecutive win at The Beast


It's an odd year so the brief hiatus is over and the European Open is back. This is the first professional Major of the 2019 season and the excitement has been slowly, but surely, building in recent weeks. 
Defending 2017 champions Paul McBeth and Catrina Allen will be looking to continue their mastery of the Nokia DiscGolfPark. McBeth is hunting his fifth consecutive win at the European Open, and Allen will be searching for her third EO championship. 
The more things change the more things stay the same. Simply put, McBeth is playing at such a high level right now that he has to be the favorite to claim another European Open title. This has been discussed on every disc golf podcast, in articles, and on commentary, and for good reason. McBeth broke his own PDGA player rating record and set the new all-time high rating with the July update, and has only missed the podium three times this season. That, however, is not to suggest that he is invincible.
Eagle McMahon, Ricky Wysocki, and Kevin Jones are having excellent, if overshadowed, seasons in their own rights. Wysocki won at the San Francisco Open and has been in the top five of every event he has played since the Jonesboro Open. McMahon, a DNF at Ledgestone aside, had not finished lower than sixth place this year until a poor showing in Estonia last week, and always seems to show up big when he plays across the pond. Jones nearly had McBeth in the final round at the Great Lakes Open, won the Estonian Open, was the Presidents Cup MVP on Wednesday, and has a habit of showing up at the top of the leaderboard at Majors.
The Europeans will be wanting to defend their home turf, but the best chance for that to happen might come from the Open Women's division. Paige Pierce and Catrina Allen are likely still the favorites to finish one-two-you-pick-the-order, but Henna Blomroos, Eveliina Salonen, and Kristen Tattar are serious contenders for the title as well. 
Salonen has the best shot at keeping the trophy on European soil. Let's not forget that she beat Pierce by four strokes at The Memorial Championship back in February. It is also certainly worth noting that both Blomroos and Tattar have beaten Salonen this season as well. Tattar, as noted on The Upshot, is having a heck of a season. She has won six of the seven tournaments she has played, her lone second place finish at the Tyyni was by only a single stroke, and she is up 29 ratings points over the course of this season alone.  
Past Winners
| | PDGA Tier | Open | Open Women |
| --- | --- | --- | --- |
| 2022 | M | Eagle McMahon | Paige Pierce |
| 2019 | M | Paul McBeth | Paige Pierce |
| 2017 | M | Paul McBeth | Catrina Allen |
| 2016 | A | Paul McBeth | N/A |
| 2015 | M | Paul McBeth | Catrina Allen |
| 2013 | M | Paul McBeth | Paige Pierce |
| 2011 | M | Dave Feldberg | Valarie Jenkins |
| 2009 | M | Jesper Lundmark | Valarie Jenkins |
| 2007 | M | Ken Climo | Carrie Berlogar |
| 2006 | M | Dave Feldberg | Carrie Berlogar |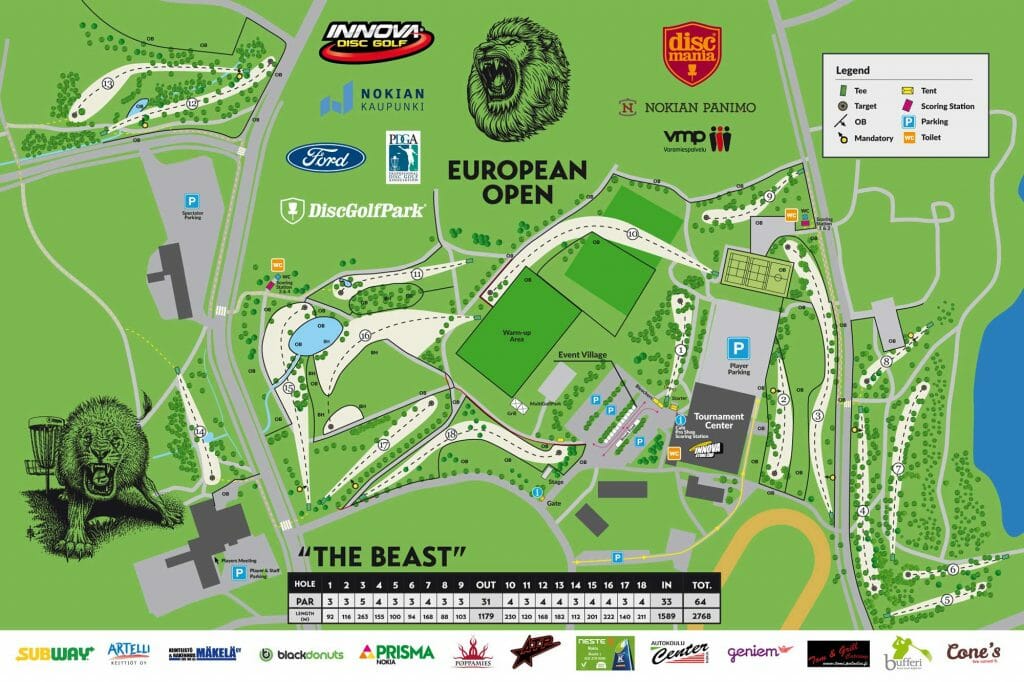 The Course
"The Beast" – Nokia DiscGolfPark: par 64, 2,768 meters
If there is a course with a cooler name out there, @ us. The Beast is a 9,081-freedom unit, par 64 wooded-park-style course, if that makes sense. The event website describes it well, "The whole course is praised by many disc golfers as one the best and most challenging courses in the world. The first half, set in the beautiful Nokia Arboretum, is more wooded. The back nine reveals another aspect of the Beast with water hazards and tightening OBs."
Changes don't really happen year-over-year at the Beast, so for MPO, expect winners to be averaging in the high 1050s, with hot rounds coming in around the 1070-1080-rated mark. No FPO player was able to record a 1000-rated round in 2017, but we think with the current field it could happen this season.
Holes 3 and 10 did receive alterations for 2019. 
Extended Forecast
The weather forecast for the European Open looks great! Upper level ridging will provide warm and calm conditions to southern Finland through the weekend. Afternoon highs will warm into the mid 20s1 on Thursday and Friday with a slight northerly breeze. A few more clouds are expected Saturday. This may bring a chance of very isolated showers with temperatures topping out in the low 20s. Any showers that do form will clear out for Championship Sunday, when highs should top out in the mid 20s once again with calm wind conditions.
How to Follow
Four rounds of action kick off Thursday and conclude Sunday. UDisc Live will have live scoring and statistics. Spin TV will be providing post-produced coverage of both MPO and FPO top cards with no confirmed turnaround time.
---
we're talking mid to high 70s Fahrenheit ↩