Confident Pierce ready for Pro Worlds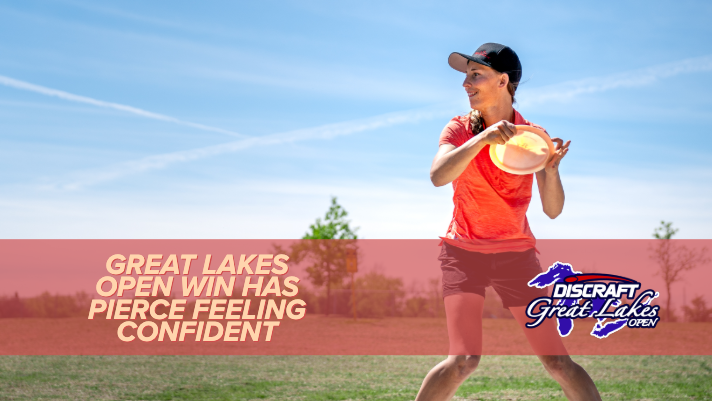 If you want to knock Paige Pierce's play during 2019, you could point out that at times she has had difficulty finding consistency in tournaments. Two-of-three rounds will be well above her rating, but then one up-and-down day closes the gap between her and the field. Missing simple shots. You get it.
However, the Great Lakes Open marked the second consecutive Disc Golf Pro Tour event where Pierce averaged 1000-rated golf while winning a title. GLO also makes it five straight wins for Pierce, including three DGPT crowns and a PDGA National Tour win.
"I put together three solid rounds so it feels good to minimize my mistakes and come out with a really clean tournament," Pierce told Terry Miller after the round. "I was really shooting for that 6 [under par]. It was good enough golf to get the job done — I think around a 1000-rated tournament, can't be disappointed in that but I know there's more out there and I'll keep striving for better."
Pierce shot the hot round every day in Michigan and saved the best for last. She carried a seven stroke advantage heading into Sunday and matched a course-record 55 by throwing a 5-under par round to bring her final total to 13-under par 167, 12 strokes ahead of second place.
Every round was similar for Pierce, opening and closing with birdies while recording her limited bogeys in the middle of the Toboggan course. Sunday was the same, going 4-under through the first six holes, and picking up three more birdies over the final six holes.
Pierce led Open Women in every major UDisc Live driving statistic — fairway hits (59%), parked (20%), Circle 1 in regulation (43%), Circle 2 in regulation (59%) — lowered her two putts each round, and added several C2 putts in the final round.
"My real goal in mind is player of the year. I'm feeling good, not just this tournament, but where my game is going into worlds," Paige said. "I've been throwing the disc really well all year. A couple of errant shots per round but I'm cleaning those up, and when I'm not I'm getting up and down. That's something I've been lacking.
"I think back to Vegas and I couldn't even get my upshot inside the circle. Now I'm getting it close and hitting the putt. This month can't go by fast enough."
Catrina Allen started and finished the event in second place, eventually ending at 1-under par 179 total. While Allen continues to drive well — she was second or third in every driving stat — she was 27th in C1X putting, two-putting eight times in the final round alone. She has finished second in her last four events.
The only other play not above par was third place finisher Lisa Fajkus who wrapped up the weekend at even par 180 total. The podium placement ties her best elite series1 finish of the season.
---
major, NT, DGPT ↩