Jones's only bogey relinquished lead on hole 1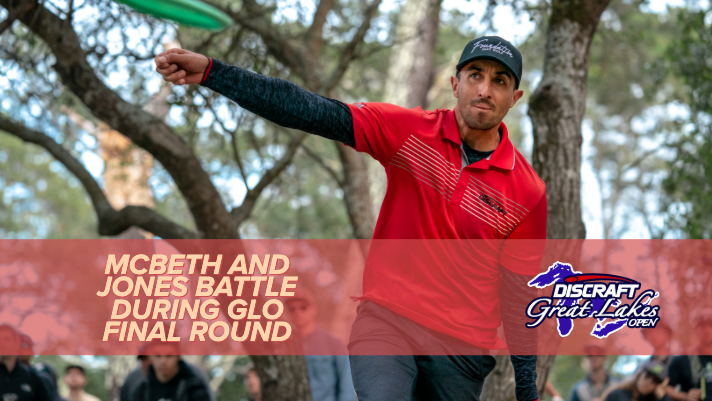 Disc golf, like so many other sports, is a game of inches.
One mistake by Kevin Jones on hole 1 is all it took for Paul McBeth to catch the leader, and by hole two of the final round of the Great Lakes Open McBeth would be in alone in first. He'd hold onto that lead for 16 holes and repeat as the 2019 GLO champion. 
McBeth shot an 11-under par 51 to Jones's 9-under 53 on Sunday, and finished at 31-under par 155 total to best Jones by one stroke.
With this victory, McBeth has won nine events on the season and four of his last five entries. This win was thanks in no small part to his 100% scramble rate, as in, no bogeys all weekend for McBeth. He was also first in Circle 2 in regulation at 78%, second in C1 in regulation, 56%, and third in parked at 17%. He was also able to convert on 42% of those C2 chances, including three for birdie during the final round.
Even with the solid stat showing from McBeth, Jones wasn't out of the running, matching McBeth with every throw through those final 16 holes. Jones was even helped out on hole 17 after going OB.
"We weren't really sure where the OB exactly was — it was hard to tell — so we gave it to him way up there," McBeth said of Jones's drive. "I knew he was still going to 4. I knew I needed to get a 3, left it a little short. It was interesting after that backup. I wasn't as focused as I needed to be."
The good spot after a bad drive and rare missed putt from PMB kept KJ alive heading into the final hole, still only down by a stroke. Jones was able to get to circle's edge on 18, but McBeth was inside 10 meters with a high forehand. Despite a clutch putt for birdie from Jones to temporarily tie things up, McBeth casually connected on his as well.
Jones played well, and hit every look he had from inside C1X during the final round, and his bogey on hole one was the first of his weekend. He topped MPO in reaching Circle 1 in regulation, but, as is so often the case, a single slip up can mean the difference between first and…not first. Jones has finished on the podium at his past four events. 
Zackeriath Johnson jumped up to third place thanks to a 7-under showing on the final day. Calvin Heimburg also shot a 7-under to carry him into a tie for fourth with Zach Melton.