Catrina Allen and Paige Pierce skipped GLO in 2018, can one of them win in 2019?


We're back at the Toboggan in Milford, Michigan for the 2019 Great Lakes Open. Nothing exciting at all happened here last year, not a thing. Wait, hold on…oh yes, I remember now. Paul McBeth shot an 18-under par perfect* round and, it is no exaggeration to say, put disc golf in front of more eyeballs than maybe any other time in history thanks to the good people at ESPN. 
For better or worse, this event will always be inextricably tied to McBeth's performance a year ago but let's do our best to look ahead and see what the Toboggan has in store for 2019.
As was the case last year, some top players including Eagle McMahon, Simon Lizotte, and Ricky Wysocki will not be in attendance. All three are a continent over putting on clinics and preparing for the Presidents Cup and European Open.  Plenty of strong competition will be on hand, though. McBeth will be defending his title against the likes of Calvin Heimburg, Kevin Jones, and Andrew Fish. Dan Hastings, of consecutive 1100-rated round fame, will also be there. 
All the big Open Women's division guns will be on hand, though. As has been discussed on The Upshot, this season has more or less been a two horse race for the top between Catrina Allen and Paige Pierce. Until one of the other top FPO players can convince us otherwise, that's what will continue at GLO. 
Neither Pierce nor Allen was in attendance for the 2018 DGLO, and while both are likely familiar with the course from previous events, this could be the weekend that someone not named Pierce or Allen breaks through. In 2018, Sarah Hokom beat eventual world champ Paige Bjerkaas by six strokes. 
Sixty-percent of the 35-player deep FPO division will be rated 900 or better, so there will be talent aplenty, we'll see if we get a change of pace.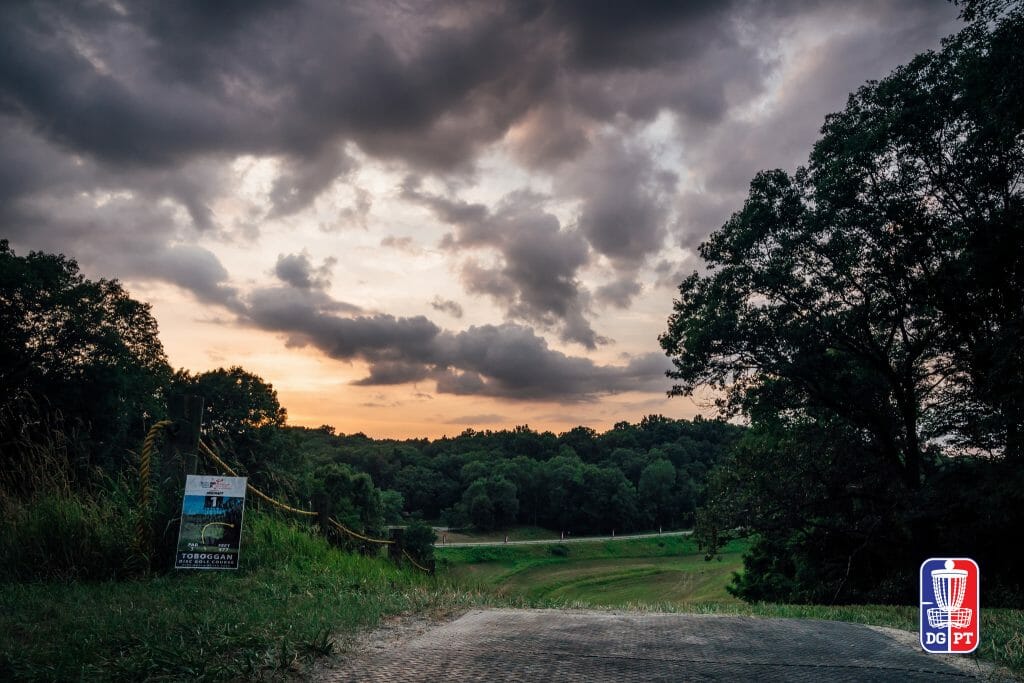 The Course
Toboggan: MPO – Par 63, 9,355 feet; FPO, Par 61, 7,807 feet.
Unfortunately, the caddy book is not yet available so you'll just have to take our word for it that we are dealing with a long course with tons of elevation, and not as much OB as you might expect at a course that is as (relatively) wide open as the Toboggan. Many players will use this to their advantage by intentionally finding the tall grass rough, or even playing into an adjacent fairway in order to line up a better angle for attacking the pin. Distance and accuracy, per usual, is the name of the game. Or, as Aaron Howard has told us many many times, drive for dough putt for show.
McBeth showed us, literally, exactly how to handle each hole last year so if you have any questions, you can ask him.
If things hold up from last season, the Open Women's division is playing from six alternate tees (holes 2, 3, 6, 7, 15, and 18) to shorten the layout. The Open division is using four alternate tees (holes 4, 9, 11, and 13) to lengthen the overall layout. Except for the holes listed above, each division is playing from the regular tees at the venue.
The longest hole for both divisions is the 915/590-foot par 4 hole 3 that plays downhill out of a wooded tunnel to an open field. Off the tee is a 64-foot drop to the field before playing back uphill 12 feet.
How To Follow
This will be another well-covered event. Central Coast Disc Golf, GK Pro, and Smashboxx will all be there. Smashboxx will again be managing the livestream which will be accessible on a variety of platforms. More info below. UDisc Live has scoring taken care of, and Alyssa Van Lanen will be photographing the event.