Leiviska hits impressive milestone in Alaska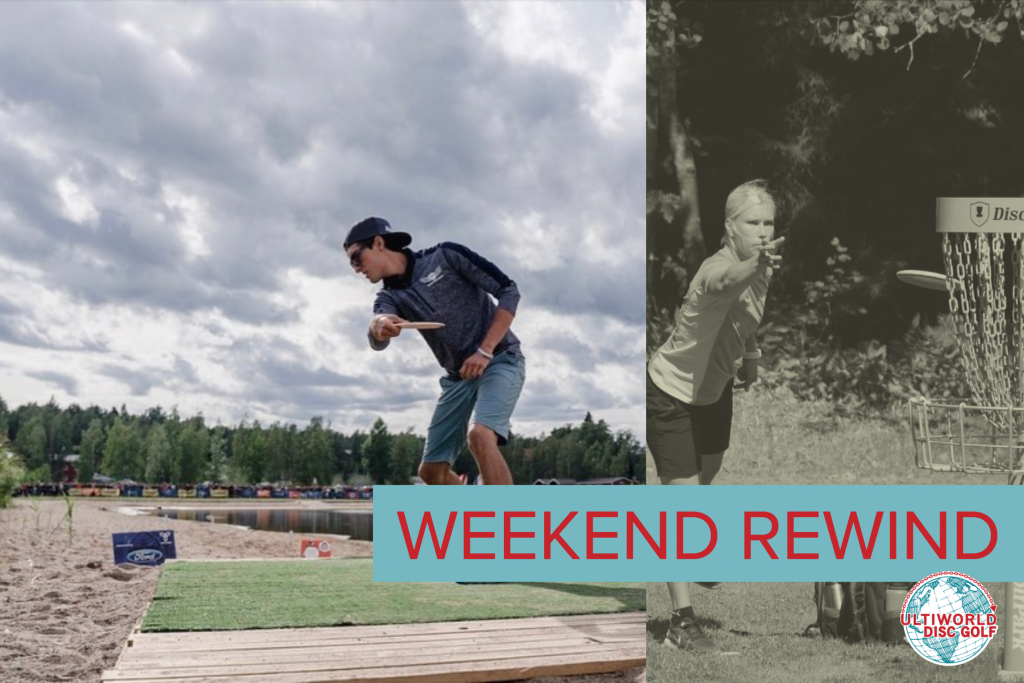 Our pros are still split between continents which means we were dividing our attention last weekend for several big tournaments.
With crowds to rival any other event in the world, Eagle McMahon put injuries worries aside as he powered his way to a win at the 2019 Tyyni. McMahon went wire-to-wire at three separate courses over three days to beat the massive Finnish field. The European ratings most likely kept McMahon's rounds rated a bit lower than they deserve — 1040, 1013, 1054 — but a final score of 25-under par 155 total shows the quality. He led the division in Circle 2 in regulation, 83%, and was top three in fairways and C1X putting.
"The shoulder held up well all week with no significant pain and a lot of recovery progress," McMahon said after the event. "I was very mindful of the volume and the intensity of my shots in both the event and in practice. I never felt like I threw a shot over 75% power and never maxed out my range of motion on a forehand. I have a good amount of rest time to rehab more before the two EO's (Estonian Open and European Open)."
Eric Oakley had a strong showing, finishing in second place at 22-under par and averaging over his rating every round. He was first in the field in fairway hits. Niklas Anttila, who finished third at 21-under par, moved up 29 spots and nine spots in rounds two and three, respectively, to make the podium.
The FPO side of Tyyni had one of the bigger surprises of the season. Kristin Tattar came in undefeated on the year and the highest-rated player in the division. Despite leading four UDisc Live statistical categories1 and shooting the hot round in rounds two and three, Tattar was beaten by Finland's Jenni Eskelinen by one stroke.
Eskelinen, who finished at 12-over par 192 total, was 11 percentage points better from C1X putting than Tattar, and was never more than a stroke worse than each day's best score. She was top five in six of eight major UDisc Live stats.
Tattar finished second at 13-over par, followed by Heidi Laine in third at 17-over par.
---
Kevin Jones got the first A-tier win of his career at the St. Louis Open last season and followed it up by defending his crown in 2019. He won the event by four strokes over Alex Russell and Nikko Locastro with a 25-under par final score.
Locastro had the lead going into the final round, with Russell and Jones a couple of strokes behind. Jones turned in a 1042-rated final to Locastro's 985, beating him by six over the final 18 holes at Jefferson Barracks to take the win. Russell and Locastro finished tied for second at 21-under par.
Jones also celebrated his 23rd birthday while at the St. Louis. Open.
Missy Gannon threw two of three rounds over her rating to win her third A-tier by nine strokes. Cynthia Ricciotti finished in second place.
"We played three long courses that really challenged your mental and physical stamina," Gannon said after the event. "We endured 90° temperatures and high humidity all weekend. Once again, my Trespasses, Escapes, and Deputies did what they do best!"
---
It was around this time last year we called Terry Rothlisberger one of the best players rated under 1000. Now rated 1013, Rothlisberger continues to play well, getting his third win of the season and second A-tier win of his career at the Titan Open.
Rothlisberger recorded every round over his rating and beat a field of 15 1000+ rated pros, including a sizeable lot of touring players, to win by four strokes at 29-under par. Joel Freeman, Jake Lauber, Benjamin Callaway, and Chris Clemons tied for second place at 25-under par.
Luke Humphries threw hot rounds rated in the 1060s both round two and three, but opened with a 960-rated stinker. He finished tied for sixth at 24-under par.
Ellen Widboom continues to rake in A-tiers, winning her sixth of the season at Titan, her 16th overall W of the year. She averaged 40 points above her rating and beat Lisa Fajkus by three strokes.
---
Cale Leiviska visited his 50th and final state and got a solid win at the King of the Hill in Alaska to prove it.
The traveling contingent to Hilltop Ski Area in Anchorage was strong, with Nate Sexton, Jeremy Koling, Paige Pierce, and Rebecca Cox also making the long trek. In MPO, it came down to Leiviska, Sexton, and Koling versus the field.
Leiviska first took the lead from Koling in the fourth round, and held on during a final 9 to win by two strokes with a final score of 38-under par. Koling stayed in second at 36-under par, and Sexton was not far behind in third at 34-under par, 10 strokes clear of the rest of the division.
Pierce and Cox were also in a battle all their own in FPO. Pierce went wire-to-wire over four rounds to win by five strokes with the only under par total in the field. Her final round was two points off 1000.
---
fairways, C1 in regulation, C2 in regulation, scramble ↩