Wysocki can't match record-setting second round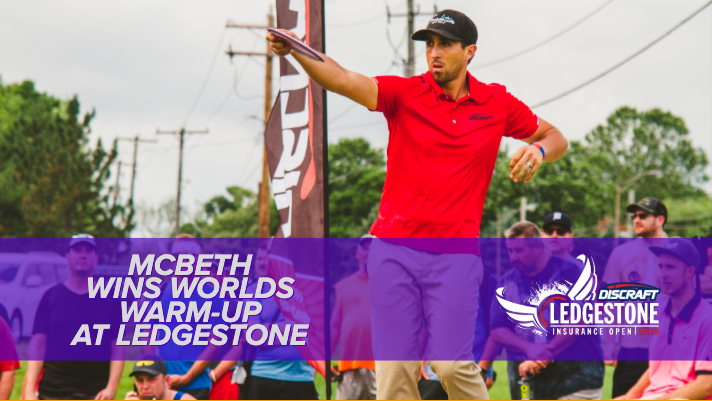 After a second round where the rest of the field pulled within striking distance of the lead, Paul McBeth found a second gear to run away with the Ledgestone Insurance Open.
An 11-under par 52 final round matched McBeth's opener and propelled him to a second Ledgestone title with a final score of 31-under par 158 overall. He went 10-down on the final 10 holes of his tournament and joins Nikko Locastro and Catrina Allen as the only multi-time winners at the tournament.
It was an impressive showing from PMB top-to-bottom. He led the division in Circle 1 in regulation, 63%, Circle 2 in regulation, 80%, and parked shots, 24%, and was seventh in C1 putting at 96%, only missing one attempt inside 10 meters during the second round. The highest-rated player in the world averaged 30 points over his rating at Ledgestone. He is either first or second in every major UDisc Live driving category in 2019.
McBeth went into the start of action with a two stroke lead over Ricky Wysocki after Wysocki registered a course record at Lake Eureka during the second round to put himself back into the conversation. If Wysocki was going to put any serious pressure on that lead, he needed to make some moves on the front nine where birdies are hard to come by. Wysocki went birdie, bogey, par, birdie, bogey over the first five holes. By comparison, McBeth went 1-under over that same stretch, widening his lead to four strokes. From there on Wysocki played well, shooting 7-down over the final 10 holes, but it wasn't enough. He finished in second at 26-under par 163 total.
Kevin Jones got off to a hot start, birdieing the first three holes but then ran into a bit of a wall, struggling to score on the much more forgiving back nine. He went 5-under after the turn, and finished in comfortable possession of third place, seven strokes clear of Garrett Gurthie and Reid Frescura who tied for fourth.
Paul Oman had himself a day. He started the day in 107th place at 12-over par but decided to go off on the final 18. Oman shot a 10-under par 53 which was good enough to vault him up 65 places to a seven-way tie for 42nd.
Hole 6 again proved itself to be a round killer, a heartbreaker, a dream smasher, and will likely be the subject of lots of conversation between now and Pro Worlds. The 897-foot par 4 with OB running along the fairway and pinching close and tight near the pin averaged 1.06 strokes over par, and only McBeth, James Conrad, and Loren J. Lewis were able to take birdies. Conrad got it in rounds one and two, while McBeth and Lewis only got it once a piece.