Catrina Allen has finished in first or second at all but one event in 2019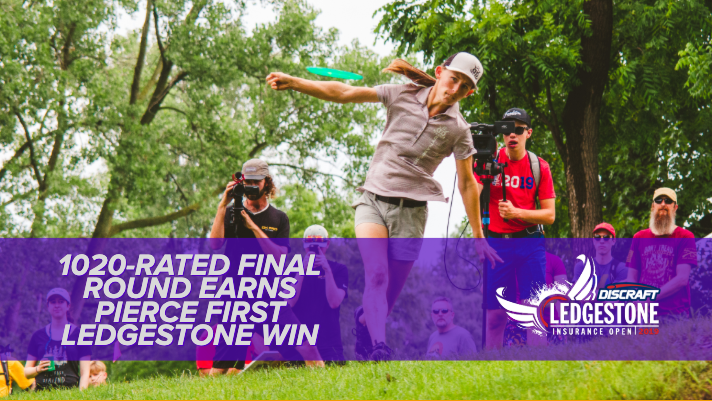 There is not a lot of hardware missing from Paige Pierce's trophy case. A handful of World Championships, a few more US Women's titles, a Disc Golf Pro Tour tournament win, and more Majors than we care to count all belong to Pierce.
Yet one notable event has eluded the prodigious pro. The Ledgestone Insurance Open has never gone Pierce's way. And to get her first win in Peoria, she would have to go through Catrina Allen who had been averaging over 1000-rated golf through two rounds.
Things went Allen's way first. Coming into the final round at Sunset Hills, Allen had a two stroke lead which grew to three through the first four holes, despite Pierce hitting a 50-footer for birdie earlier to keep pace. Allen would also flinch first.
An early release to OB drive on hole 5 gave Pierce two strokes back, and another OB drive on hole 6 from Allen let Pierce tie her at 19-under par, even though both players two-putted around the green.
As quickly as she gave it away, Allen regained control, parking hole 7 and hitting a 50-footer on hole 9 to take a two stroke advantage into the turn. Pierce would begin her best stretch of golf for the round at the same time.
Pierce immediately picked up a stroke on hole 10, and followed it by putting her drive inside the circle on hole 11, and converting the birdie from a knee. Allen laid up on the sloped green of 11, but missed the chains and rimmed out for par from inside 10 feet. The two stroke swing meant Pierce had the outright lead. Another Allen two-putt on hole 13 put Pierce up two.
Of course, nothing in life is easy, and Pierce was not going to be able to walk-in a win against Allen.
Finding the leftside OB off the drive, Pierce was left scrambling on the par 4 hole 14. Allen snuck through the same thicket of trees Pierce was stuck in, and had an inside the circle look at eagle. After Allen missed the 2 attempt, Pierce also missed a C1X putt to save par. It was back to a tie game at 23-under par with four holes to play.
Pierce stuck her turnover drive on hole 16 after Allen put too much cut on a roller attempt, giving Pierce the lead once again. It lasted until hole 18.
The tough-to-birdie finisher doesn't bring a lot of trouble into play so Allen would need her best effort to force a playoff, or Pierce could pitch up for a par and the win. Both players found Circle 2 off the tee, the discs within inches of each other, with Allen putting first. Allen put enough power and height on the disc, but it faded left missing the basket. Pierce needed only to lay-up for the W.
Instead, disregarding the sloped green and victory in hand, Pierce ran the 60-footer. Drain-o.
Pierce finished in first at 25-under par 155 total after the 1020-rated,10-under par 50 final round. She averaged over a 1000-rating for the three rounds, leading the field in Circle 1 in regulation and Circle 2 putting percentage. She also finished tied for first in OB rate, with only three hazard strokes over the tournament. It's Pierce's third DGPT win of the season.
Allen will want the final round back but it doesn't negate a positive weekend. The second place finisher averaged three points shy of 1000, and was top four in every major UDisc Live statistical category with the exception of C1X putting (24th). Allen has only finished outside of first or second at one event this season.
Ledgestone Open FPO Lead Change Paige Pierce Catrina Allen
Jennifer Allen jumped Hailey King to take third place at 13-under par 167 total, King was fourth at 11-under par 169 total. Lisa Fajkus tied Catrina Allen for the second hottest round of the day with a 6-under par 54 to jump five spots up into a tie for fifth with Missy Gannon at 9-under par 171 total.