Wysocki leads field in C1X putting and greens in regulation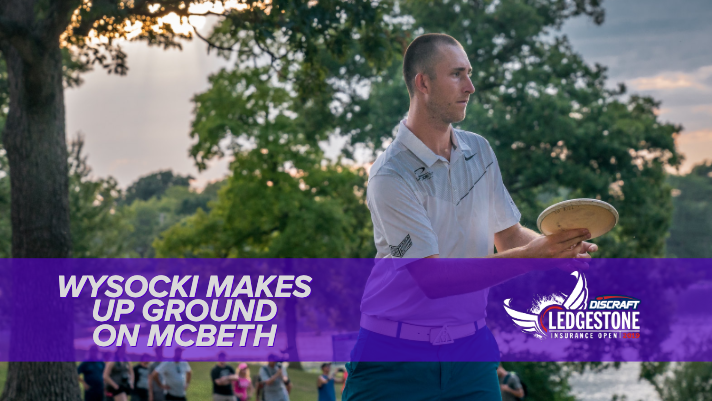 Leads are never safe on the Lake Eureka course.
Paul McBeth is still the frontrunner after two rounds at the Ledgestone Insurance Open, but his lead has shrunk and Ricky Wysocki and Kevin Jones are hot on his tail.
McBeth shot a 1070-rated, 9-under par 54 yet lost strokes on his four stroke lead to Wysocki's hot round on the day, a 1098-rated, 13-under par 50. Jones's 1091-rated, 12-under par 51 was good enough to jump him to a share of third place with Reid Frescura. McBeth is in first at 20-under par 106 total, followed by Wysocki at 18-under par 108 total, and Jones and Frescura at 14-under par 112 total.
Frescura will maintain his lead card position for the final round thanks to a 1063-rated, 8-under par effort on day two. There has to be something in the Peoria water that agrees with him. The 1010-rated Frescura has averaged 1053-rated golf over his last six rounds at Lake Eureka. Is he a smart dark horse pick for Worlds? Dibs.
Wysocki did his damage on the back nine in round two, shooting 8-under after the turn. He was bogey-free and hit every putt inside the circle. On the weekend, he has yet to miss a C1X putt, and leads the division in Circle 1 in regulation, 64%, and Circle 2 in regulation, 78%.
Jones also had the putter going in round two, hitting 100% from C1X and 67% from C2, connecting on four attempts from deep. Jones has averaged 84% from C1X over his last five tournaments, and appears to be shaking off some of the troubles he was having on the green in the early part of the season. He jumped up 12 spots on moving day.
James Conrad was the only player to birdie the hole 6 in round two. The round killer hole is playing .82 strokes over par and produced 38 double bogeys or worse. Believe it or not, this is an improvement over day one when the 897-foot par 4 played 1.14 strokes over par.